KFC Just Debuted Chicken-Scented Crocs. Here's What You Need To Know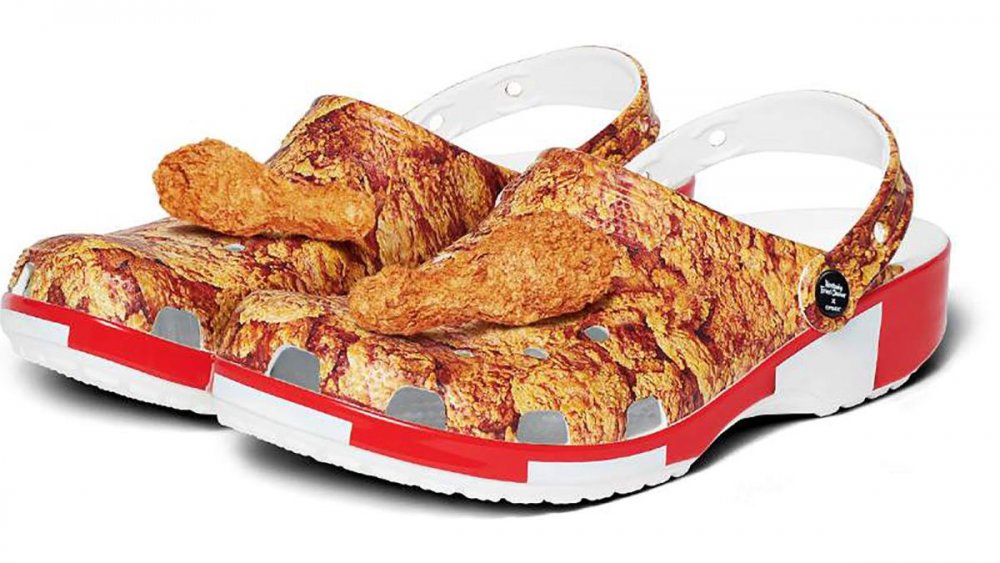 KFC
If you missed the announcement back in February, then now's the time to familiarize yourself with what is sure to be a fashion craze: KFC fried chicken-scented Crocs. Originally, the novelty shoes were worn by Kim Kardashian, and hers were the platform version, which makes them particularly coveted. The partnership between the famous finger-lickin' fried chicken chain and the infamous ugly-but-comfortable shoe will finally be available to the public starting next Tuesday, July 28th (via Delish). 
While you'll only be able to buy the classic clog version of these shoes instead of the enviable 4 1/2 platforms, they will otherwise have the same aesthetic. The bottom of the clogs features red and white stripes, reminiscent of KFC's signature bucket, and the middle and top of the shoes are covered in a fried chicken motif. There are even Jibbitz charms that look like real fried chicken drumsticks that fit onto the top of the shoes. Plus, the charms are what smells like delicious fried chicken (via Eater). The description wants to make sure you're not tempted to take a bite out of the toppers though, so it reads, "Not for human consumption." You've been warned.
Place your order for KFC-braded Crocs here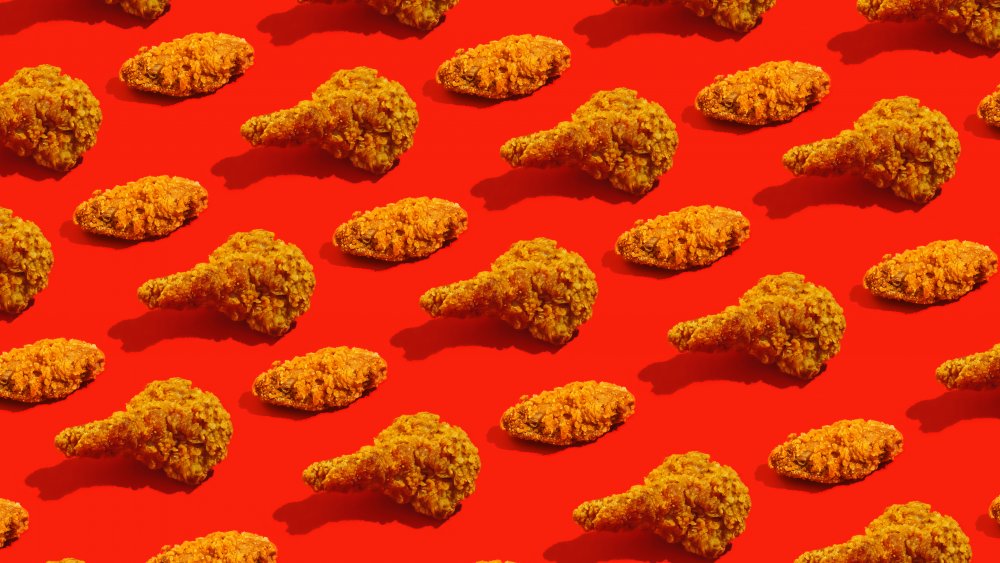 KFC
Set a calendar reminder, because you know you'll want to be first online to place your order when Tuesday rolls around. You will have to visit the Crocs official website to place your order, though. The novelty shoes from the partnership will not be sold anywhere else, so no need to shop around.
According to Eater, the normal retail price for regular, classic Crocs is $44.99 in case you wanted to compare prices with the fried chicken-scented KFC Crocs, which will be sold for $59.99. Even if it is only a $15 markup from the original shoes, which are having a major moment in fashion yet again, it seems a bit steep. Especially if you want to believe buying these will contribute to the cause it touts. 
For every pair sold, KFC is donating $3 to its foundation, REACH Educational Grant Program, according to Eater. The program helps provide select KFC employees at participating U.S. restaurant locations with college scholarships. It's an admirable cause, so you can wear the newest chicken-themed footwear and help people out at the same time.