The Aldi Chicken Dinner You Can Make For Less Than $3 Per Person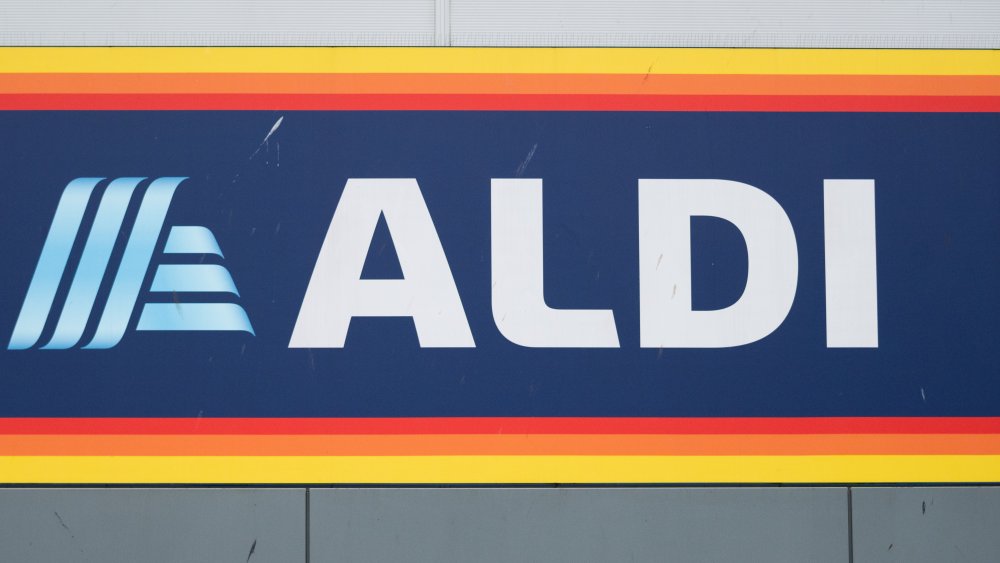 Matthew Horwood/Getty Images
Making a meal that costs less than $3 per serving sounds like a proposition with little potential for anything fun or imaginative. The word "budget" as it pertains to food usually conjures up images of crinkly packages of ramen noodles. We're not denying the charm of a soupy bowl of ramen but it's best kept to a minimum unless you're into nearly maxing out your daily sodium intake in one sitting. 
Why not opt for something just as satisfying with real chicken fresh off the bone, steamed veggies, savory rice, and even a little extra cash left in your pocket for an appetizer? Samantha Morris of Houston Food Finder used Aldi as her source for low-cost ingredients and pulled together chicken fried rice that will feed four people for less than $3 per serving. Aldi is known for its intentionally small selection of low-priced, high-quality groceries. Let's find out how to shop smart and score this delicious chicken dinner on the cheap.
An inexpensive chicken dinner starts with a whole bird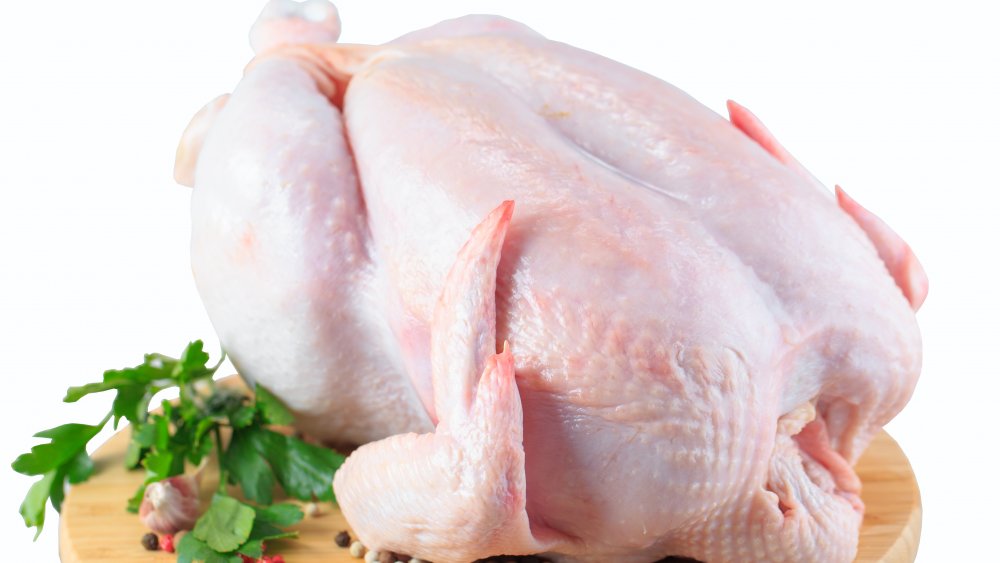 Shutterstock
The ingredients you'll need from Aldi for this budget-friendly chicken fried rice are one whole chicken, Earthly Grains Long Grain White Rice, and a bag of Season's Choice Steamed Mixed Vegetables. This recipe assumes you have some basic ingredients at home already, like soy sauce, garlic, ginger, and maybe some eggs if you want the protein boost. Start with the whole chicken, which Morris says usually weighs in at about 5 pounds from Aldi and runs about $0.95 per pound. 
The method of cooking this money-saving superstar is up to you. Although for the quickest, tastiest results, you might want to consider spatchcocking (aka butterflying) your bird and then roasting it for about 40 minutes at 450 degrees. Once your chicken is done, you can shred the meat. You'll only need two cups to feed four people so save the extra chicken for another use. Another thing to tuck away in the freezer for later? The carcass. You can make excellent homemade chicken stock from the bones after they've been picked free of all the meat. Next, you're ready to fry some rice and bring it all together.
Add shredded chicken and veggies to fried rice for a satisfying meal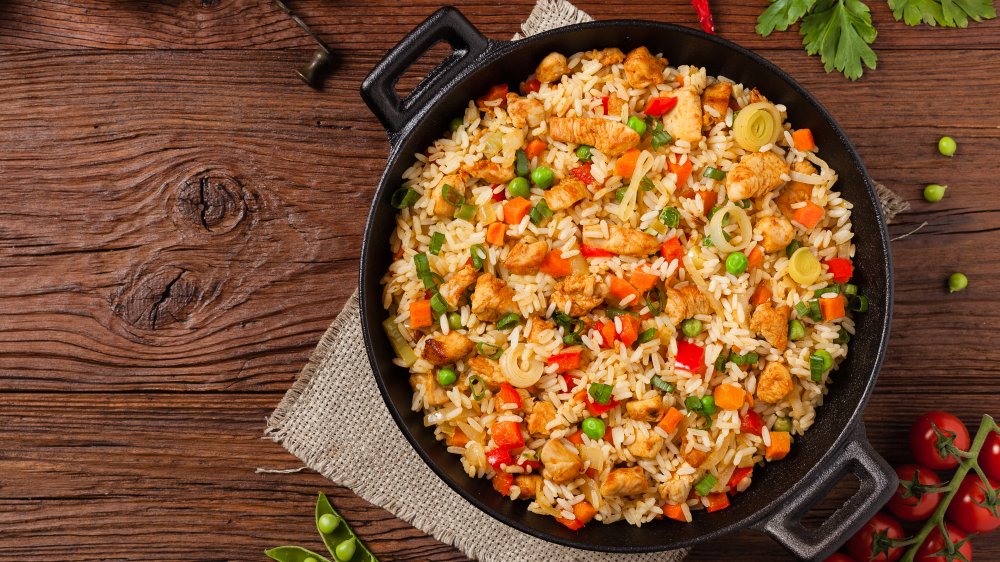 Shutterstock
Once your chicken is done, Morris says the next step is to saute a bag of Season's Choice steamed mixed vegetables, which rings in at a super-low price from Aldi at $0.89 per bag. To the veggies, you'll want to add two cups of shredded chicken, and a pound of cooked Earthly Grains long-grain white rice (which equals about 2.5 cups of cooked rice, according to Cuisinevault). This ingredient is a steal at just $4.95 for a 10-pound package, which works out to about $0.09 per serving. Once all of this is in the saute pan, add your seasonings of choice (soy sauce, garlic, maybe a squeeze of fiery Sriracha), and you're done! 
If you want to step up your game, celebrity chef and fried rice-enthusiast Roy Choi says to use day-old rice and toast it in the pan before adding your other ingredients. There you have it – at roughly $1.14 per serving, you're dining on delicious chicken fried rice. Surely, that beats a lonely bowl of ramen without an ounce of chicken or vegetables in sight. What to do with the leftover cash? Morris suggests you treat yourself to an appetizer and pick up a pack of Aldi's Fusia Asian Inspirations Veggie Mini Egg Rolls for $1.99. Sounds like a plan to us!