The Unbelievable Number Of Calories Padma Lakshmi Eats On Top Chef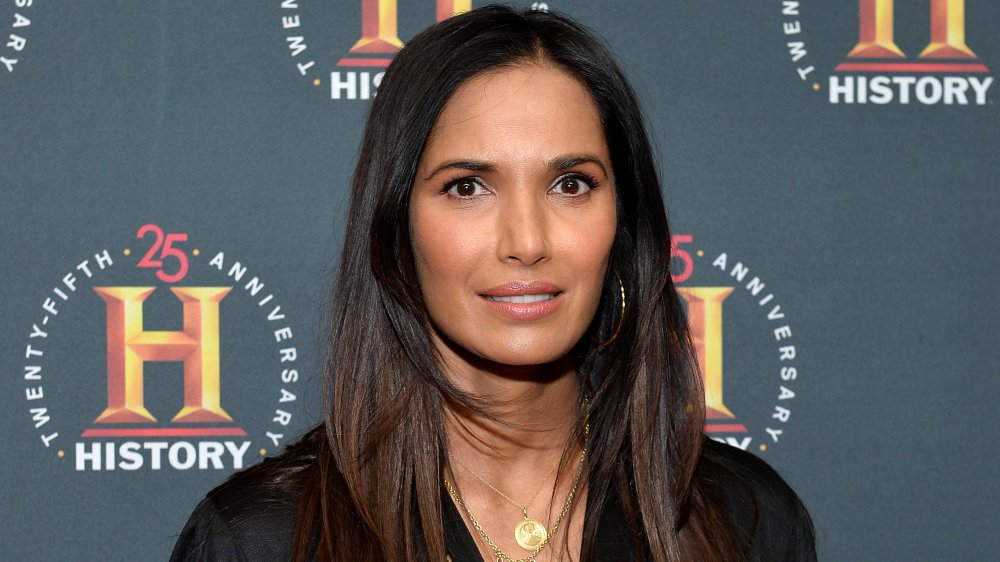 Noam Galai/Getty Images
Longtime Top Chef host Padma Lakshmi has tried some incredible-looking dishes over the years. However, those delectable meals sometimes come with a hefty calorie count. In July, she confessed to Women's Health that she consumes way more than the 2,000 calories a day that the FDA generally recommends. "Those chefs are cooking to win, so they're putting in as much lard and butter and salt as they can," Lakshmi said.
The former model said because of these decadent meals, she eats anywhere from 7,000 to 8,000 calories a day because she often tries more than 30 dishes each episode. Sounds like a foodie's dream, but there are some downsides. Lakshmi said because of this, she also takes preventative diabetic medication to help manage her blood sugar levels. "My parents are diabetic," she explained. Lakshmi also tries to limit how many bites she takes of each dish and really savors all the flavors.
Padma Lakshmi reveals how she cleanses her system after filming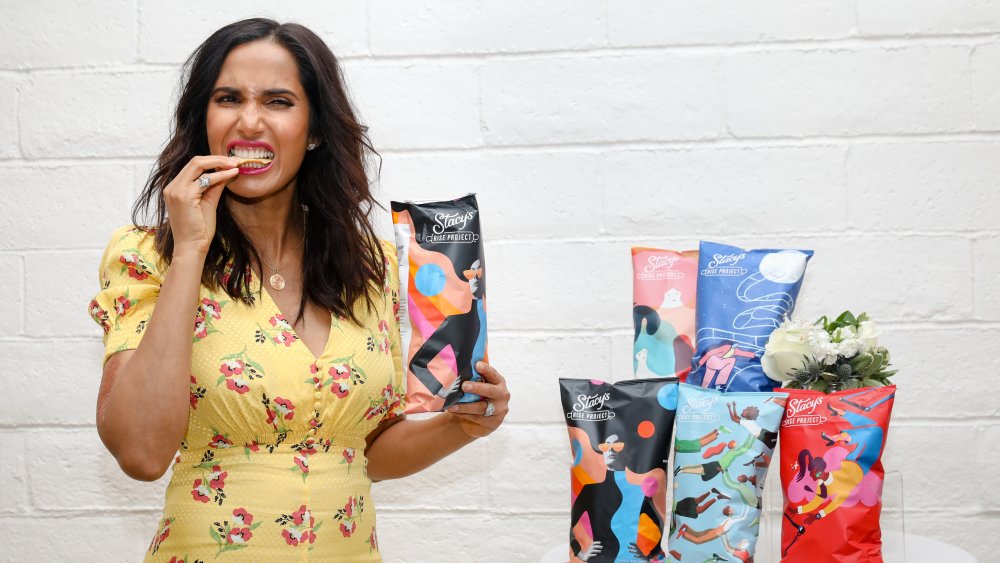 Kelly Sullivan/Getty Images
"I want to give the contestants the full audience of my appetite, especially in the first half of the season," she told Harper's Bazaar in a video interview. "I have to sometimes try 19 different dishes in that quickfire alone ... I usually try and take one or two bites. I try and chew slowly so I don't have to take a third bite, and I get the full mouth-feel experience of whatever they're giving me."
Lakshmi said that to help purify her system, she also consumes a "funky drink" that includes a vitamin C packet, green tea with honey, unsweetened cranberry juice, and fiber powder. "It's not very pleasant, and so this is not a treat. This is medicine for my body because I've had to eat whatever funky food I've had to eat," she explained. "When you're eating that much food, your system expects more food." She meets that expectation by eating a peanut butter and jelly sandwich or an open-faced grilled cheese with chili paste or hot sauce. During Top Chef's interview portion, she likes snacking on tea and cookies or chips and salsa. 
The entrepreneur also admitted to eating very uncomplicated food once she's done filming. "When I'm home, I don't want to eat any of that fancy, over-seasoned, goopy food," Lakshmi said. "For dinner, I just eat a simple bowl of steamed basmati rice with dal or yellow lentils."