Wawa Just Announced Exciting News For Fans
If you are not familiar with Wawa, then you should know this chain of gas stations is greatly beloved for its convenience stores. Throughout the Northeast and even some locations in Florida, those who have been to a Wawa tend to love them instantly for the delicious coffee, made-to-order sandwiches, and even some other food items like muffins and donuts. These stores really take on-the-go food and drinks for the road to a new level, which is why the chain has very exciting news for fans who just can't get enough Wawa eats. 
The chain is actually opening its first freestanding drive-thru. That means it will essentially be like most other fast-food chains, thanks to its drive-thru lane. No more filling up and running in to buy your coffee or snacks. Fans in one town can now just pull through or pick up from the curb to grab their order. The best part of all is that the new location is scheduled to open by December 2020 (via Delish).
What you need to know about the new Wawa drive-thru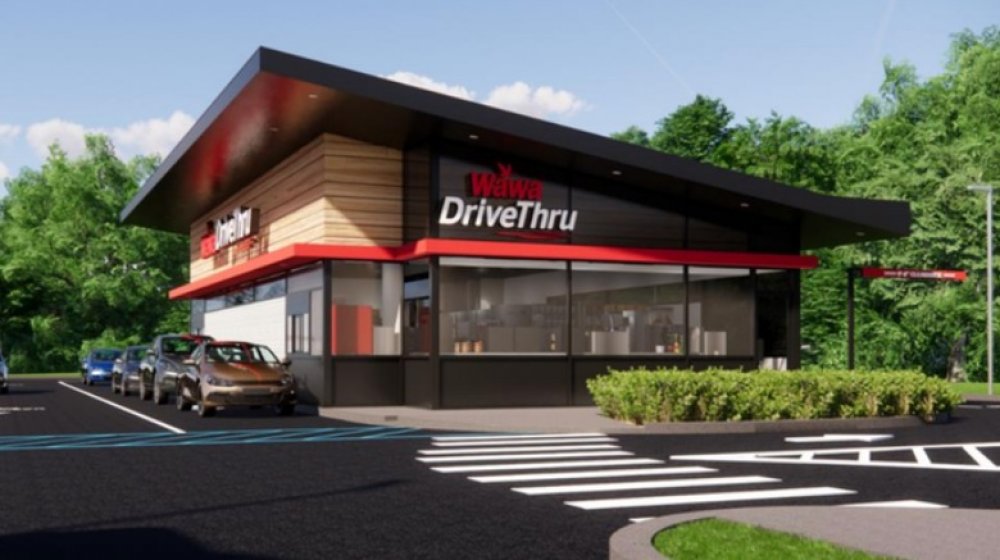 Wawa
The new drive-thru is slated to begin construction this August in Falls Township, Pennsylvania (via Food & Wine). More specifically, the location will be at the intersection of West Trenton and Pine Grove within this Bucks County city.
This drive-thru Wawa is said to be 1,850 square feet, which means it will be small for a Wawa, but hopefully, the location will still turn out all of your favorites. This first-of-its-kind store will provide 25 jobs, with four being full-time positions, making this a great addition to the community all the way around.
According to Terri Micklin, Wawa's director of construction, "Wawa continues to test new store concepts with this latest drive-thru format, providing an opportunity for our customers to still experience and enjoy their favorite Wawa products while remaining inside their vehicle. It is critical to provide new ways to access Wawa, increase convenience, and provide new options for service."
The idea is that this location will be a blueprint to potentially build more drive-thru Wawas in the future. So, keep your fingers crossed that one comes to your hometown soon too. In the meantime, you might want to start planning a road trip to Pennsylvania.