Shake Shack Just Announced An Exciting First For The Restaurant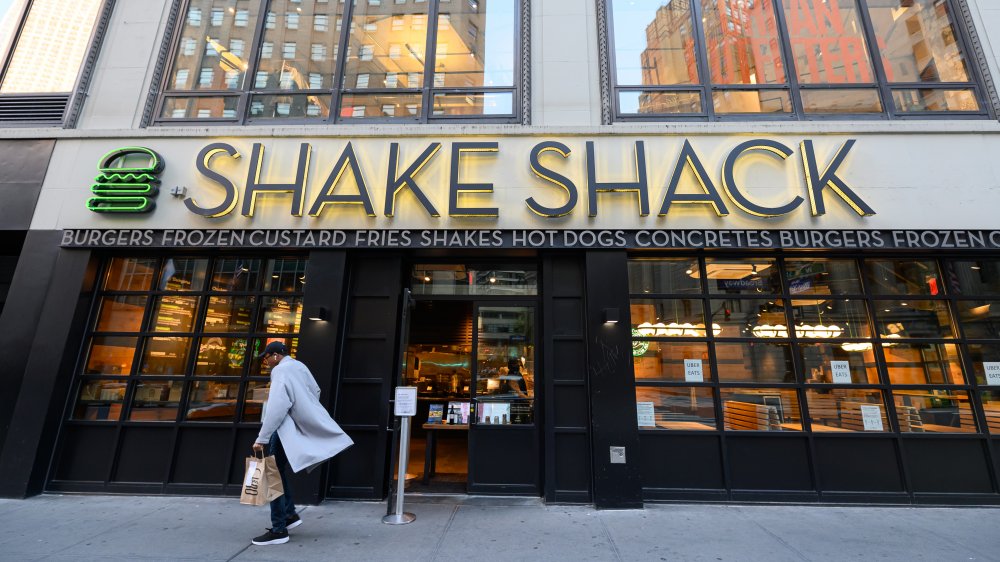 Noam Galai/Getty Images
Better late than never, Shake Shack is about to jump on the fast food bandwagon. Unlike other big burger chains — think In-N-Out and Steak n' Shake — Shake Shack locations do not offer drive-thru service to their customers. Not yet, anyway. The burger icon shook things up with their recent announcement: They intend to add the company's first-ever drive-thru to a restaurant next year (via Nation's Restaurant News).
From their humble beginning as a hot dog cart in Manhattan's Madison Square Park, Shake Shack has grown to include an impressive 275 locations. According to Investopedia, the chain was valued at $1.63 billion in March of 2020. However, like many restaurants, Shake Shack's business has slowed due to the pandemic and its associated restrictions on food service.
A dine-in and take-out only establishment, the chain's top-trafficked restaurants — found largely in tourism areas — have, not surprisingly, experienced a downturn in eaters amidst the COVID-19 crisis. Shake Shack's highest-volume location in New York's theater district has become their worst performer thanks to the shuttering of Broadway. Shake Shack CEO Randy Garutti told Nation's Restaurant News, "To think that could have ever happened. It's crazy, right?"
Shake Shack is adding a drive-thru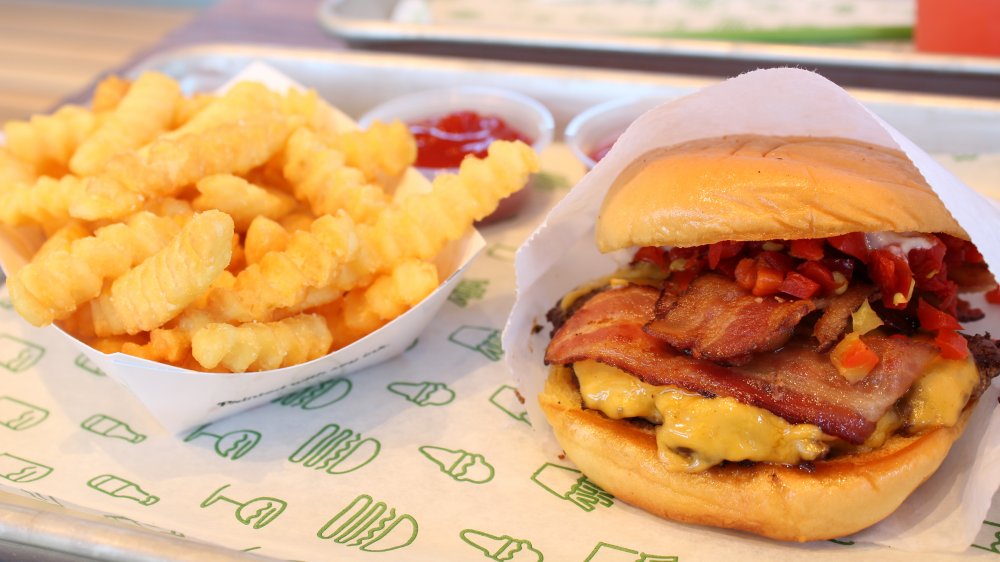 Shutterstock
In an effort to adapt to these unusual times, Shake Shack had been making accommodations — including the launch of their "Shake Tracks" at select restaurants earlier this year (via Nation's Restaurant News). In accordance with social distancing, this contact-free service method allows customers to pre-order a Shack Stack cheeseburger, flat-top dog, or crinkle cut fries before walking or driving up to receive their order.
However, a recent survey by AlixPartners showed that 44 percent of customers preferred using a drive-thru for restaurant take-out during the reopening following pandemic-related shut-downs. Carryout and curbside pick-up ranked amongst next-best options.
Shake Shack's latest development is sure to please the brand's fans. While the location of the drive-thru is not yet public knowledge, Shake Shack is looking "to test drive-thru locations in suburban high-traffic." The roll-out is said to include two lanes for ordering from your car plus an additional lane for picking up mobile orders (via Eat This, Not That!).