Kamala Harris' Game-Changing Trick For Making Better French Fries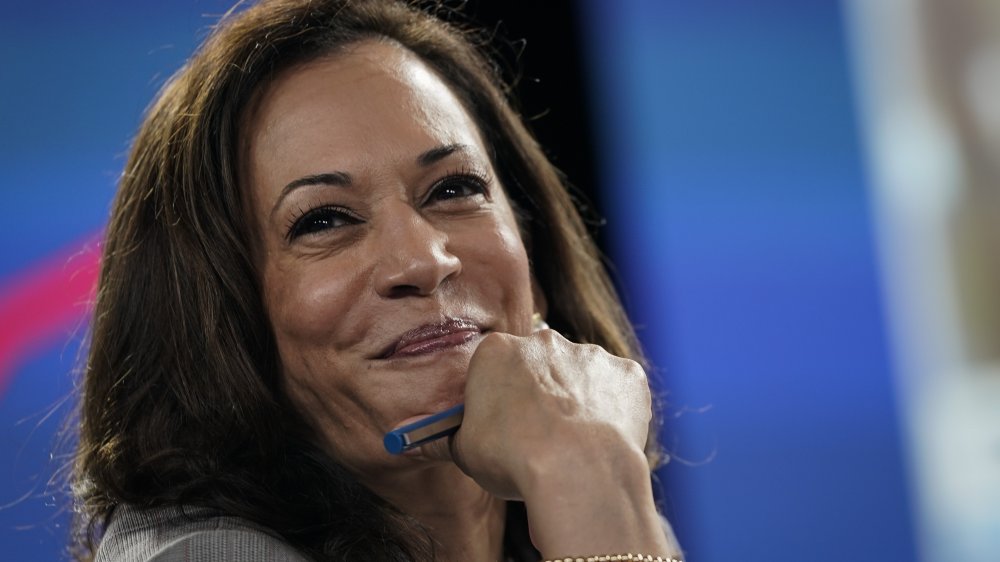 Drew Angerer/Getty Images
The world is currently a little bit obsessed with U.S. Senator Kamala D. Harris (D-Calif.), who Joe Biden just picked to be his running mate in the 2020 presidential election. As the first woman of both African American and Asian American heritage to be named to the second spot on the national ticket, everything from Harris' voting record to her demeanor has been under a microscope (per CNN). Meanwhile, she's been dubbed both too liberal and too moderate by some critics (per The Washington Post), while hoped-filled social media posts with the hashtag #ImWithHer are trending on every platform. 
But enough about politics. Let's talk about Harris' favorite snack. It's french fries. "I love a good french fry, or a few, or many, or just the whole thing," she told The New York Times. And Harris has a secret for making fries that you'll vote as your favorite, no matter who you're rooting for in November. 
Kamala Harris' husband shares her tip for the best fries
Harris' husband Doug Emhoff, has shared via Twitter that indeed, Kamala loves her fries. Not only that, he revealed how she makes her fries so tasty. "Confirming @KamalaHarris loves her fries. She makes them at home too... hand cut, double fried (peanut oil then duck fat) with rosemary and sage from our herb garden," Emhoff tweeted.
If you've never tried double-frying your own french fries, this technique is a foodie favorite for crispier fries with a softer center (per Delish). Following the Food Network's recipe, you can recreate Harris' fries by heating a pan filled with peanut oil to 325 degrees, while meanwhile, you place peeled, fry-shaped slices of potato into ice water, then dry them completely. Fry them for the first time in peanut oil for three minutes, then drain them on a paper bag. For the second frying session — with duck fat, if you have it — crank up the heat to 375, then cook the taters for another four minutes. Drain again on brown paper, season with salt and rosemary and sage from your herb garden. Then, enjoy for yourself french fries that are fit for our possible next VP.