How American McDonald's Burgers Differ From India's
It's difficult to forget that iconic scene in Pulp Fiction when John Travolta asks fellow hitman Samuel L. Jackson if he knows what a Quarter Pounder is called at the McDonald's in France – a "Royale with Cheese" (via The Travel). After all, what's the point of calling it a Quarter pounder when France uses the metric system? As Travolta teaches us, things are always a little bit different at a McDonald's in another country.
But the McDonald's in India has a far more interesting menu: According to 2018 estimates, about 20 percent of India's population is vegetarian. That contradicts the widespread perception that the nation is by and large vegetarian, according to The BBC. Still, that's a lot of people, and McDonald's had to make some significant changes while designing India's menu. McDonald's made its way over to India in 1996 when the country's first franchise opened in south Delhi. It was a significant first – not just for India, but for McDonald's as well. For the first time, McDonald's was opening a franchise that didn't serve beef, according to Quartz.
How does a burger joint avoid beef altogether? McDonald's India made it happen. And to be honest, the alternatives look pretty tasty.
A different kind of Big Mac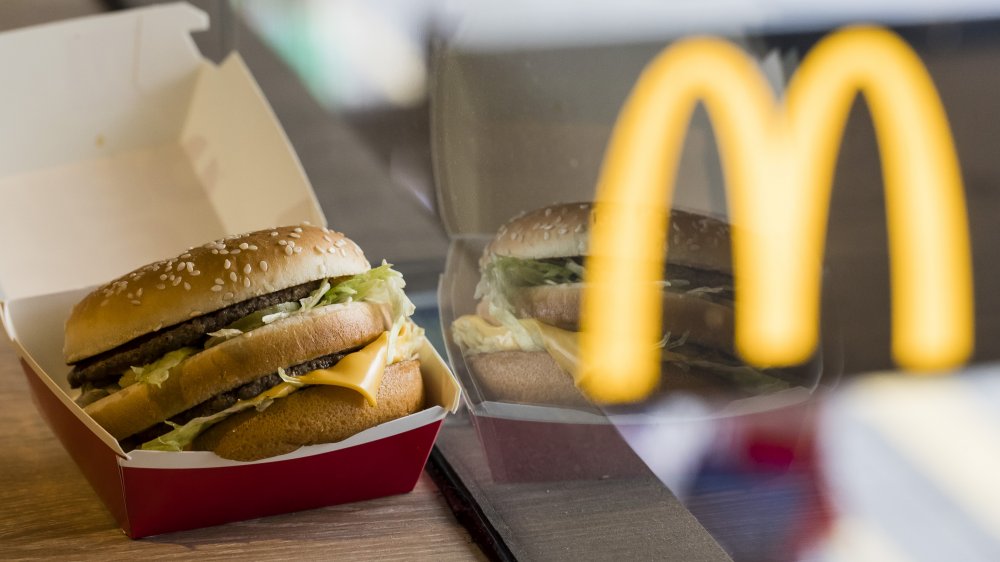 S3studio/Getty Images
When you're shooting for a beef-free McDonald's, the Big Mac can be a bit of a hurdle. The monstrous burger, crafted in the 1960s, includes two beef patties with a bun wedged in between. And McDonald's sells about 900 million Big Macs globally every year, according to Business Insider. It's popular, indulgent, and inarguably beefy. So what did that mean for India's first McDonald's? The entrepreneurs behind McDonald's India could have shied away from the Big Mac altogether. Instead, they rebranded it, and they called in some chickens.
The Chicken Maharajah Mac was India's answer to the Big Mac, according to the official McDonald's India blog. Like its beef counterpart, it's large and filling – it includes two patties and three hamburger buns. The fried chicken patties are topped with habanero sauce, jalapeños, and cheddar cheese. The rest of the toppings mirror that of any American burger: shredded onions, tomatoes, and iceberg lettuce.
It's not the only twist McDonald's added to its India menu. The fast-food restaurant also offers the McAloo Tikki burger, which combines potatoes, peas, and a spice blend into a fried patty (via INC). That's a whole new take on a veggie burger. There's also the fried paneer sandwich, which is, you guessed it, comprises a literal hunk of deep-fried soft cheese, according to McDonald's India. And oddly enough, the Filet-O-Fish remains perfectly intact in India. Some things, apparently, are just plain universal.