Aldi's New Dessert Mixes Have Hostess Fans Excited
There's another product partnership hitting the shelves of Aldi, and Hostess fans have a lot to be excited about. The budget grocery retailer is giving fans a new way to eat their favorite snack cakes, thanks to dessert mixes that transform your favorite snacks into pudding. The Hostess puddings first appeared in 2019 on the shelves of H-E-B, a Texas-based grocery store. The products showing up in Aldi, however, might be the first time the Hostess puddings are being sold nationwide (via Best Products). 
The dessert kits come in three flavors and are perfect for enjoying the pudding itself as a childhood throwback, but there are other ways to use them too. You can also pair them with the snack cakes themselves to create a trifle-like dessert or a parfait. But, if you are sharing with a group, the pudding kits can be turned into dessert dips by adding other ingredients like chocolate chips, sprinkles, chopped-up candy bars, or any other toppings you might like (via Delish).
Here's what you need to know about Hostess pudding kits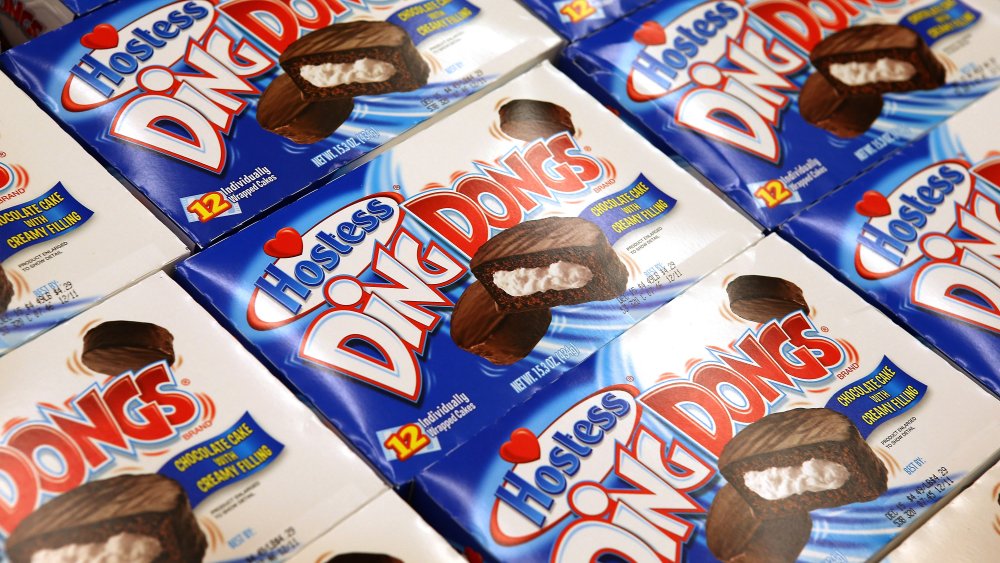 Scott Olson/Getty Images
No matter how you'd like to use them, at $2.89 per package, you need to give each one of these Hostess desserts a try (via Aldi). The dessert mixes come in Twinkies, Ding Dongs, and Orange Cupcakes flavors, so your favorite classic snack cake is likely featured in this mashup. Each package features an instant pudding mix, filling mix, and drizzle topping that corresponds with the cake flavor.
For example, the Twinkies box includes Twinkies-flavored pudding and cream filling mix but does not have a drizzle topping. The Ding Dongs package comes with Ding Dong-flavored pudding, cream filling mix, and a chocolate drizzle. Finally, the Orange Cupcake box includes orange pudding mix, cream filling, and an orange drizzle.
So, buy several to try them all and experiment with other ways to use the pudding mixes in your desserts. But, don't forget to pick up some whipped cream to squirt on top too, which looks like the perfect base for the drizzle topping no matter how you use the Hostess mixes.