Charli D'Amelio's New Dunkin' Drink Has TikTok Fans Excited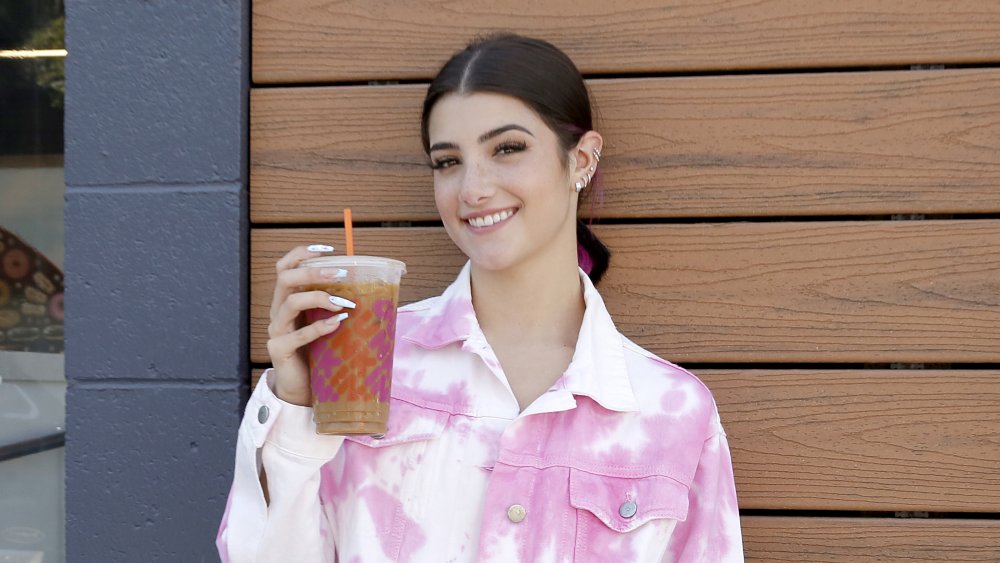 Dunkin'
TikTok users have a new drink to try at Dunkin', and it's inspired by the wildly popular TikTok star Charli D'Amelio. If you're not familiar with the 16-year-old social media influencer, she has more than 80 million followers on the video sharing app and even appeared in a Super Bowl commercial earlier this year. D'Amelio is actually worth around $4 million and is often seen with a cup of Dunkin' coffee in hand while filming her videos (via New York Post).
She's best known for her dance routines that she posts on TikTok, and she uses coffee to jumpstart her moves. "There's always those few seconds of music before a dance starts, and I'm super awkward sometimes, so I would just take a sip of coffee before I started dancing, and people started to associate me with it," she said to People. "My life is pretty much on the internet, so I might as well tell everyone what I'm drinking, and it was always Dunkin' coffee." Thanks to her Dunkin' habit, she now has her go-to order on the menu, and naturally, it's named after her.
How to order 'The Charli'
On Wednesday, September 2, when the drink first debuted on the Dunkin' menu, D'Amelio visited her local store and ordered "The Charli," which she recorded and posted to her social accounts, of course. While her namesake drink might be available by her name at some stores, it isn't exactly on the national Dunkin' website menu. That means you might have to order it the old way, step-by-step.
To try "The Charli," D'Amelio fans will need to order a cold brew with whole milk and three pumps of caramel swirl (via Fox News). It's simple enough to order, so even if it doesn't show up on your local store's menu, it's worth giving it a try.
Better yet, there's another turn of events in this D'Amelio and Dunkin' partnership. The duo will launch a social media contest beginning September 9, according to the New York Post. Fans can take a photo recreating D'Amelio drinking her own Dunkin' order and post it to Instagram using the hashtag #CharliXDunkinContest. Winners will be announced on September 19, and the prize is a video chat with D'Amelio herself. So, fan, get to drinkin' her Dunkin' order and practice your pose.