This Is The Secret To Chili's Iconic Baby Back Ribs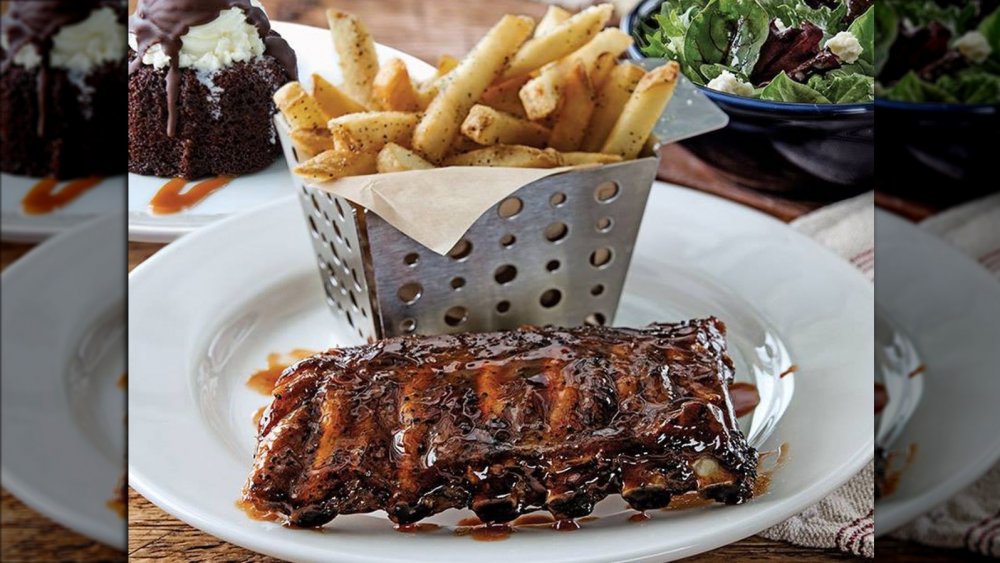 Chili's
It's not every restaurant dish that'll make you break out into song, but Chili's baby back ribs definitely fits this description. In the words of one happy eater, "Chili's Grill & Bar — Server: Puts the plate down, Me: Takes the first bite, Brain: Queue the music! #chilisbabybackribs" (via Instagram). Chili's describes their ribs as being smoked in-house over pecan wood and slow-cooked. As one reviewer describes, this Texas-sized entree hits all the right spots on taste without creating the excessive mess that ribs can be known for: "The ribs, with Chili's tangy sauce, were tender and delicious. They literally dropped off the bone. I only wasted three napkins," (via Trip Advisor).
While we know they're delicious, your suspicions have probably been raised when it comes to whether a large pecan wood smoker can be found at every franchise location. So how are these tasty indulgences actually cooked? The answer is all about turning up the pressure — the pressure cooker that is.
There's a trick to creating delicious and tasty ribs
Former employees have given us a peek behind the curtain at Chili's (via Reddit). Noting that almost any meat can be first slow-cooked and then given a grill "finish" and covered in sauce, the user shared the Chili's rib method. According to the former employee, these added touches are how Chili's turns pressure cooked ribs into drool-worthy grill bites. "Chili's uses a pressure cooker to pre-cook the ribs, which helps maintain juiciness, then finished on the grill to give them that crunch on the outside. Sauce is pre-made from the distributor, it's not my favorite, but it's good."
Now before you get too concerned about the idea of pressure cooking ribs, remember that you've likely done something like this at home in your Instant Pot. Pressure cookers force food to cook under higher pressure and infuse it with more moisture (via The Kitchn). A busy restaurant like Chili's needs to use all the time-saving tools it can to keep up with customer demand. Pressure cookers work very well at creating that fall-off-the bone texture but the end result often looks a little unpleasant. By finishing the ribs grill side, Chili's keeps it appetizing both taste-wise and visually too.
Of course, there are still secrets that Chili's won't be sharing including their smoking and seasoning formulas, but this cooking technique for those baby backs is something you can try at home.