This Viral TikTok Hack Turns McDonald's Milkshakes Into Frappuccinos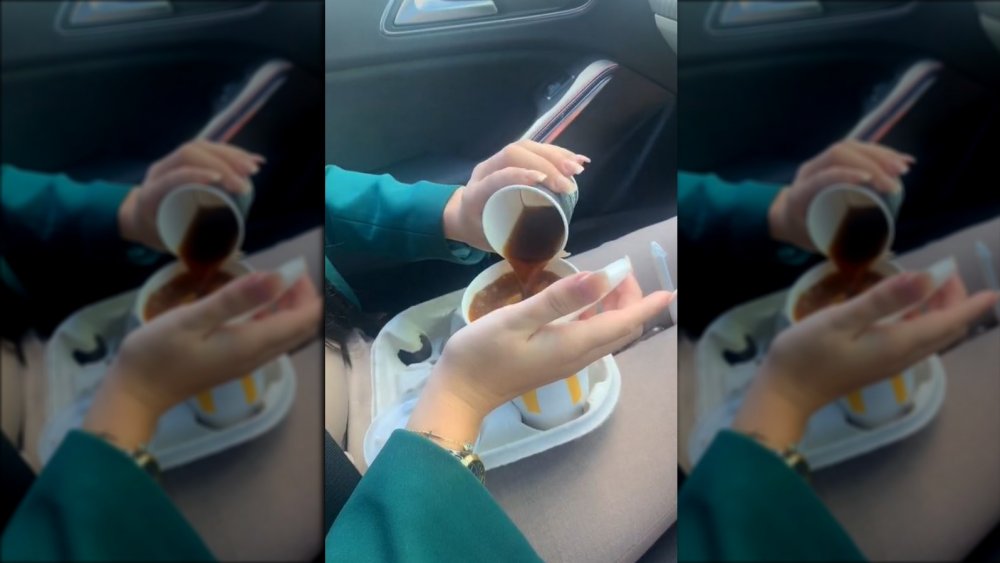 TikTok
We love TikTok tips, tricks, and hacks for their ingenuity and resourcefulness, and the most recent fast food hack to go viral on the social media platform is no exception. TikTokers have found a way to combine two simple McDonald's menu items to create their own frosty frappuccino.
The most-watched video on TikTok demonstrating the hack, uploaded to the platform by user @ellbrxo and simply captioned "Thank us later," already has over 29 thousand likes and 300 comments. In the short clip, she walks us through each step to create a frappuccino using two McDonald's menu items. To create your own McDonald's frappuccino, all you need to do is get a vanilla milkshake and a shot of espresso from the chain, pour the espresso into the milkshake cup, and stir.
Commenters on @ellbrxo's TikTok were quick to suggest tips they felt would make the hack even better — like using a chocolate milkshake instead of vanilla for a mocha frappuccino or letting the espresso cool down first so the drink doesn't melt as quickly and stays thicker. One commenter even said that they work at McDonald's and use this menu hack all the time, and if there's one thing we know for sure, it's that the workers at restaurants always have the best tricks to hack their menus.
Some McDonald's locations sell their own version of the frappuccino
Another video showing the McDonald's milkshake frappuccino hack was uploaded to TikTok by user @loopylou2020, but without the step-by-step directions and funny commentary provided in @ellbrxo's video. This basic clip was similarly very popular with TikTok users, receiving over 14 thousand likes and 200 comments. In the comments on @loopylou2020's video, TikTok user @elysia.f20 stated that this McDonald's frappuccino hack is actually already a huge trend in the UK with paramedics, police, and other workers who are frequently scheduled for overnight shifts.
Belfast Live asserts that this McDonald's milkshake frappuccino hack will run you a little under £3 to create (just under $4 for U.S. folks, via XE). It is also worth noting that McDonald's in the United States, as well as some other countries, does sell their own version of the frappuccino, the McDonald's frappe, anywhere they offer the full McCafé menu. The official McDonald's version of the drink comes in two flavors: caramel and mocha. According to Fast Food Menu Prices, the average price for a McDonald's frappe is $2.39 for a small, with a large only costing $3.39 — or right around the price of this DIY TikTok drink. 
Still, the hack is definitely worth trying out if you're somewhere that doesn't carry the McDonald's frappe or want to be able to customize your drink with extra espresso.