Here's What People Are Saying About Chick-Fil-A's Meal Kits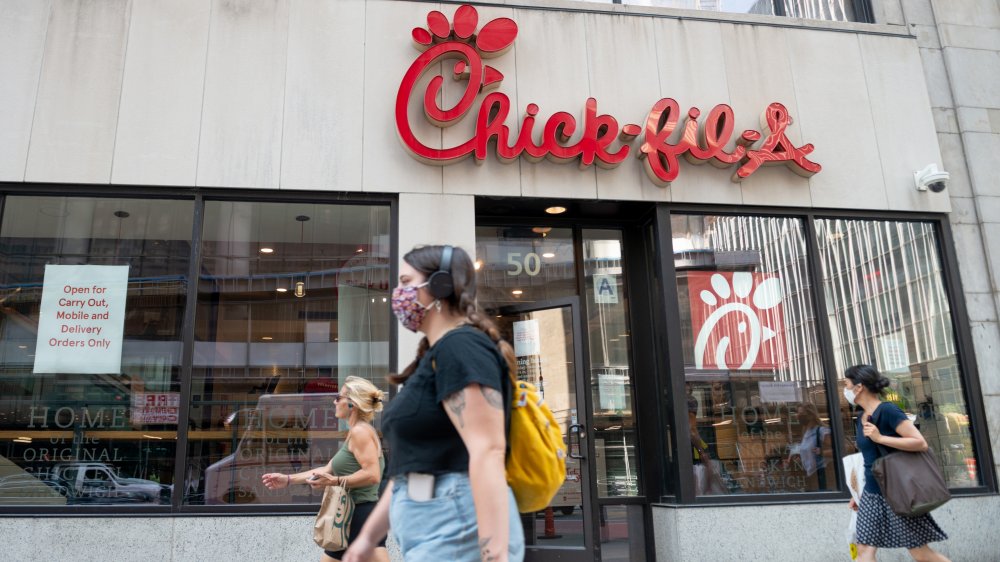 Alexi Rosenfeld/Getty Images
To make cooking a little easier, Chick-fil-A has been offering its fans take-home meal kits for several months. "Due to changes in our restaurant landscape over the past two months, we decided to resurface and fast track the Meal Kit concept to meet our guest's current needs," said Ben Bolling, menu and packaging program lead back in April 2020. Each Parmesan chicken kit includes two servings of pre-cooked and measured ingredients for as little as $14.99 (via USA Today).
Chick-fil-A first tested meal kits in 2018 and received great feedback. When Maura Judkis, a reviewer for the Washington Post, tried it then, she said, "It was, I swear to you, delicious. We all marveled at how surprisingly good it was." Judkis also marveled at the ease saying, "There were no sauces to make and barely any vegetables to chop — and I didn't even have to boil water for the pasta, which had already been prepared." Plus, the price point makes the kit less than its competitors. 
A current reviewer, Lauren Oats on Meal Finds, found the directions "incredibly easy to follow." She added, "In less than 30 minutes we had dinner for four on the table. In less than 20 minutes all four plates were clean." Oats said, "Chick-fil-A brought a convenient and easy to use option to help me when my week goes from normal to crazy." Not to mention, clean up was minimal, too.
What you need to know about the Chick-fil-A kits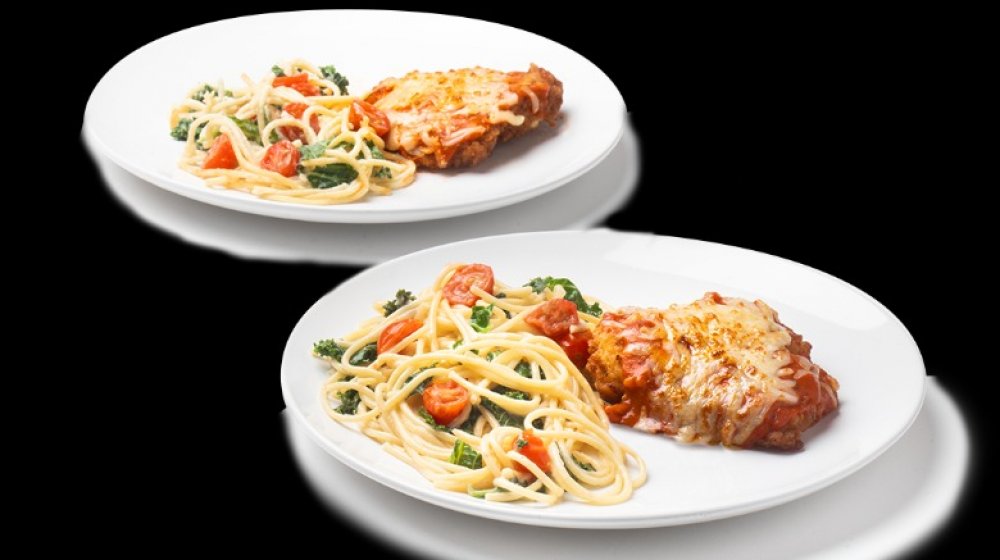 Chick-fil-A
Each kit comes with two seasoned, breaded, and pressure-cooked chicken fillets. It also includes marinara sauce, Italian-style cheeses, and creamy garlic and lemon pasta. If you prefer, you can choose grilled or spicy chicken fillets instead of Chick-fil-A's original chicken.
Even though these meal kits are easy and really delicious, they'll set you back quite a bit due to the nutrition. Each two-serving kit packs 1,230 calories, 55 grams of fat, 107 grams of carbs, and 77 grams of protein (via Chick-fil-A). That's a pretty substantial portion of your daily intake across the board, even if you account for the fact that it's divided up into two servings.
As the meal kits are a solution for those not venturing out much due to the novel coronavirus, it's important to note how you can get these. Chick-fil-A is not shipping the meal kits, but you can order them for pick-up at the drive-thru. The meal kits are also available through the Chick-fil-A app, DoorDash, Uber Eats, and Grubhub. So, there are plenty of ordering options.
While we only have the chicken Parmesan meal kits for now, keep your fingers crossed for more flavors soon. During the 2018 test, prospective choices included chicken enchiladas, Dijon chicken, chicken flatbread, and a pan-roasted chicken. Let's hope they make the menu soon, too.