The Dairy Queen Blizzard With The Lowest Calories May Surprise You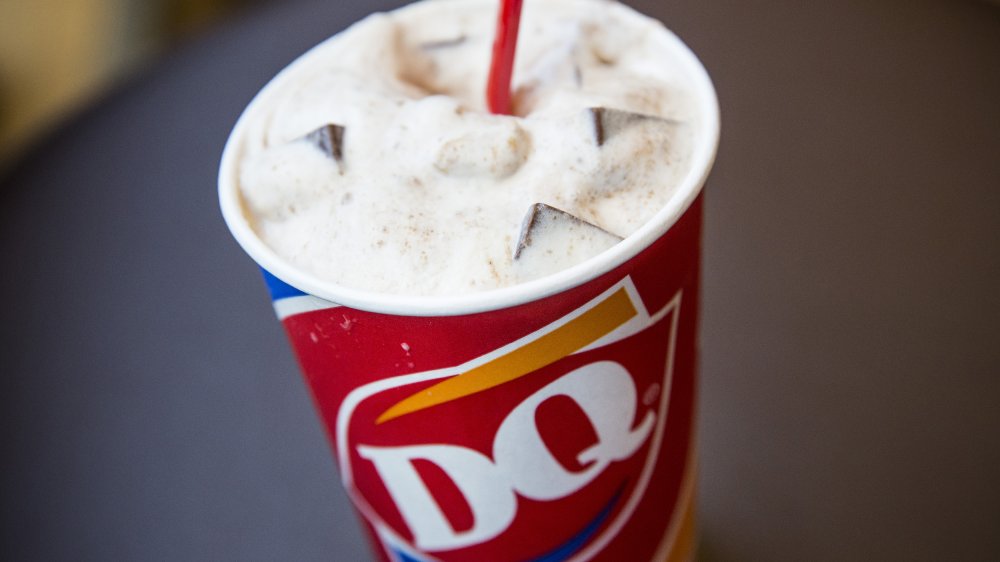 Andrew Burton/Getty Images
There's something oh-so-delicious about Dairy Queen blizzards. Maybe it's the luscious texture of the ice cream, the mild vanilla flavor that's the perfect base, or the different toppings, ranging from candy bar bites to indulgent cookie dough. Whatever the reason, Dairy Queen blizzards are a delicious sweet treat that comes in tons of flavors. But, if you're daring enough to check the nutrition on these ice creams, then you might be tempted to ditch them for good. 
Without even diving into the seasonal blizzard flavorings, the standard toppings offer enough of a challenge to find an ice cream with an acceptable caloric intake. Sure, ice cream isn't a health food, but it also probably shouldn't represent more than half of your recommended calories for the day. Most large blizzards ring in around 1,000 calories with the worst one, the Royal Rocky Road Trip, being 1,510 calories (via Dairy Queen). If you really want to have a treat and stick to some semblance of a normal day's nutrition, it's best to order the mini size, though one takes first-place with regard to the lowest-calorie option.
This treat is low compared to these high-calorie blizzards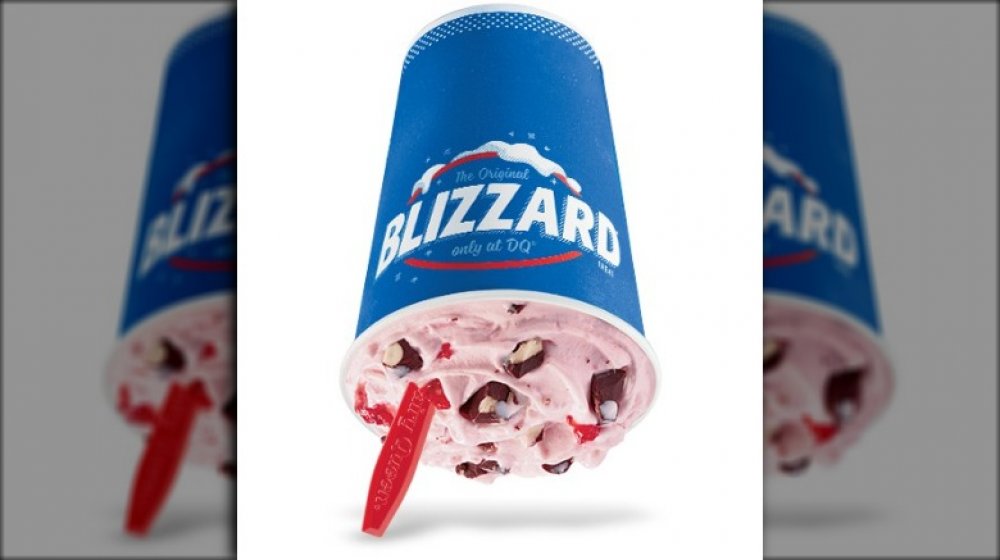 Dairy Queen
You might think it would be obvious that the smaller the size, the fewer the calories. While this logic is true, you will likely still be surprised by just how many calories even the mini sizes have. The Royal Rocky Road Trip blizzard, still has as many as 500 calories for the smallest size available. But, if you want to indulge without blowing it out, there's an option for you.
Pick up a mini-size Choco Dipped Strawberry blizzard. It's only 310 calories and has 11 grams of fat. The blizzard also packs 110 milligrams of sodium, 46 grams of carbs, and 39 grams of sugar, all of which are relatively low compared to other sizes and flavors.
Insider actually tried and ranked all 18 current flavors offered at a nearby Dairy Queen by taste. Though Choco Dipped Strawberry was not one of the blizzard flavors that was tried, there was a similar flavor profile, Raspberry Fudge Bliss, that was and it was ranked within the top five. So chances are, chocolate strawberry has to be pretty tasty too. Enjoy!