This Is The Worst Sauce At Buffalo Wild Wings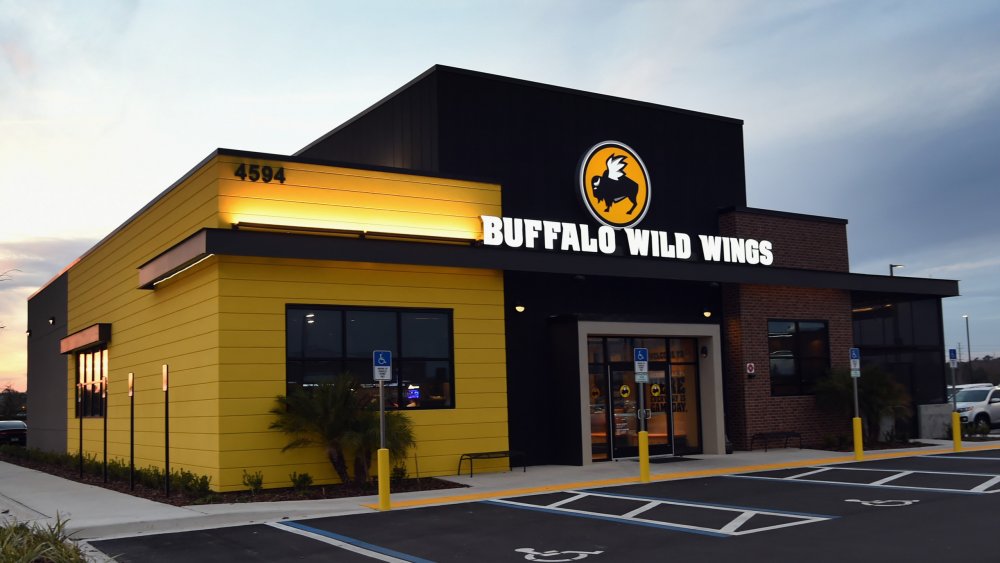 Rick Diamond/Getty Images
For many of us, there's no better way to celebrate a victory or comfort a loss quite like a heaping order of chicken wings — authentic New York-style Buffalo wings with a generous variety of dips and sauces, to be exact. Buffalo Wild Wings, one of the biggest names in the fast casual dining business, have been making sports fans happy with their authentic Buffalo wings since 1982. According to the Buffalo Wild Wings website, the casual dining concept was first dreamed up after the chain's two co-founders, Jim Disbrow and Scott Lowery, moved from Buffalo, New York to Ohio. The pair found themselves craving a taste of home and decided (instead of making the long drive from Ohio to New York every time they felt a bit homesick) to open a place serving delicious Buffalo wings for themselves.
After finding success with their first restaurant in Columbus, Ohio (then named Buffalo Wild Wings and Weck), Buffalo Wild Wings began to expand, eventually opening at least one location in every state, plus some outside of the U.S. as well. The company also added more sauces and seasoning options along the way, now offering customers over 20 varieties to choose from to coat their infamous bar snack. No matter how you like your wings — from blazing hot to mild BBQ — Buffalo Wild Wings has you covered.
The Buffalo Seasoning dry rub is not worth your time
If you're looking for a little clarity on how to decide between the many sauces on the Buffalo Wild Wings menu, we're here to tell you that there is one choice we would most definitely not recommend. On their website, Buffalo Wild Wings describes their Buffalo Seasoning option as having a "classic heat with a buttery finish". The first thing you should know about this choice is that the Buffalo Seasoning is not a sauce, but in fact a dry rub. Unfortunately for Buffalo wing fans who would appreciate the classic Buffalo sauce flavor without the messy face and fingers that frequently accompany it, the chain's Buffalo Seasoning doesn't linger on your taste buds and there is little to no spice to be found. Also, the advertised buttery flavor doesn't quite stand out as much as the description would have us believe, perhaps because (as a dry rub) it lacks the right texture to deliver on this promise.
Thrillist agrees that the Buffalo Seasoning is the worst possible choice at Buffalo Wild Wings, criticizing the dry rub for just not being as good as the real thing. They give Buffalo Wild Wings props for trying to reinvent the classic Buffalo sauce, but found the finished product to be an overly-dry, less-inspired version of your standard Buffalo sauce. 
Looking for some suggestions on which sauce you should choose? Buffalo Wild Wings has many more flavorful and irresistible sauce options to pick from, such as Thai Curry, Chipotle BBQ, Parmesan Garlic, and Mango Habanero.