This Viral TikTok Hack Is Changing The Way People Make Eggs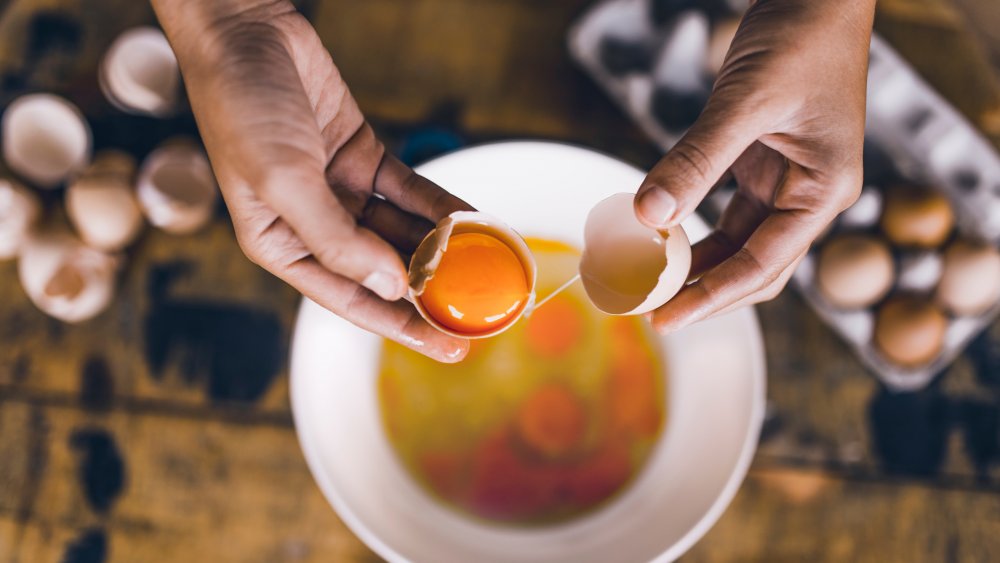 Shutterstock
Cooking eggs perfectly is rather tricky and can be deceptively hard. From overcooked scrambled eggs to stringy poached eggs, this particular protein can be a delicious centerpiece to your breakfast — but only when prepared well. Fortunately, there's a new trend going around thanks to TikTok, and it shows you how to make beautifully draped eggs with a runny yolk inside. 
The viral video was first shared across social media platforms earlier in September before The Kitchn saw the trend and shared it too. Soon people began calling this technique "envelope" eggs due to the way the egg whites are folded around the yolk during the cooking process. People across social media began to respond saying that they wanted to try it as user jadedcreative did on Twitter. Later, user pizzamondays said they tried it and that it "went pretty well" on Twitter. To their credit, the photos look very similar to the final product in the TikTok video, even if the folds were not quite as crisp.
How to use the TikTok hack to make eggs
To make eggs using this new viral TikTok method, start by heating a wok and separating the egg white from the egg yolk for each individual egg you plan to cook. Next, add the egg white into the pan and tilt the pan until the white covers the bottom and sides of the pan. After the pan is covered by the white, carefully drop the egg yolk in the center of the white without breaking the yolk. 
Fold each side of the egg whites over the yolk so that it creates a small "envelope" or square around the yolk. Finally, cook the whole thing evenly on both sides so the eggs have a golden brown color on the outside. When you cut into the egg envelope, you should have a runny yolk that's just right as users saw from the second take of the technique from the original poster (via Today). Even though the folds are probably tough to get just right, the method of cooking looks fairly easy overall. So, pick up a carton of eggs and give it a try today.