This Chick-Fil-A Shake Hack Is A Total Game-Changer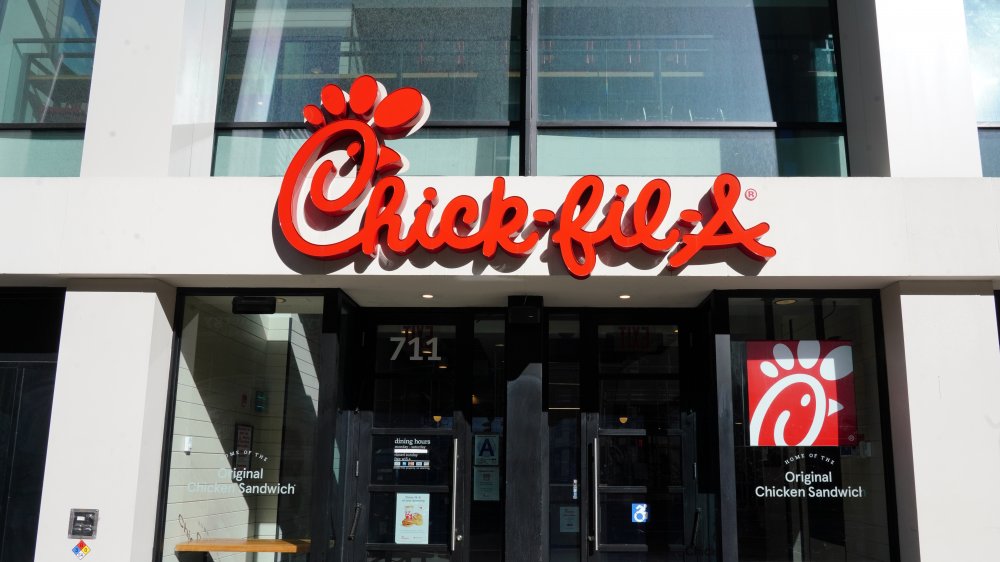 Cindy Ord/Getty Images
Chick-fil-A is one of those places that exude joy, happiness, and complete devotion. From their exceptional customer service to their food, they have become the most beloved and favorite fast-food chain in the United States (via CBS News). Countless articles have been written about them detailing anything from special food hacks that you need to try to secret dessert menu items that are a must to how to get more Chick-fil-A sauce without stealing them. 
Fans of the restaurant chain, created by Samuel Truett Cathy in 1946, have shared all the magnificent and delectable ways that they have made their Chick-fil-A food even tastier. Some of the hacks brought to light will show you how to create a blueberry milkshake, a chicken quesadilla, and even how to get a cheaper chicken sandwich when you need to ball on a budget (via Spoon University). There are versions upon versions of different things you can do with their sauces, mac-and-cheese, and sandwiches that are sure to tickle your pickle and further push you into Chick-fil-A heaven. Anything from customizing chicken sandwiches and the signature waffle fries to how to make off-the-menu shakes have popped up everywhere on the internet from TikTok to Youtube to Reddit, kind of like this next hack.
The Chick-fil-A shake hack that will rock your world
Reddit users have a propensity to share interesting things they have tried and just how delicious they can be. Enter the vanilla shake hack shared by Reddit user iCopyright2017 on how to spice up a regular vanilla shake into something truly special and incredibly memorable. The instructions to create this out-of-this-world shake are super simple and seek to reap highly appetizing results. 
To start, you must drive up to your local Chick-fil-A and order a regular small vanilla shake and a brownie (yup, we're going there, folks). Once you find yourself in a location where you can safely prepare your food, crumble the brownie into a large cup. Add the shake to layer on top, followed by some ice cream, and blend to perfection. It might be easier to do it in a blender if you're at home since it seems that the user might be referring to Chick-fil-A's shake blender. That being said, this definitely seems like a shake hack that many people would back. From their signature shake to the brownie, everything is just perfect, making it a must-try.