The Most Unique Subway Sandwich You Can Only Get In Japan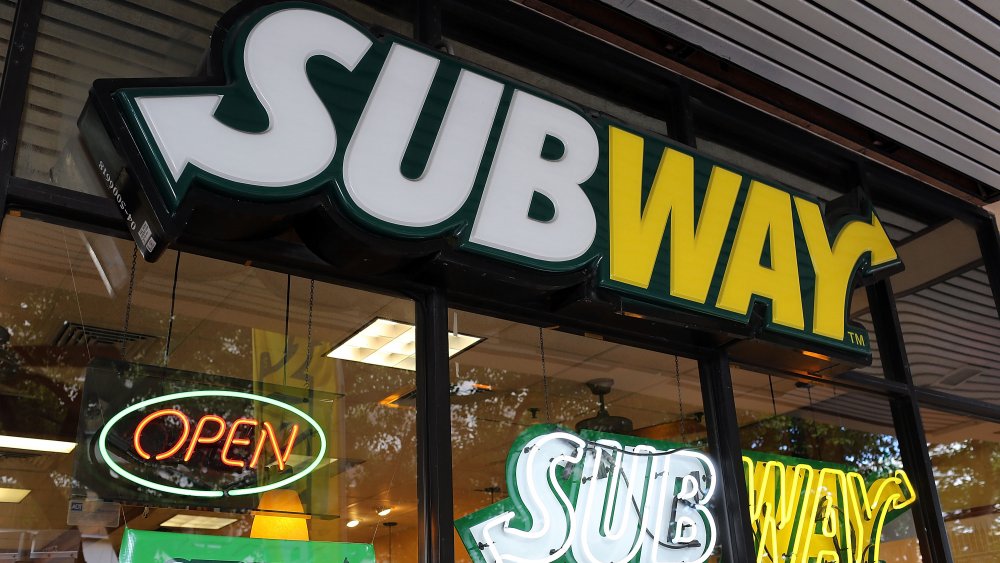 Joe Raedle/Getty Images
Subway is currently one of the world's most dominant fast-food brands. As per Subway's official website, the brand currently has more than 40,000 outlets across the world. A description on the website reads, "We've become the leading choice for people seeking quick, nutritious meal options that the whole family can enjoy... As we continue to grow, we are guided by his passion for delighting customers by serving fresh, delicious, sandwiches made-to-order right in front of you." 
Well, the restaurant has been living up to its promise as far as reaching out to customers in different parts of the world is concerned. As an article by Delish points out, the restaurant is particularly skilled at surprising its patrons by offering local favorites globally. There are tweaks on the menu that you'd never expect. For example, in France, you can totally get yourself a delicious Steakhouse Melt topped with cheese, vegetables, and a nice slab of beef. Or you could go to the U.K. and feast on the Chicken Tikka sub, a flavor that was introduced keeping in mind the fact that the British love a generous serving of chicken tikka.
Japan's offering is an overdose of beef in the form of a sandwich
Subway has outlets in Japan too, and well, these franchises have as many as 20 customizable options keeping in mind the local flavors (via The Richest). For example, the restaurant offers a sweet sub that is a mish-mash of red bean paste, a bit of sugar, vegetables, and mascarpone on bread. As expected, the meal is sweet and is only an option from 2 p.m. onwards. But still, it's worth a shot if you're looking for something different. Another interesting option is called the Infinite Destroyer, which is a beef sensation that really lives up to its name.
As per Japan Today, the Infinite Destroyer was introduced at the University of Tokyo branch and is full of beef slices. How many slices, you ask? Well, it's a lot — 25. There are options even here, depending on hungry you are. Several levels let you choose the amount of beef you'd like to include in your sub: ranging from the first level that has twice the amount of beef found inside an ordinary roast beef sub to the God Destroyer that includes four times as much beef, all the way to the Infinite Destroyer at yes, five times the amount of beef typically found in a sub. 
Whew. If you're a beef lover and can't get enough of the meat, you may want to go to Japan and order the Infinite Destroyer. Who knows? You may leave the restaurant surprised and utterly joyous.