This Fan Favorite Crab Dip From Costco Is Full Of A Surprising Ingredient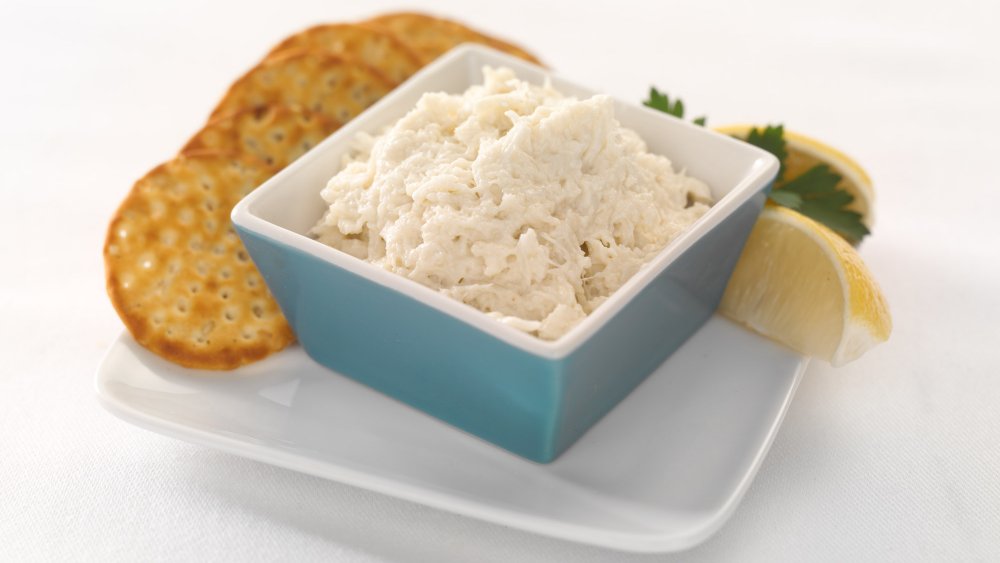 Inland Market Premium Foods
Beware a seafood spread. But not in the way you'd expect. Costco carries a Blue Crab Spread from Inland Market, and though the wholesale giant's reputation for enormous quantities of delicious, affordable, and sample-able bulk items precedes it — you might want to think twice before shell-ing out (yes) for this fishy dip.
It's not that the spread isn't delicious. By all accounts, it is. One satisfied customer who bought the spread at BJ's writes, "Taste delicious and real crab." And they would totally recommend it to a friend. What more could you ask for? id8, Inland Market's branding agency, says of the wholesaler's blue crab and lobster spreads, "Both spreads have been well received by new consumers, and the entire line remains a constant household staple for many." But at what cost, Costco? Turns out, this crabby dip is loaded with questionable ingredients (via Eat This, Not That!) — chief among them, about five different versions of sugar.
Blue Crab Spread from Inland Market is low-key terrible for you
Let's review: The mayonnaise? It has sugar as an ingredient. The surimi, another word for a fish paste or gel mixed into the spread (via Thrillist), contains rice wine, which contains sugar. Sugar itself is listed again, and so is sorbitol, a sugar alcohol which contains fewer calories than sugar (via Food Insight), but also has — uh oh! — laxative properties (via Canadian Family Physician). We're not even to the "2 percent or less of" section, which lists "natural cane sugar," which is part of the Panko breadcrumbs mixed into the spread.
Inland Market's Blue Crab Spread gets a very bad 7 out of 10 as a "higher concern" food from the Environmental Working Group, a nonprofit that rates food product safety, among other services. In addition to the added sugars, EWG notes that the spread "Contains ingredients that may contribute small amounts of unhealthy artificial trans fats: Canola Oil and Soy Bean Oil," "Contains the non-specific ingredient 'flavor,'" and, a personal favorite, "Rice-based ingredients may contain arsenic." Enough said.
Many of us know that our favorite processed savory products are loaded with sweeteners, from pasta sauce to sriracha. But even sugar-loving Americans have to draw the line somewhere, and this dip might be more appropriately stocked in Costco's dessert section.