The Viral Chick-Fil-A Dog Just Got A New Role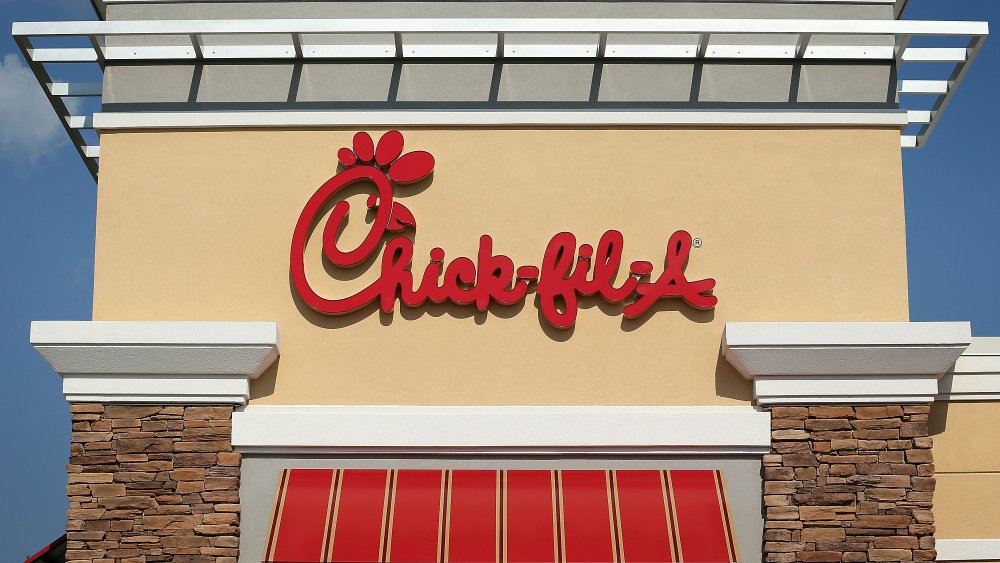 Alex Wong/Getty Images
Back in August, while some of us still hadn't fully adjusted to pandemic life, one sweet pup proved more than happy to help her owner practice safe social distancing by retrieving his Chick-Fil-A order via curbside pick-up. The North Carolina Chick-Fil-A that Ellie the dog and owner Nick Booras visited caught the pooch's pick-up on camera and posted it to their Facebook page. Ellie became a viral sensation overnight.
Facebook's collective heart melted as users viewed Ellie dutifully accepting Booras's food from a Chick-Fil-A employee, taking the bag by the handle in her mouth, and happily toting it back across the parking lot to him. One commenter gushed, "This is hands down one of the cutest things I've seen. What a good girl! Ellie, at 1.4 million views in one day you're officially famous, sweet girl. And rightfully so." Now, Ellie is truly getting the attention she deserves in her new role as a commercial actress. The News & Observer reports Ellie is being featured in her very own national Chick-Fil-A commercial.
Ellie the dog is appearing on TV
We certainly didn't need another reason to love Chick-Fil-A but Ellie the dog couldn't be a more perfect spokesdog for the chain. Gabriel Baker, the director of marketing and culture for a Chick-fil-A in Chapel Hill, filmed the original Facebook video of Ellie and said, "She's just the sweetest dog and a natural in the spotlight." Booras already knew his pup had star power, though. According to The News & Observer, he said, "people lose their minds" over Ellie's take-out talent.
In the commercial, Ellie demonstrates her Chick-Fil-A retrieval skills, grabbing a bag of food from Baker and bringing it back to Booras, who remarks, "We never even have to tell them to hand her the bag. The team members just automatically knew to do it." It must be Ellie's irresistibly sweet face and her ever-wagging tail that make her easy to read. This good girl's commercial debut is sure to be a success, although there's no word yet on whether she's being paid in chicken nuggets or belly rubs.