This Is Why You Should Never Order Cooked Eggs For Delivery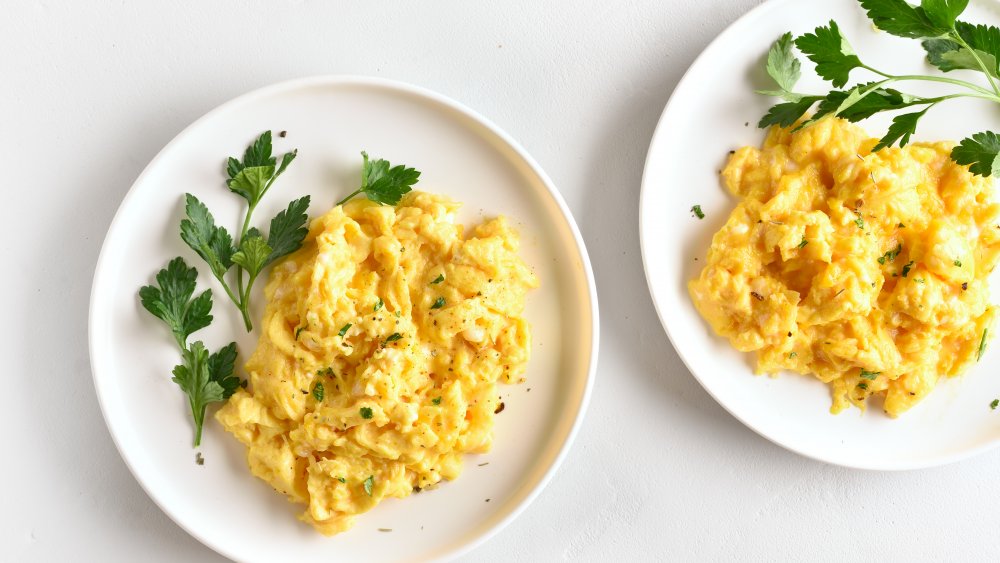 Shutterstock
There's nothing better than waking up to a full, hearty breakfast (or brunch) in the morning. Bacon, french toast, pancakes, toast, eggs, the works — and it gets even better when you don't have to cook any of it yourself. But before you order a breakfast smorgasbord for delivery, think carefully about what you're including in your order.
While it's definitely easier to get a few scrambled or poached eggs delivered, unless you live relatively close to the restaurant they're coming from, they might not arrive as piping hot and fresh as you want. Anyone who's ordered delivery before knows that there can sometimes be unexpected delays, and when it comes to eggs, they can quickly become rubbery or dry if it takes too long to get them to your plate.
"We forget how badly eggs smell when they're not fresh. Plus, cold eggs don't taste nearly as good as you'd hope," Ari Banayan, co-founder of Habit Nest, said in an interview with Insider. Having cold, smelly eggs show up at your door doesn't exactly make for a delicious start to your day, so if you're planning to get breakfast or brunch delivered, you might want to stick to foods that will travel a little easier or don't need to arrive hot, like donuts.
How to reheat cooked eggs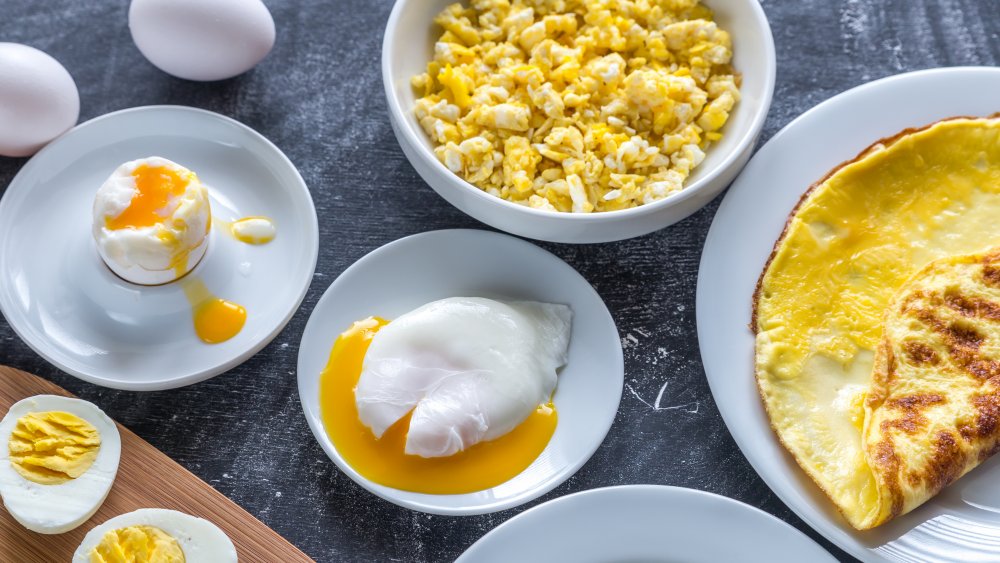 Shutterstock
If you decide to take a chance on ordering eggs anyway and they arrive a little cold, you don't necessarily have to toss them out. Depending on how your eggs were cooked, the best method for reheating them can change, so don't just stick any eggs you ordered in the microwave thinking it'll save them.
According to Healthline, microwaving works well for scrambled eggs, as long as you stick to 20 to 30 second intervals and stir them in between to help heat them up evenly. A similar trick works for sunny-side up eggs, although Healthline recommends starting with a greased preheated plate, microwaving the eggs for 30 seconds, then giving them 60 seconds to rest before heating again so the yolks stay intact.
If you ordered an omelet that arrives a little on the cool side, you can reheat it in the oven at 350 degrees F for about 15-20 minutes (via Healthline). Finally, according to Healthline, poached eggs should be reheated the same way they were cooked — simmer in water for just a minute or two. Still, reheating is no guarantee that your eggs will taste like they're fresh out of the pan; according to Healthline, they might be a little dry or rubbery anyway, so you're probably better off steering clear of ordering cooked eggs for delivery.