Pizza Styles You May Not Have Heard Of
Shutterstock
It's no secret that there's plenty of top notch pizza to be found all over the country. Travel from state to state and you'll find independent pizzerias putting out unique pies that put even the most beloved chains to shame. Here's a look at five pizza styles that are worth a road trip.
Hailing from the Motor City, Detroit-style pizza is a riff on square Sicilian that can trace its roots back to a bar called Buddy's Rendezvous. Baked in rectangular pans, this particular style's magic happens in the oven. "The soft and airy square crust, the crunchy exterior, the caramelized cheese that edges the pizza — are all due to the deep pans in which the pizzas are baked," explains Pure Michigan. Detroit-style pizza is topped with a combo of classic mozzarella as well as a regional specialty known as brick cheese. Rarely seen outside of the Midwest, Mike's Window describes it as a high-fat aged cheese with a uniquely tangy, salty, buttery flavor.
Introducing America's weirdest pizza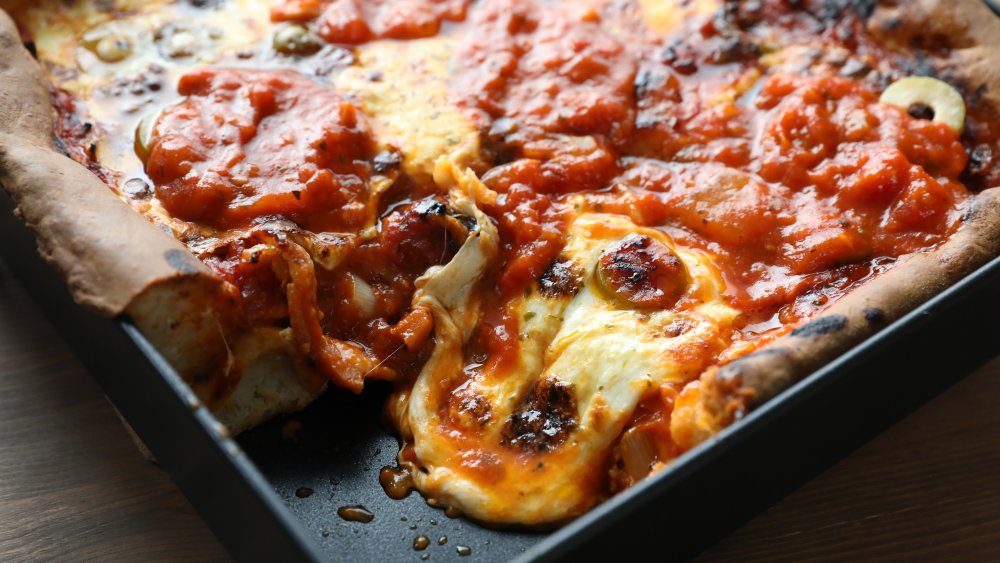 Shutterstock
St. Louis-style has been called America's weirdest pizza (via 10 Best) and there are a few reasons why Missouri's go-to pie is so polarizing. First, let's talk about the crust. St. Louis leaves the yeast out completely, making for an ultra thin crust akin to a flatbread or cracker. Secondly, there's the cheese. St. Louis purists know that the only way to top a pie is with Provel — not a true cheese per se but a pasteurized processed product that's a blend of white cheddar, Swiss, and provolone, engineered to combat the inherent stringiness of mozzarella (via Spoon University). 
New Haven natives refer to their hometown pies as apizza, rather than pizza (via Eater). These New World takes on a classic Neapolitan pie are baked until charred bubbles emerge in coal-fired ovens. The Wooster Square is the city's historic pizza center, with Pepe's, Sally's, and Modern Apizza keeping locals and tourists like happy with only-in-Connecticut pies. New Haven pros know to go for the garlicky white clam pie.
One of the country's most curious pies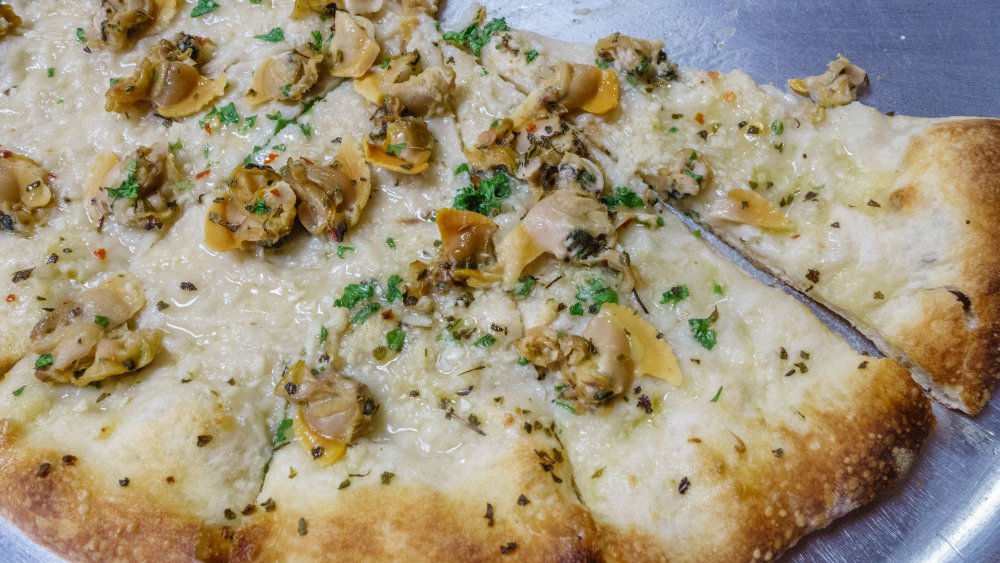 Shutterstock
One of the country's most curious pies can be found in pizzerias alongside the Ohio River. "Ohio Valley pizza comes out of the oven covered in only a slathering of unseasoned tomato sauce and a meager layer of melted cheese. It's then piled with mounds of cold cheese. Each bite is both hot and cool," as per a description by Atlas Obscura. Pizza Need hypothesizes that the cheese was added after the fact to avoid burning during the pizza's long baking time.
Before diving into Quad Cities pizza, it's best to place this hometown — or towns — of this pizza style on a map. The (actually five) cities that make up what's referred to as the Quad Cities reside on two sides of the Mississippi River, Rock Island and Moline and East Moline in Illinois, and Bettendorf and Davenport in Iowa. USA Today explains that this Midwest favorite starts with a slightly sweet crust made with malted barley and comes topped with sauce, then instead of cheese, toppings go on underneath a final layer of mozzarella. Cooked pies are scissor cut into long, thin rectangles before serving.