This Is The Worst Maruchan Ramen Flavor
Maruchan's Ramen noodles are popular for a reason. As per Thrillist, the brand's noodles, particularly its soy sauce flavor, are to die for. As Thrillist suggests, for many people, the soy sauce flavor is like being transported straight to the streets of Tokyo for a hot and comforting bowl of flavors, implying that the taste is authentic and well worth your money. The brand offers a variety of flavors to ramen enthusiasts, such as chicken variants, several flavors of shrimp, pork, soy sauce, chili, and beef, giving consumers a chance to enjoy the wonders of ramen from their comfort of their home. 
In case you're curious about the Maruchan Ramen flavor that doesn't live up to expectations and isn't as good as its counterparts, we have the answer for you. Read on for the full low-down on what to choose the next time you're shopping for ramen at the grocery store. It's no secret that there are healthier items than a packet of instant ramen noodles. Let's get into the specifics.
Avoid the Less Sodium Beef flavor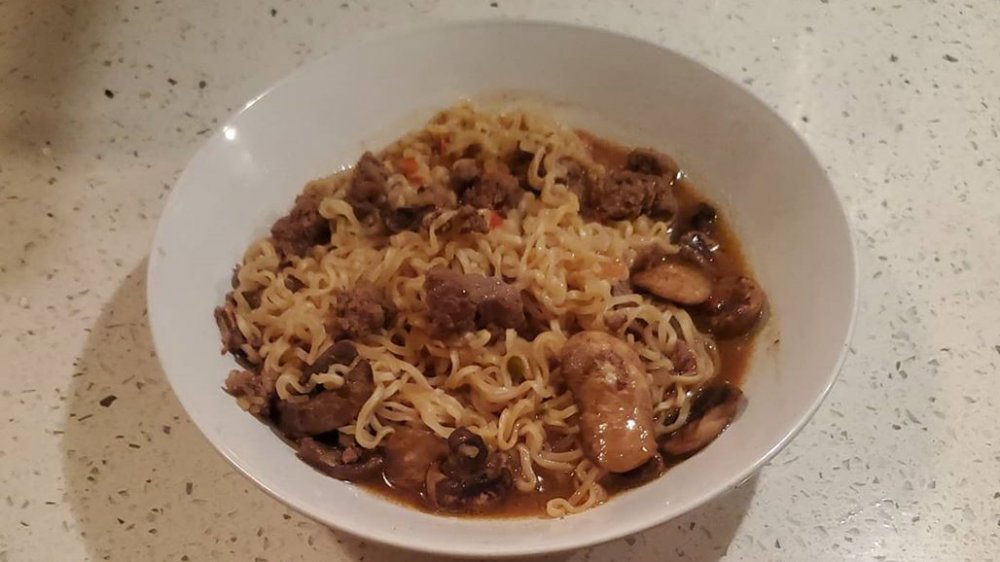 While normal Beef Maruchan has 790 mg of sodium, its allegedly healthier counterpart, the less-sodium beef version still isn't great for your health, packing 540 mg of sodium into each serving. A description on the company's website reads, "Get all the delicious flavor of beef but without all the sodium. If you're looking for a healthier choice, you've found it."
Unfortunately, this still isn't really good for you. Remember, too, that if you read the packaging, you'll notice that there are two servings in each packet. You definitely do not want to subject yourself to that much sodium in just one meal. As per the World Health Organization, it's best to have limit yourself to about a teaspoon of salt in a day to avoid health issues like high blood pressure.
Plus, let's face it: Maruchan's less-sodium version is not likely to live up to its potential in terms of flavor. Less salt will make ramen taste not as great and you won't be able to ignore it, right? Instead of opting for the beef flavor, do yourself a favor and go for something different, such as soy sauce. Your taste buds will be thank you.