This Is The Best Pizza Place In New York
If pizza could sweet-talk you into a sultry affair with the mystique of a secret agent, it would be the pies cooked up in the heart of Nolita, NYC at Rubirosa. The New Yorker says Rubirosa is named after a Dominican maybe-assassin who might have inspired James Bond and who may have seduced Marilyn Monroe. And for good reason.
The restaurant isn't old enough to have been frequented by Frank Sinatra like Patsy's was (via The New York Times). It hasn't been memorialized in Hollywood, like when John Travolta feasted on Lenny's Pizza in Saturday Night Fever (via Culture Trip). But ... Rubirosa's pizza crust. It's "whisper-thin" raves Lonely Planet. However, stipulates The New Yorker, the crust manages "to be chewy on the inside and crispy on the bottom, with slightly charred, crunchy edges." And Rubirosa's iconic Vodka pie? This is why you come to the "turn up" restaurant, raves The Infatuation. "We've yet to go wrong" confirms Time Out, drooling over "layers of creamy, booze-spiked tomato sauce" and "gooey patchwork of fresh mozzarella." 
It's not just that most reviewers spew poetry. ("This is a slice with a balance of flavor that your average artisanal pizzaiolo would sell his soul for," writes New York Magazine). It's not that its ex-chefs have opened restaurants worthy of a The New Yorker write up. It's not even that Rubirosa found it's way into Vogue, proving that its name is just as natural in the mouths of fashionistas as it is in food writers'.   
This is why Rubirosa's pizza is the best in New York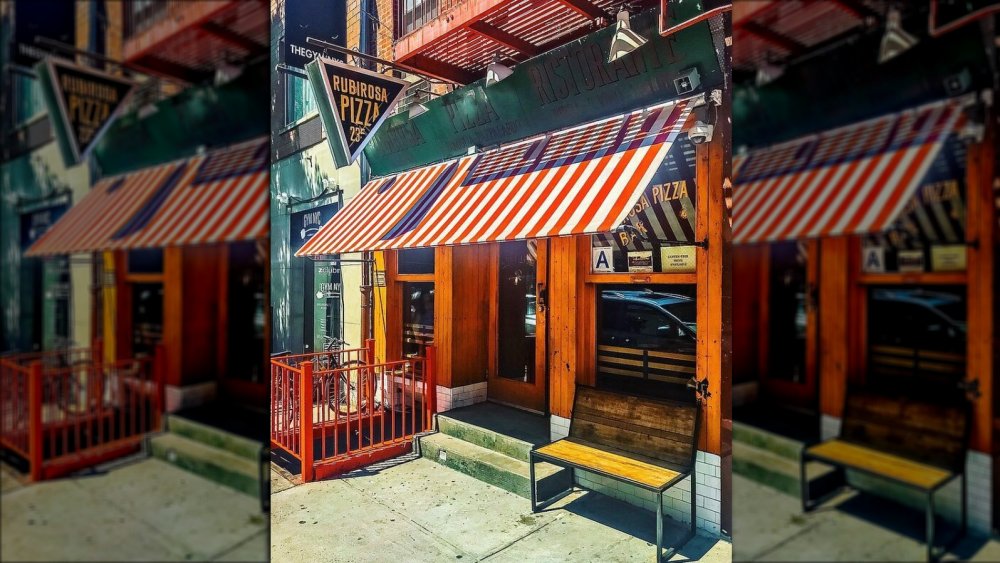 Shutterstock
Why is Rubirosa the pizza place in New York? Meghan Markle, Duchess of Sussex, considers it part of the city's "mother f-ing fantastic, crave-worthy food" scene (via People). But that's not it. It helps that Instagram celeb and former editor in chief at Lucky, Eva Chen, blames Rubirosa's pizza for 60-pound pregnancy weight gain. But that's not it, either. 
Partly, it's that, like any true New York  City pizzeria, Rubirosa has survived its share of binge-worthy feuds (via Eater). More importantly, the restaurant revolves around family. Rubirosa's chef and co-owner, Angelo Pappalardo is pizza. Pappalardo is the son of an Italian immigrant, Giuseppe. That's the Guissepe behind Staten Island's iconic Joe & Pat's. Angelo has been making pies, says Serious Eats, since he was 12 at his father's pizza shop. When he opened Rubirosa, Giusseppe ("Joe") would help out in the kitchen (via Eater). 
And partly, it's that, like any iconic New York City pizzeria, Rubirosa's pizza is flavored by place. If you're lucky enough to get a table in the nook-filled, railroad-apartment restaurant, you'll enter through dark velvet curtaining to eat your pizza atop a bar stool, caressed by dim lights and 80s music, and swathed between pressed-tin, copper-colored ceilings and warm dependable ceramic flooring  (via Rubirosa Ristorante, The New Yorker, Conde Nast Traveler, and Michelin Guide). Rubirosa boasts the kind of atmosphere that per, New York Magazine, "keeps the spirit [of Little Italy] alive."