White Castle Secret Menu Items You Wish You Knew About Sooner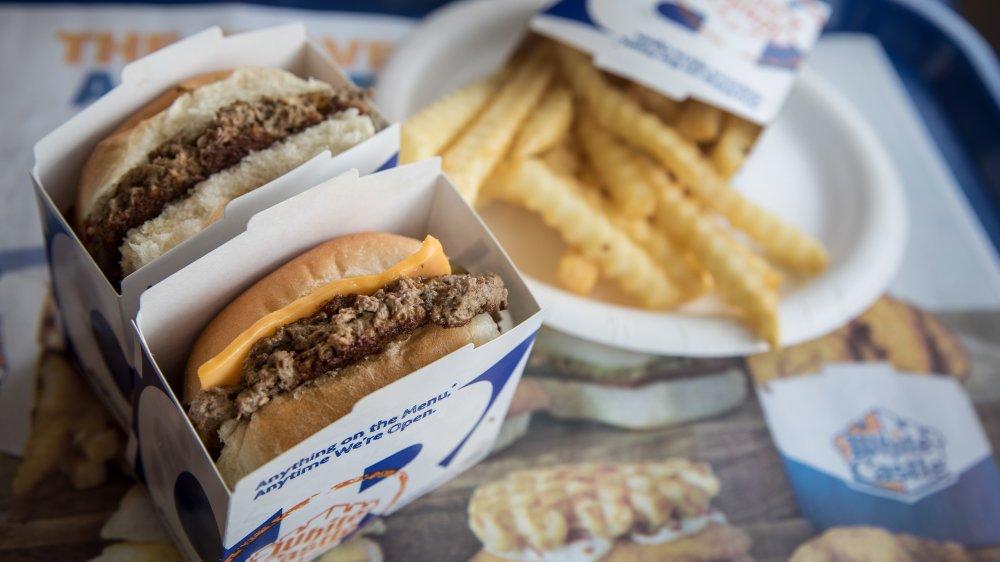 Drew Angerer/Getty Images
If you've ever been to White Castle, then you know that quantity is often the name of the game when it comes to placing an order. Their sliders are sold by the sack, crate, and case, and when you're eating upwards of two dozen sliders, you might want to start mixing things up a little bit. White Castle is best known for its starring role in cult classic movies like the Harold & Kumar franchise, and its vast menu of crave-worthy sliders that you can eat by the dozen. 
People who love White Castle are so dedicated to the original fast food burger restaurant that they can even apply for a spot in the Craver Hall of Fame (an homage to the extreme lengths some fans will go to in order to showcase their passion for the brand). While White Castle's sliders are actually pretty good (check out our definitive ranking to see which ones we love the most), there is also a pretty stellar secret menu, if you know how to order from it. 
To take the guesswork out of getting the most out of White Castle's secret menu, we're breaking down the best items, and how to order them so the person working the drive-thru doesn't respond with confused silence when you ask for a Valentine's Day Special. Here are some of our favorite items from White Castle's secret menu that you'll wish you knew about sooner. 
The surf and turf slider from White Castle
The surf and turf slider is another classic secret menu item that is now available as part of the standard menu at some, but not all, White Castle locations across the United States. Meant to be a play on the steak and lobster dinner, the surf and turf slider from White Castle combines the best of the land and the sea. Each surf and turf slider has one of the chain's fish fillets combined with not one but two of their steamed beef patties on a triple-layered bun. 
The surf and turf slider is often served with a slice of melted American cheese and some chopped onions to spice things up. While this sounds like it should be the stuff of fast food secret menu dreams, unfortunately, the surf and turf slider from White Castle does not deliver. Fair warning, we do not recommend ordering this for any reason other than sheer curiosity. Out of all of the delicious White Castle sliders available, we thought that the surf and turf was the very worst one when we tried them all. It has a pasty, unpleasant texture, and the flavors really do not mesh well together at all. 
White Castle's grilled cheese slider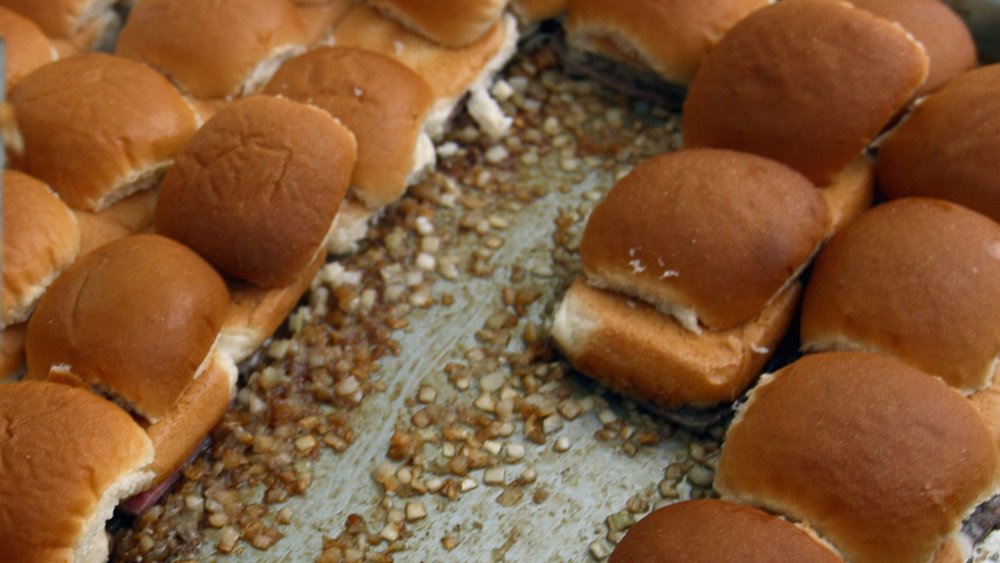 Win Mcnamee/Getty Images
One of the best things about a White Castle slider isn't actually the signature onion-infused, steamed beef patty. You might be surprised to learn that we actually think the bun is one of the best components of any White Castle slider, which is why we love this secret menu item so much. White Castle's signature fluffy slider buns are made at the Evandale Bakery in Cincinnati, and they're known for being incredibly light, soft, and pillowy. 
The OG hack for vegetarians who wanted to eat at White Castle before the age of the house-made veggie patty and the Impossible slider was to order a classic cheese slider with no meat, making this essentially a grilled cheese slider. At most White Castle locations, you can choose from American, jalapeño, or smoked cheddar cheeses, and in some locations, you can also get vegan cheese. If you like your grilled cheese with a little bit of an extra kick, the jalapeño cheese slider is the way to go. If you're looking for a shockingly good vegan grilled cheese, go for the dairy-free cheese option, since the chain's signature buns also happen to be vegan. 
The real power move, though, is to ask for a slice of each kind of cheese — American, jalapeño, and smoked cheddar — on a grilled slider bun. It's worth the effort of making the special order. 
White Castle's super loaded fries
The standard version of White Castle's loaded fries is a massive pile-up that is a combination of their classic crispy, crinkle cut french fries that are then topped with bacon crumbles, ranch, and cheese. Loaded fries were such a longtime secret menu favorite that back in 2011, they were added to the regular menu. 
However, just because the standard version of White Castle's loaded fries are now a part of the regular menu doesn't mean that you can't and shouldn't continue to amp these up to become super loaded fries. To get this secret menu item, start by asking for an order of loaded fries, then have them and add chopped tomatoes. Next, order some onion chips and a side of BBQ sauce to turn these into a totally crave-worthy pile of french fries. It's part secret menu item, part menu hack, and totally decadent and delicious. If you've been settling for plain loaded fries, you've been seriously missing out on the best way to actually order a side of fries from White Castle that is anything but ordinary. 
White Castle's bacon crumbles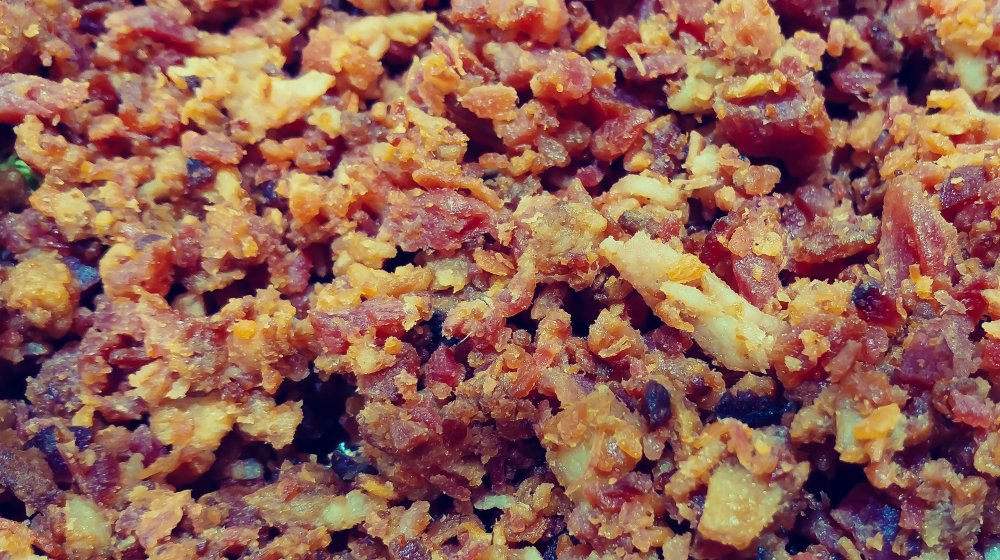 Shutterstock
This one is part menu hack, part secret menu item. Did you know that you can actually add bacon crumbles to literally any menu item that is sold at any White Castle location? It's true, you can! When it comes to this secret menu hack, the options are literally endless, and you're limited only by your own creativity. You really can't go wrong, because if bacon itself is good on pretty much everything, then it stands to reason that adding bacon crumbles would also be good on everything at White Castle. 
Think of them like little savory sprinkles that you can use to add a touch of umami to whatever is going into your next Crave Case. For example, a sprinkling of bacon crumbles can help to amp up just about any slider, but they are also great on all of the sides, including french fries, onion rings, mozzarella sticks. 
The real pro tip, though, is to think outside those little square boxes when you're looking for a creative way to add bacon crumbles to your White Castle order. For example, since you can add them to everything on the menu, that means you can get bacon crumbles blended into a vanilla milkshake or on top of their gooey butter cake on a stick. 
White Castle's Impossible double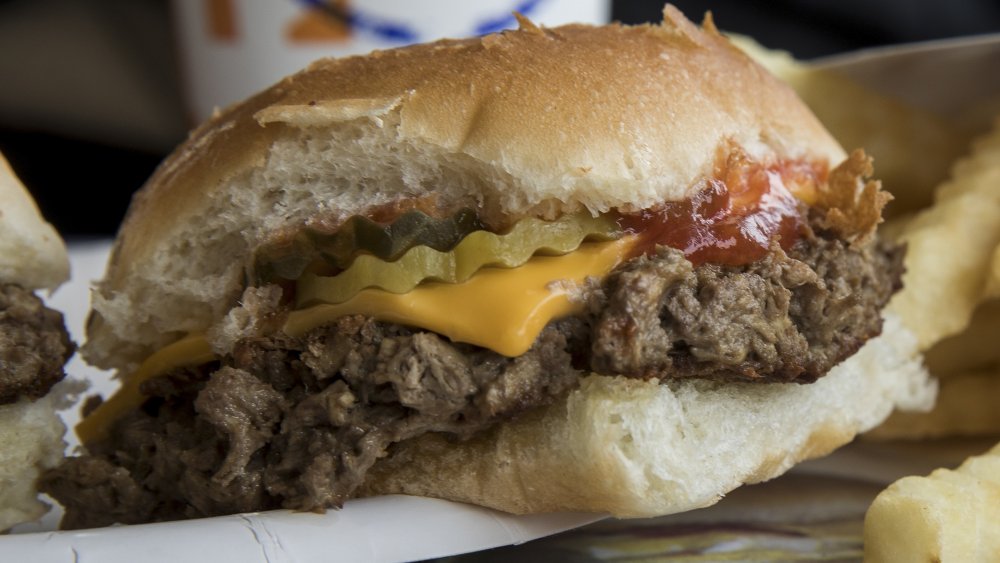 Drew Angerer/Getty Images
White Castle has always been an innovative fast food chain, so it should come as no surprise that they were also one of the earliest adopters of alternative meats in the fast food industry, launching their Impossible Slider back in 2018. In fact, White Castle was actually the first fast food chain to offer a version of an Impossible Burger, and they were an instant hit with many fans. 
There are a lot of ways to customize any slider at White Castle, but when it comes to getting a secret menu-worthy version of their Impossible Slider, we recommend taking a good thing and making it a double. To order the Impossible double slider, just ask for a double cheese slider, and ask them to swap out the beef patties for Impossible patties. If you are not a vegan, we do recommend keeping the cheese (the jalapeño pairs especially well with the Impossible patties), but it's still a really good option sans-dairy, or with the dairy-free cheese options that are offered at select White Castle locations. 
White Castle's Valentine's Day special
While White Castle may not immediately spring to mind as being a particularly romantic dinner spot, for some, there is a huge amount of appeal to sharing a sack of sliders with the one you love. In 2017, Eater reported on the phenomenon of how thousands of people every year love to spend Valentine's Day at White Castle. What originally started as a marketing gimmick back in 1991 has now become a time-honored tradition, and some people just can't wait for February to roll around before getting their romantic White Castle fix. 
The chain tends to put a slightly different spin on things each year for Valentine's Day, but there's a fun secret menu hack that gives you the opportunity to enjoy a romantic evening at White Castle on any day of the year. The Valentine's Day Special is a White Castle order that is truly designed for sharing, and it's incredibly simple to order: just ask for 10 sliders (the official White Castle term for an order of 10 sliders is "a sack," FYI), two 21-ounce sodas, and a side of french fries. Of course, the romantic ambiance is totally up to you. 
White Castle's chicken parm slider
The chicken parm slider is a fairly straightforward secret menu item, but it's also one of our absolute favorites. In order to experience this little bite of White Castle bliss, you'll have to do a little bit of DIY-ing, but trust us, it's worth it. You'll want to start by ordering a crispy chicken breast slider and a side of mozzarella sticks. Sounds pretty easy, right? 
Once you have these items in hand, just open up your slider bun, add some mozzarella sticks and the accompanying side of marinara sauce on top of the chicken breast, and close it back up. You don't even need to stick it in the oven, because the cheese inside of the mozzarella sticks is already melted. Once you've tried the White Castle chicken parm slider, you'll wonder why you didn't figure this one out sooner — and you'll probably never want to eat a plain chicken slider with a side of mozzarella sticks again. 
Harold and Kumar's White Castle's order
As we said earlier, White Castle has by this point become practically synonymous with the Harold and Kumar movies. Whether you are a fan of the franchise or just want to experience a truly ridiculous White Castle experience without any context, we recommend that every fan of the chain tries this secret menu order at least once. To get Harold and Kumar's order, you'll need to ask for 30 sliders (that's a Crave Case, in White Castle-speak), five side orders of french fries, and four large Cherry Cokes for "Harold," plus another 30 sliders, five fries, and four large Diet Cokes for the "Kumar" in your friend group. 
That's right, the true Harold and Kumar order means you're getting a whopping 60 sliders, 10 orders of fries, and 8 large sodas. Suffice to say that this is a whole lot of food, so we suggest maybe skipping lunch before you plan to indulge in a Harold and Kumar-style dinner. 
White Castle's black and white shake
While you probably won't see this on a ton of other White Castle secret menu lists, that doesn't mean you shouldn't order a black and white shake from the burger chain, because we all know that burgers, fries, and milkshakes are a match made in fast food heaven. If you're the kind of person who can never decide between a chocolate milkshake and a vanilla milkshake, this is the one for you. 
Simply ask for a milkshake made with half chocolate and half vanilla, and you'll have a black and white shake on your hands. If for some reason they won't mix it up for you, just order one of each shake flavor with an extra cup, and then mix it yourself. Black and white shakes are great because they combine the richness of a great chocolate shake cut with vanilla to mellow things out, making this an especially great pairing for an indulgent date with a Crave Case. 
White Castle's Neapolitan shake
If a black and white milkshake still isn't enough to help you decide on the best milkshake flavor to go with your next White Castle feast, we recommend giving the classic Neapolitan milkshake a try. 
In order to get this, you'll need to ask for one milkshake that's made up of a blend of chocolate, vanilla, and strawberry flavors, mimicking the taste of Neapolitan ice cream. This sweet drink is perfect for people who are indecisive, indulgent, or both. The strawberry flavor hovers in the background, a tart, tangy accent to the blend of vanilla and chocolate that takes center stage. Like the black and white milkshake, you can mix this up yourself by ordering all three flavors individually, along with an extra cup — although we definitely recommend going with a friend or two so you can share if you're planning to go that route when ordering this secret menu item from White Castle. 
White Castle's three cheese waffle slider
Getting a plain grilled cheese slider from White Castle is pretty darn good, but ordering a three-cheese grilled cheese on their signature miniature Belgian waffles is nothing short of pure genius. White Castle is one of the fast food restaurants that take the very smart approach of making its breakfast menu available all day long, so you don't have to go at any particular time in order to get this secret menu item. 
To order it, start by asking for a Belgian waffle slider. That menu item typically includes sausage or bacon along with egg and cheese, so ask them to hold the egg and the meat. When they ask what kind of cheese you'd like, tell them you'll have one slice of each: smoked cheddar, American, and jalapeño. You'll end up with a slider that has just the right amount of sweetness from the miniature waffles offset by salty, creamy, and ever so slightly spicy cheese. It's quite possibly our favorite thing on the secret menu. 
White Castle's loaded mozzarella sticks
White Castle's mozzarella sticks are great on their own, and excellent when used to construct a chicken parm lider, but they really shine when they're made into loaded mozzarella sticks, because the only thing that's better than deep fried cheese is deep fried cheese with toppings. This secret menu item is a riff on White Castle's popular loaded fries, except in this version, we're going to swap out the crispy, crinkle-cut french fries for mozzarella sticks. 
To order, ask for mozzarella sticks with shredded cheddar cheese, bacon crumbles, and ranch dressing. If this sounds like it's an intense side order, that's because it is, but it's also really, really delicious. If you want to get extra crazy, get a side of onion chips and add those to your pile. To take things to another level entirely, get an order of loaded fries, mozzarella sticks, and onion chips, ask for an extra side of ranch and bacon crumbles, and do a little bit of DIY layering to create the ultimate fast food appetizer. 
The cowboy slider from White Castle
The cowboy slider is another riff on White Castle's classic Crispy Chicken Breast Slider, although if you prefer the chicken ring slider, you can definitely use that as the base for this order as well. To start, pick your favorite chicken slider from White Castle and order it with jalapeño cheese — this is critical, because a good cowboy-style chicken sandwich should come with a little bit of a kick. Then, ask for an order of onion rings with some BBQ sauce on the side. Open up your slider bun, add two onion rings to your chicken base, and top everything off with White Castle's zesty, tangy BBQ sauce. 
It's a major improvement on the standard chicken sandwich offerings from White Castle, which can be a little bit on the bland, dry side. Once you try this secret menu hack, however, you might end up swapping out your sack of original sliders for a 10-pack of chicken breast sliders and a few orders of onion rings so you can impress all of your friends with your secret menu expertise.