Aldi's Fall Cheesecake Sampler Is A Total Steal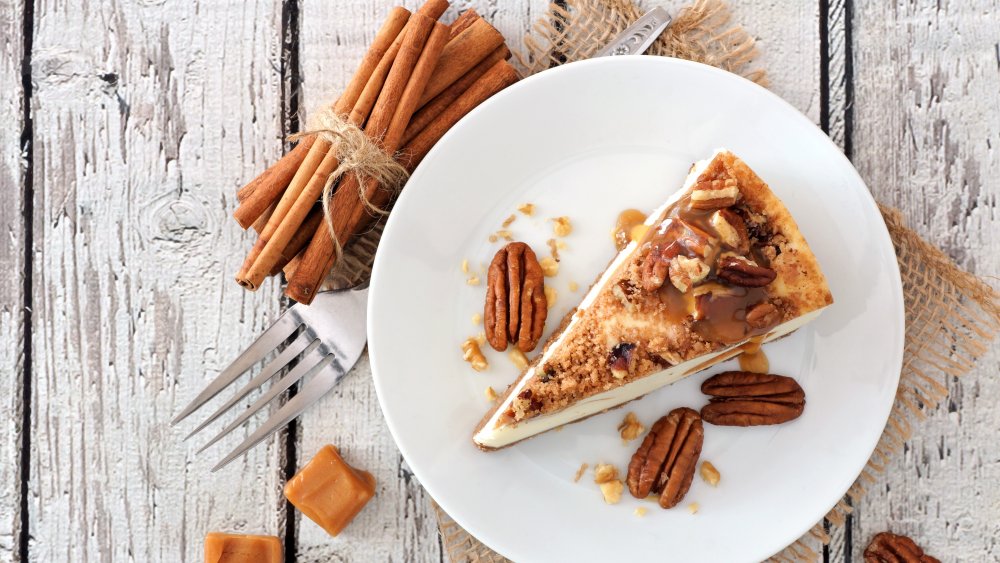 Shutterstock
With fall officially in full swing, it might be time to reach beyond the usual pumpkin spice for other autumnal flavors. Though it's hard to resist the allure of pumpkin spice anything, apple, maple, and warming spices are also perfect flavors for fall. Of course Aldi, your favorite budget grocery store, is on top of bringing you what could be one of the most delicious ways to enjoy all these flavors (yes, including pumpkin). Instead of a warm beverage or pastry, Aldi's latest product packs fall all into one creamy bite.
Aldi just rolled out a fall cheesecake sampler and people are really excited about it. Instagram Aldi fan account @aldifavoritefinds first excitedly shared the fall-flavored cheesecake sampler on October 13th, and the sentiment seemed pretty unanimous in the comments. People felt pulled toward this product so much that they didn't just want it, but said they needed the cheesecake sampler as soon as possible. The best part of all might be that this sampler is just $10, so it's totally affordable (via Aldi). Not to mention, it's a great way to please several people with one product — or just yourself while no one's watching, no judgements.
Here's what you need to know about Aldi's new fall cheesecake sampler
The box describes these fall-themed cheesecakes as being "premium," so the expectation for a creamy texture and rich flavor are pretty high. If you're someone who can't make a decision on dessert, then this is definitely the thing for you. The 40 ounce box includes four flavors and, with net weight of two and a half pounds, contains essentially the equivalent of one full cheesecake. My Recipes says that means it probably isn't just four massive pieces of cheesecake (one of each flavor), it's more likely there's roughly a quarter of a whole cheesecake worth of slices in each flavor.
To get down to the mouth-watering flavors you'll get inside this delectable dessert sampler, the variety is made up of caramel apple, pumpkin swirl, s'mores, and maple flavored pumpkin pecan cheesecake. All of them sound delicious, and it definitely sounds like enough to appease the taste buds of anyone with an appetite for fall. With such a reasonable price tag, you'll definitely want to pick up one to enjoy and one to have on hand. If they taste as good as they sound, you might actually need more than two since they're such a great deal.