This Is The Most Expensive Burger Ever Sold At Burger King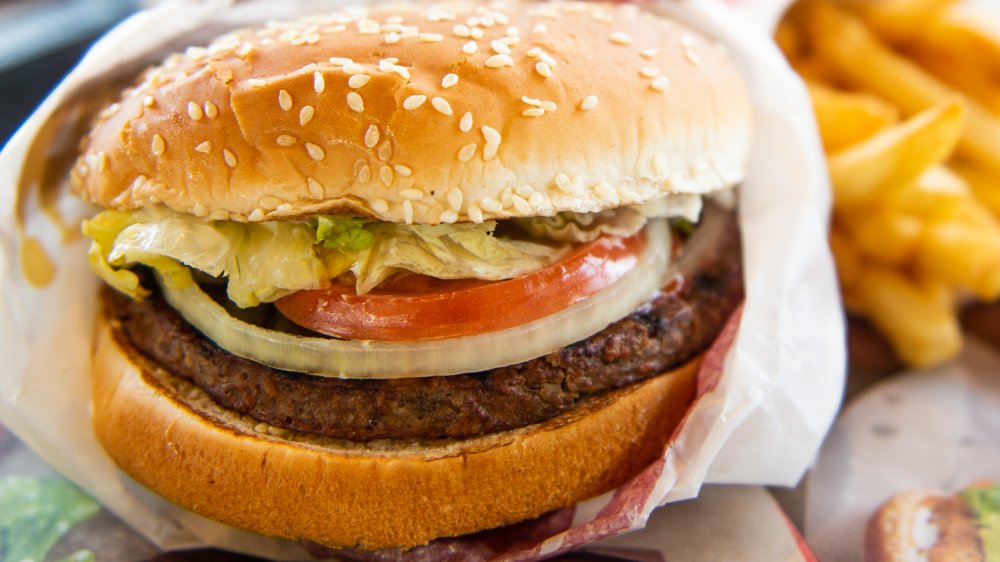 Michael Thomas/Getty Images
When it comes to getting its name in the news, nothing daunts Burger King. So, when Fox News reported on Burger King's attempt to win the record for selling the world's most expensive burger in 2008, no one was particularly surprised. Carried out in the name of charity, Burger King offered "The Burger" – a £95, or $200, burger in London that contained Wagyu beef, Pata Negra ham slices, Cristal onion straws, white truffles, lambs lettuce, pink Himalayan rock salt, Modena balsamic vinegar, organic white wine, and shallot mayo in an Iranian saffron and bun dusted with white truffles. Nothing about The Burger registered as a regular burger.
Reporters sneered at the jumped-up fast food offering. Forbes opened their piece with "Money can't buy you good taste but it can definitely buy you the most expensive burger in the world." The Guardian went further, sending a reviewer to try The Burger. They were distinctly unimpressed with the ingredients - however healthy – heaped upon the meal: "It was, just about, a reasonable burger, if somewhat marred by the overpowering range of flavors." Adding to the frustration was that to assemble the global tour of ingredients put into The Burger, a colossal carbon footprint had to be made. And even though the money raised was going to Help A London Child, a charity that offers financial support to children in poverty or suffering from a disability, it wasn't very much. Only £9,500. So, maybe they just wanted the title. Who knows?
Beaten and beaten again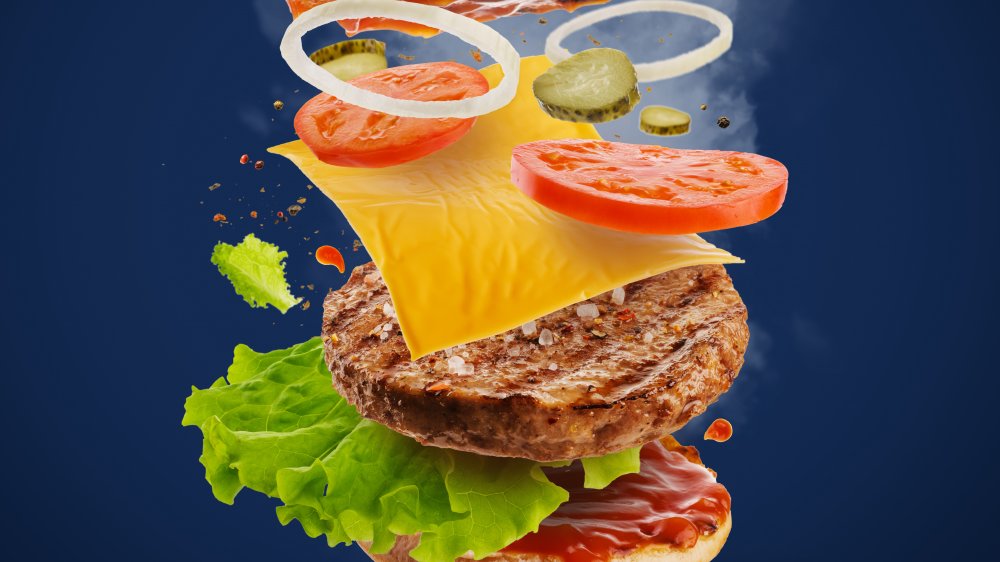 Shutterstock
While Burger King managed to snag the title for the world's most expensive burger, it did not hold it for long. On Money Inc's list of "The 10 Most Expensive Burgers in Restaurant History", The Burger only sits in the number 7 slot. To be fair to Burger King, it is a fast-food franchise. The more expensive competitors, which cost up to 50 times as much as The Burger, belong to more special affairs.
Number one on Money Inc's list, the FleurBurger 5000, can be found in Fleur, a restaurant in Las Vegas run by the renowned Chef Hubert Keller. Delish describes how for $5000, you can have a patty of foie gras and Wagyu beef, truffle sauce, and a black truffle bun. The massive bill, however, is due to the 1995 Chateau Petrus, the Bordeaux with which the burger is served and costs $2500 a bottle. Another, lesser-known $5000 burger is made by Juicy's Foods for Juicy's Outlaw Grill. It currently owns the Guinness World Records for the World's Most Expensive Burger and the World's Largest Commercially Available Burger. It weighs 777 pounds.
Not currently listed by Guinness on their website is Mallie's Sports Grill & Bar, which – according to the restaurant – sells a 1,800-pound burger for $10,000. Maybe we will see Burger King meet that challenge. After all, that's very much them.