Pecan-Loving Sam's Club Shoppers Should Definitely Get This Pie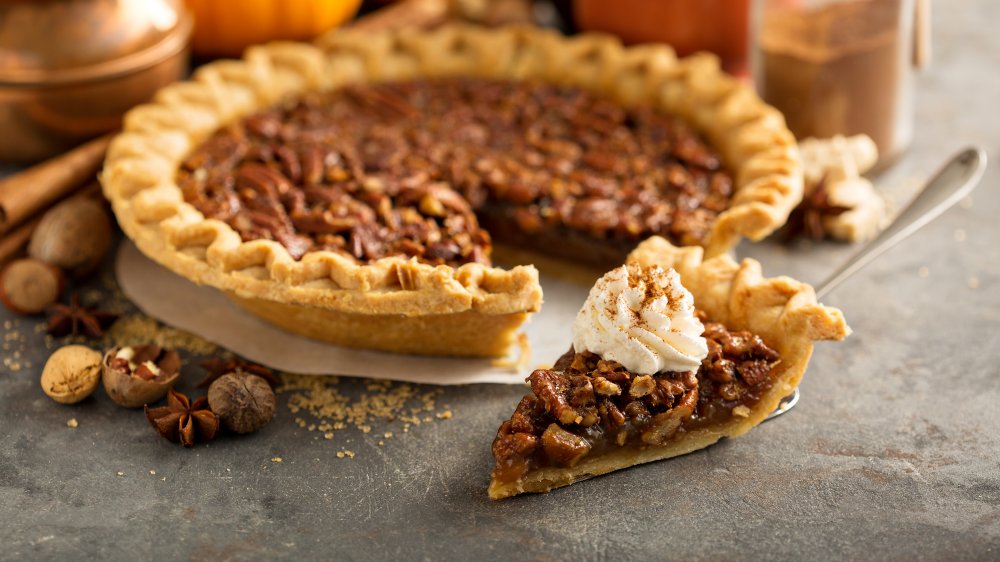 Shutterstock
Taste of Home's Southern bourbon pecan pie recipe takes almost an hour to make, allegedly. You'll also need eggs, granulated sugar, dark corn syrup, butter, bourbon, vanilla extract, pie crust makings, salt, and (of course) pecans. To make Ina Garten's version of the fall classic, you'll need more or less the same, subbing light for dark corn syrup and adding "good" honey, maple syrup, and orange zest (via The Food Network). 
Alternatively, you could just take a trip to Sam's Club and purchase yourself a well-deserved breather at just $11.98 an ounce. Believe us when we say that taking a bite of Sam's Club's Member's Mark Pecan Pie is like sinking your teeth into the caramelized memories of your grandma's kitchen or your most cherished Thanksgiving feasts. The Sam's Club website describes the pie as being made with "traditional-style egg custard filling," a "light and flaky crust," and "large Georgia pecan halves." Per Sam's Club, Member's Mark Pecan Pies are made, like Ina Garten's is, with a "touch of maple" and of course, real butter — but don't take their word for it.
The Member's Mark Pecan Pie has Sam's Club reviewers buzzing
Ask those who have wolfed it down before, Sam's Club Member's Mark Pecan Pie has racked in 188 mostly positive customer reviews, many of which border on poetry. As far as stars awarded go, at the time of this writing the pie is currently beating Maker's Mark's Apple Lattice Pie, Chocolate Dessert Cake, Pumpkin Pie, and New York Style Cheesecake. "I grew up on a pecan plantation. Pie is my favorite style of food," wrote one reviewer. "This is the only one that can compare to my mother's. I can taste the butter with each bite... I could probably quit if I wanted to, but I have no desire." Another satisfied customer gushed: "This pie is really terrific, flavorful and reminds me of living in the South."  A third professed "I had to do a double take... the center is perfect and creamy... and the crust delicious... I hope Sam's continues to carry this year-round to help defeat my weight loss plans."
Before you snap one up (Maker's Mark Pecan Pies are available says, Sam's Club, for "limited time only"), permit us to offer you some tips. One Maker's Mark Pecan Pie customer cautioned that while the pie was delicious, "there is nothing to keep it fresh after it is opened." If you're not prepared to devour it all in one sitting, either freeze it (like another customer did) or be prepared to store it in a sealed container to ensure maximum freshness.