This Cookie Dough Variety Pack At Sam's Club Has Everyone Talking
With Halloween just under a couple of weeks away, we have entered the quick bursts of constant holidays that will see us through to the end of the year. And with that, all of the holiday desserts and baking that come with it. Fortunately, Sam's Club has announced it is now selling the Pillsbury Ready-To-Bake Fall Variety Cookie Pack. Inside that mouthful, as Caitlyn Fitzpatrick writes in Delish, a multitude of cookies are contained. Well, 60 cookies, which for $5.98, comes to a brilliant $0.10 apiece. Of these, there are 12 pre-cut pumpkin pie cookies that are double the size of the brand's normal cookies, 24 chocolate chip cookies, and a final 24 sugar cookies. When compared to the usual sausage-tube-shaped cookie dough packets that cost $2.50 each, this assemblage becomes even more of a steal. 
On Instagram, the Sam's Club Members account, an unaffiliated project that finds the best deals for its community, uploaded a picture of the box in a post. The comments populating below the post clamored about how amazing the deal was. "Omg I just found it at my local sams club, what a score!" said one satisfied customer. So, if these Pillsbury cookies have awakened the dangerous cookie addict living within you, go to Sam's Club before the rest of the horde rips away the boxes from the stores' cold, dead shelves.
Do eat the dough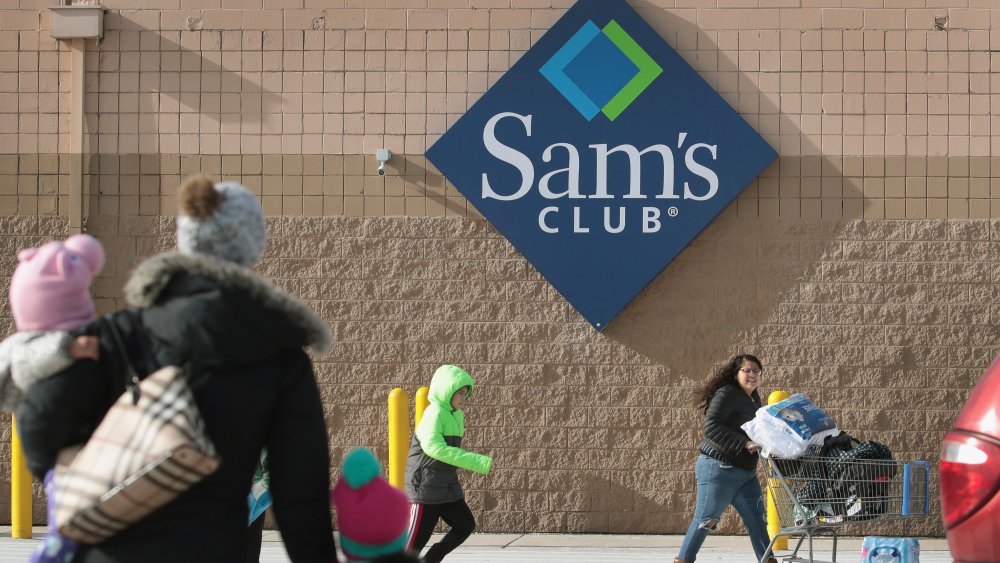 Scott Olson/Getty Images
A secondary point that deserves to be mentioned is that this is the first holiday bundle to make use of Pillsbury's new edible raw dough. After a decade in which two major E-coli outbreaks were connected to the consumption of uncooked dough, the first reported by the CDC in 2009 and the second in 2016, the CDC has worked to educate the public about the dangers of such consumption. As Food Dive explains, the cruxes of the issue are that before being ground into flour, grain grows in the fields, where it comes into contact with all kinds of contaminants, and that raw eggs, of course, can cause salmonella.
So, when releasing their edible cookie dough in July 2020, Pillsbury took pains to explain why theirs, in particular, was safe to eat: "We use heat treated flour and pasteurized eggs so you can now safely enjoy our cookie dough baked or raw." Of course, you can still bake their cookies if you so choose. Food Dive notes that such projects have been happening behind the scenes for a while now, with Nestle being the first company to go public with a safe to eat raw dough. However, in Nestle's case, they removed the eggs, so you cannot bake it as if it were regular dough. 
So, with this new edible dough now available, you can snack on unused raw Pillsbury to your heart's content while waiting for the cookies you will share to finish baking.