20-Minute Shrimp Alfredo Pasta Recipe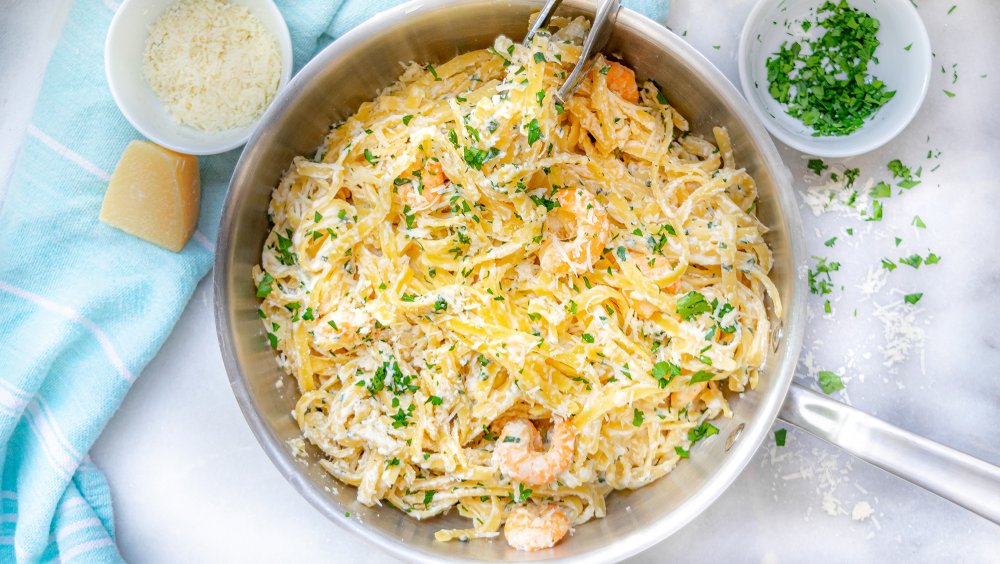 Molly Allen/Mashed
Going out to eat and ordering a huge bowl of fettuccine Alfredo is one of the most treasured things in life. If you're an Alfredo lover, then you know that nothing compares to a heaping serving of perfectly cooked thin noodles tossed in a creamy, cheesy Alfredo sauce. And while many choose to add chicken to their fettuccine Alfredo, adding shrimp to the dish is wildly popular as well.
Shrimp adds a beautiful, juicy flavor to an Alfredo dish. Plus, shrimp are a great source of lean protein. But can you really make this popular Italian restaurant dish on your own at home? You definitely can! And the best part is that you only need 20 minutes and just eight ingredients to pull it off.
By using just one pan, you can make an easy, cheesy, 20-minute shrimp Alfredo recipe that the whole family will love. And with how simple this recipe is, everyone around the table will definitely be impressed that you pulled it off in no time at all. 
What's the best type of pasta to use for this 20-minute shrimp Alfredo?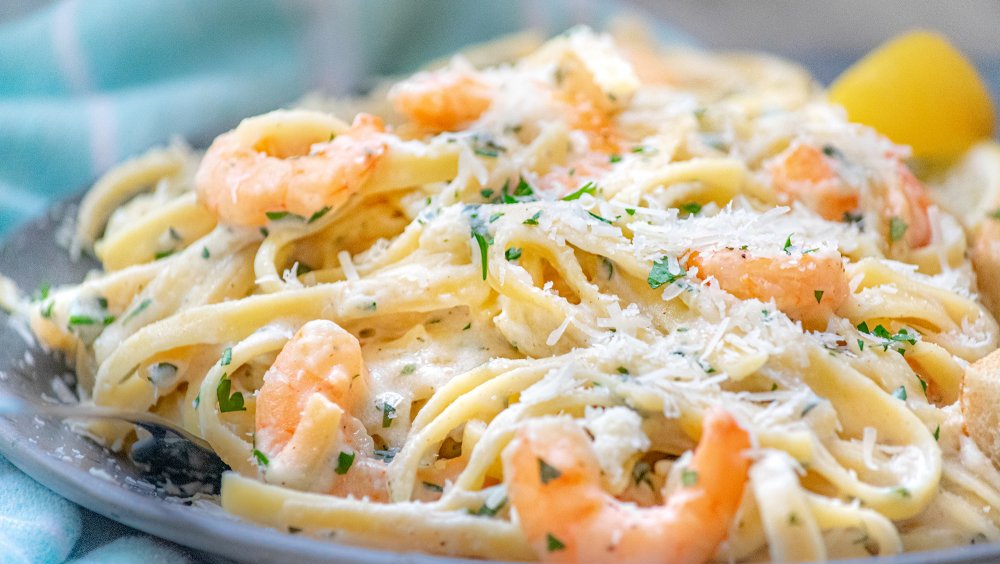 Molly Allen/Mashed
The world of pasta noodles is pretty vast. From spaghetti and pappardelle to orecchiette and rotelle noodles, truly, the options for a big bowl of pasta are endless. But there isn't a huge variety of pasta shapes and sizes for no apparent reason. For many dishes, the shape you choose definitely matters.
There are certain noodles that are best in a pasta salad, like cavatappi or fusilli, because of the way they soak up liquid. Macaroni noodles, of course, are used for mac and cheese to soak up all of the delicious, creamy sauce. And for this dish, fettuccine noodles are used as the perfect vessel for a garlicky, cheesy sauce, paired with delicious, tender shrimp.
Fettuccine noodles are long and narrow ribbons of pasta. In fact, the name actually translates to "little ribbons." And while that all sounds adorable, there's a purpose to fettuccine too. This type of noodle holds in moisture well, and because of its flat shape, it offers a great surface area for heartier sauces, such as an Alfredo, to grab onto.
Gather the ingredients for this 20-minute shrimp Alfredo recipe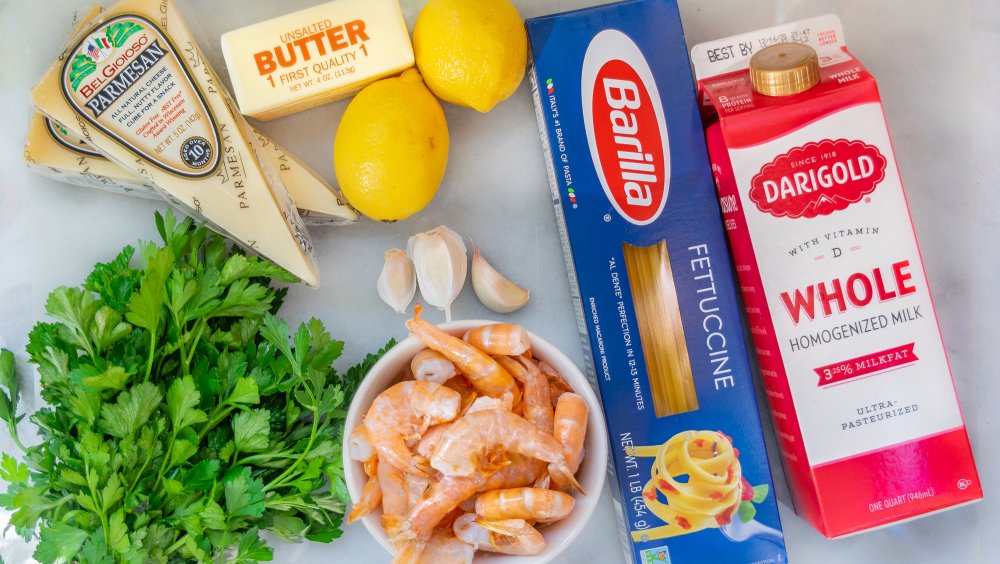 Molly Allen/Mashed
First thing's first, if you're going to make this recipe in a matter of 20 minutes, it's important to have all of your ingredients on hand and ready to go. Gather three cloves of garlic, one cup shredded parmesan cheese, Italian parsley, two tablespoons butter, four cups whole milk, one 16-ounce box of fettuccine noodles, and 3/4 pound (or about 30) thawed shrimp.
When you're selecting shrimp at the store, it's important to look at size and numbers. Most seafood counters will have signage that says 16/20 or 30/40 shrimp. This means that there's 16 to 20 shrimp per pound, or 30 to 40 shrimp per pound for the latter option. And those numbers are determined by the size of the shrimp. We used 30/40 shrimp for this 20-minute shrimp Alfredo recipe, meaning the shrimp were smaller. Be sure to also check that your shrimp are fresh, and double-check to make sure they're deveined before you begin cooking.
Mince the garlic and chop the parsley for this 20-minute shrimp Alfredo recipe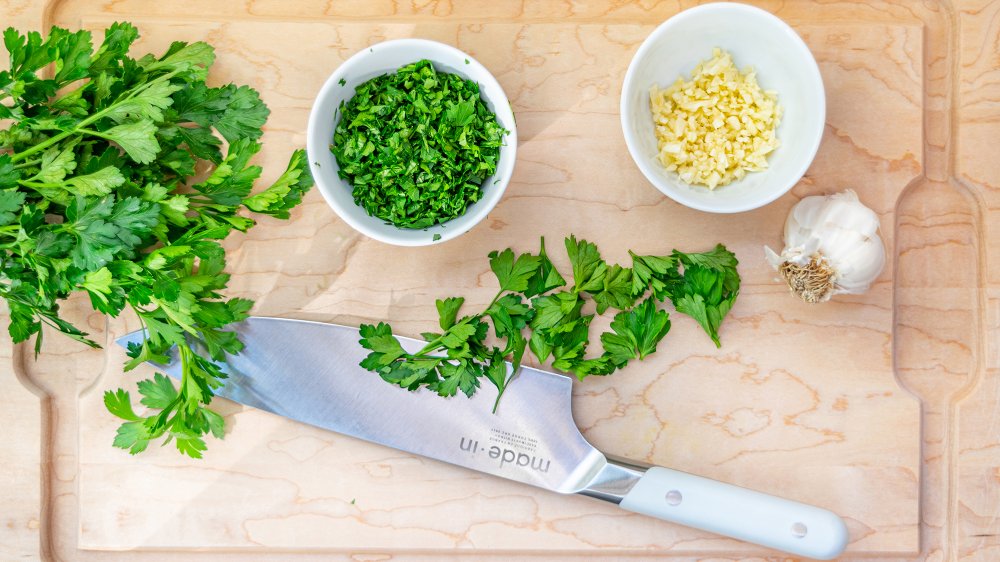 Molly Allen/Mashed
Before you heat up your pan, be sure your garlic and Italian parsley are prepared. For this 20-minute shrimp Alfredo recipe, the parsley is being used as much more than just a garnish. Although, you'll certainly reserve some for the final touch. Italian parsley offers a fresh flavor to round out the heavy, creaminess of the Alfredo sauce.
Italian parsley is the parsley option in the produce section with flat leaves. The curled leaf option doesn't actually impart much flavor, and it's certainly used more often as just a garnish. The curled leaf parsley may also have a tough texture to it. If you can't find Italian parsley, you can consider swapping it out for the curled leaf version, or omit it altogether based on your preference.
To prepare the parsley, wash it, dry it, and then remove the leaves from the stem. Gather the leaves on your cutting board, and then finely chop the parsley to be utilized for this recipe. To prep the garlic for this recipe, peel the skin off of the three cloves. Use the side of a large chef's knife to crush the cloves, and then mince it up.
Brown the garlic for this 20-minute shrimp Alfredo recipe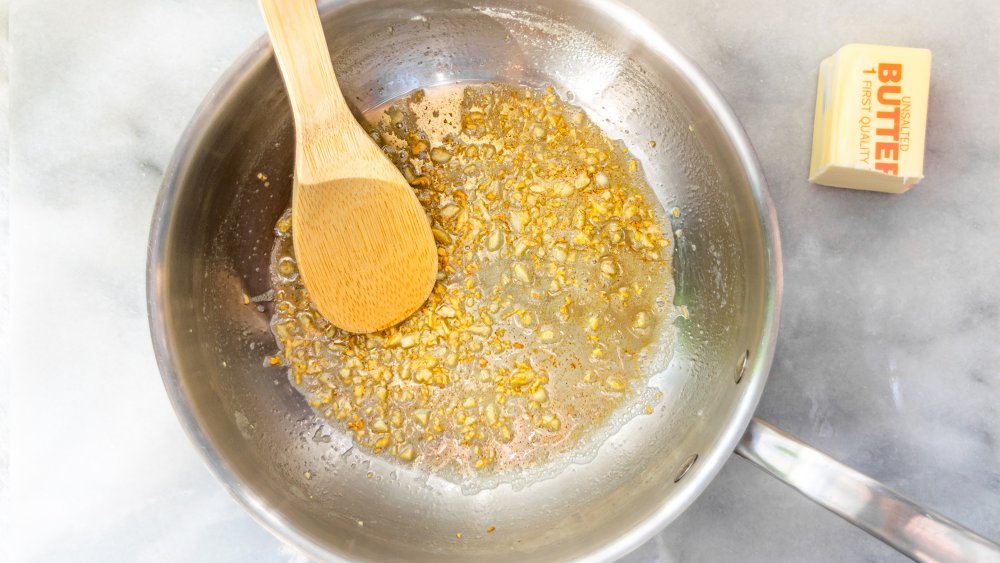 Molly Allen/Mashed
Start this 20-minute shrimp Alfredo recipe by heating a high-walled saucepan to medium heat. Add the two tablespoons of butter and allow it to melt. Once the butter is melted, add in the minced garlic. The goal here is to capture the delicious flavor from the garlic that will later impart flavor onto the shrimp and the Alfredo sauce.
Be sure to keep a close eye on the pan during this step. Garlic has the ability to cook really fast if you're not careful. Cooking it at high heat will definitely cause this to happen faster, so be sure to keep your pan at medium heat and stir continuously to avoid any garlic from burning to the bottom of your pan. 
Once the garlic starts to turn a beautiful light golden brown and you get the aromas from the cloves, it's ready.
Cook the shrimp for this 20-minute shrimp Alfredo recipe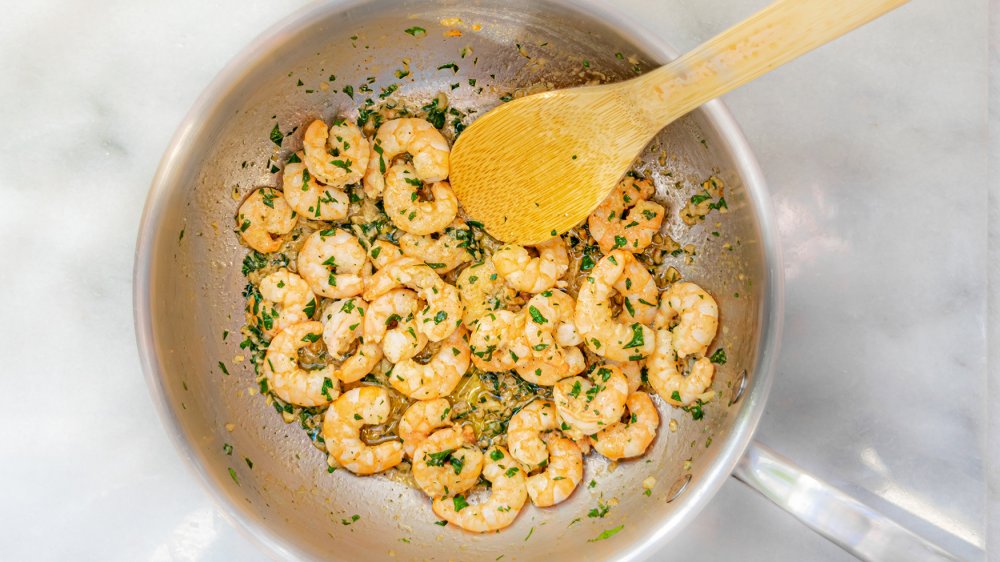 Molly Allen/Mashed
Once your garlic is browned, it's time to cook your shrimp. Keep your pan at medium heat for this step and keep a close eye on your shrimp. The good news here is that shrimp are wildly easy to cook. The bad news is that they cook really, really fast, so you'll way to pay attention and keep your focus on this step.
When shrimp are raw and waiting to be cooked, they're a grayish color. They're also pretty translucent when they're raw. But within just a few minutes, cooking them in the melted butter and minced garlic, your shrimp will begin to change. 
Let the shrimp sauté for about three minutes, stirring occasionally as you cook. You'll want to add in one tablespoon of your chopped parsley here too. They'll turn from translucent to opaque, and from that awful gray color to a bright, beautiful pink. You'll know they're done once the shrimp are fully pink. Once cooked, remove the shrimp from the pan and set them aside in a bowl.
Make the sauce and cook the noodles for this 20-minute shrimp Alfredo recipe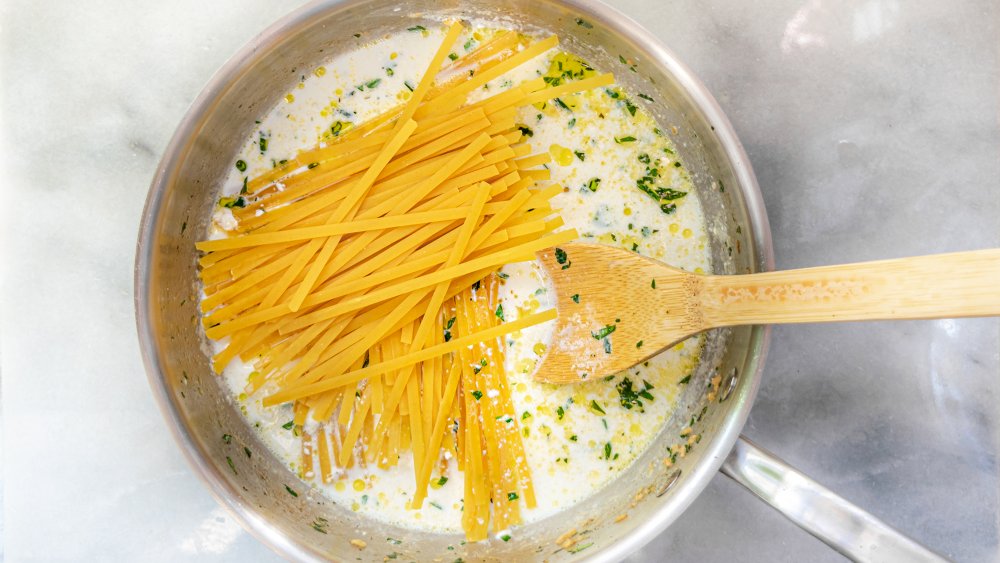 Molly Allen/Mashed
It's hard to imagine that cooking an Alfredo sauce from scratch at home could be so easy, but with this 20-minute shrimp Alfredo recipe it actually is. Certainly, you could just buy a jar of Alfredo sauce from the grocery store at this point and call it a day, but if you want to make a truly impressive home-cooked shrimp Alfredo, this next step is necessary.
With the shrimp removed from the pan, you'll still have bits of garlic and parsley leftover. With your pan still on medium heat, add in four cups of whole milk and the salt and pepper. Let the milk come to a boil and then add in all of the uncooked noodles.
Allow the fettuccine noodles to cook in the milk mixture on medium heat. Keep the lid on to retain heat, but be sure to stir occasionally so the noodles don't stick to the bottom of the pan.
Add the cheese for this 20-minute shrimp Alfredo recipe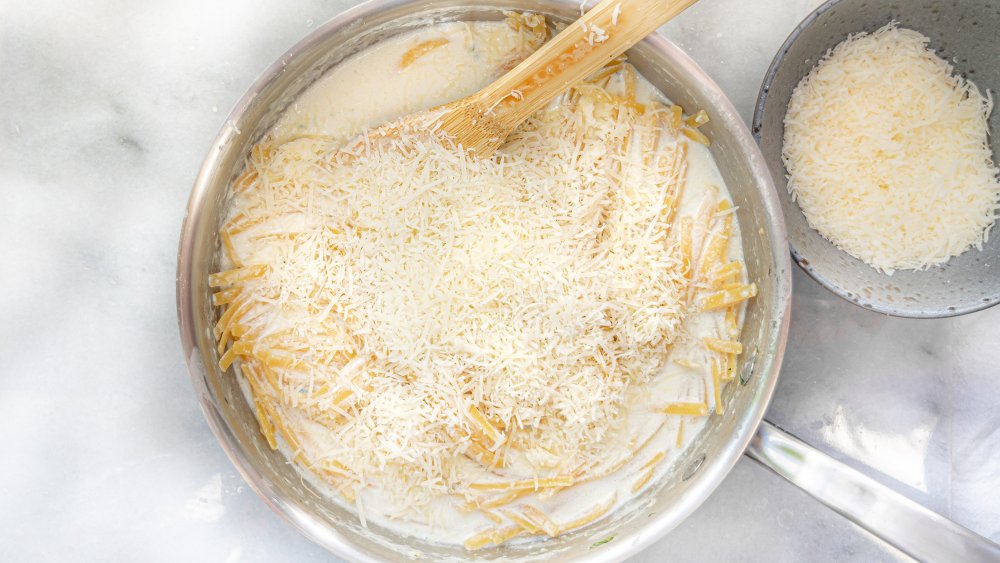 Molly Allen/Mashed
Last but certainly not least, you'll want to add plenty of cheese to your sauce. This is a 20-minute shrimp Alfredo recipe, after all.
As your noodles finish cooking in the milk sauce, add in one cup of finely shredded Parmesan cheese. You can opt for a block of Parmesan that you shred yourself, or purchase pre-shredded cheese in a bag. Parmesan is chosen here because of its sharp, distinctive flavor. Plus, it's a hard cheese so it adds depth to the sauce as it melts.
Allow your Parmesan to melt into the milk sauce. By this point, the milk should be reduced down and the noodles should be perfectly cooked in the sauce. Stir the dish all together well, and then add the shrimp back in. Stir everything together a few more times to let the shrimp come back to the same temperature as the noodles, and then get ready to dive in for dinner.
Serve this 20-minute shrimp Alfredo recipe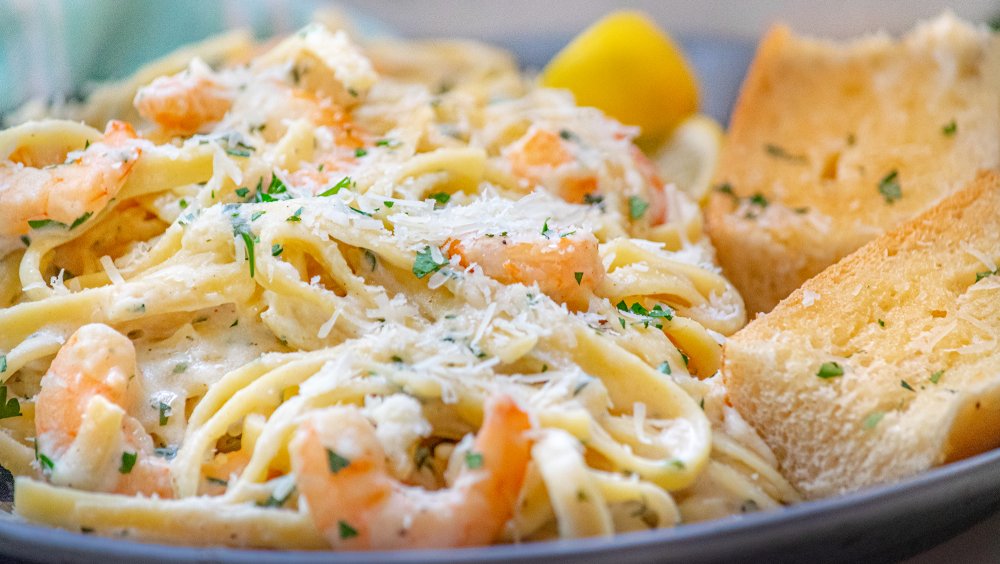 Molly Allen/Mashed
There's definitely no right or wrong answer when it comes to eating this 20-minute shrimp Alfredo. You can certainly serve it up in a big bowl for a cozy night in, or dish it up on a plate with plenty of garnish. We topped our shrimp Alfredo with another sprinkle of fresh chopped parsley to add great texture and flavor.
Adding a squeeze of lemon over this dish is also a great addition, as it pairs so well with the shrimp. Along the way, the citrus balances out the hearty, cheesiness of the sauce as well. Add a few slices of toasted bread with butter, and you'll be all set.
This dish provides such a comforting meal for the whole family, jam-packed with flavor and with great protein from the shrimp. Add a few more sprinkles of shredded Parmesan on top for the cheese lovers in the family, and they'll be asking for you to make this easy dish again and again. 
20-Minute Shrimp Alfredo Pasta Recipe
By using just one pan, you can make an easy, cheesy, 20-minute shrimp Alfredo recipe that the whole family will love. Give it a try!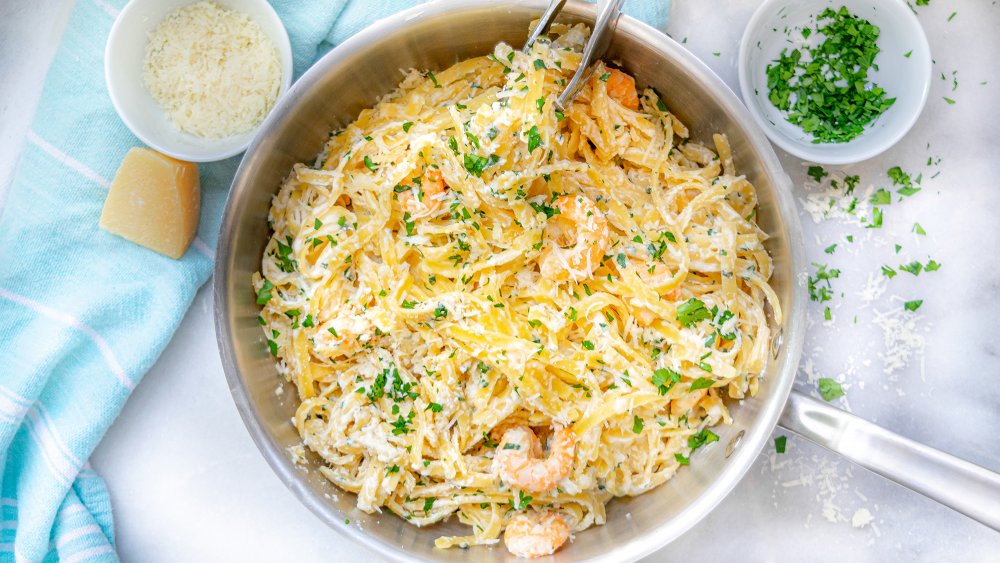 Ingredients
¾ pound thawed shrimp, or about 30 shrimp
3 cloves garlic, minced
3 tablespoons Italian parsley, chopped
2 tablespoons butter
4 cups whole milk
1 (16-ounce) box fettuccine noodles
1 cup shredded Parmesan cheese
½ teaspoon salt, or to taste
¼ teaspoon pepper, or to taste
Lemon, for garnish
Directions
Melt the butter in a saucepan. Cook and brown the garlic in the butter.
Add the shrimp and cook on medium heat for approximately three minutes until pink. Stir in one tablespoon parsley while the shrimp is cooking. Remove the shrimp from the pan and set aside.
Pour the milk into the pan, add the salt and pepper, and add in noodles. Cook on medium heat with the lid on, stirring occasionally, for about 10 minutes. Add in shredded Parmesan and stir to melt the cheese into the sauce.
Once the milk sauce has reduced down, stir the noodles well. Then, add the shrimp back in, add additional parsley if desired, and stir until well combined.
Serve with toasted bread, additional grated Parmesan, chopped parsley, and a wedge of lemon, if desired.
Nutrition
| | |
| --- | --- |
| Calories per Serving | 831 |
| Total Fat | 25.9 g |
| Saturated Fat | 14.8 g |
| Trans Fat | 0.2 g |
| Cholesterol | 172.1 mg |
| | |
| --- | --- |
| Total Carbohydrates | 99.4 g |
| Dietary Fiber | 3.8 g |
| Total Sugars | 15.7 g |
| Sodium | 1,144.1 mg |
| Protein | 47.6 g |