The Positive Change McDonald's Is Making To Its Happy Meals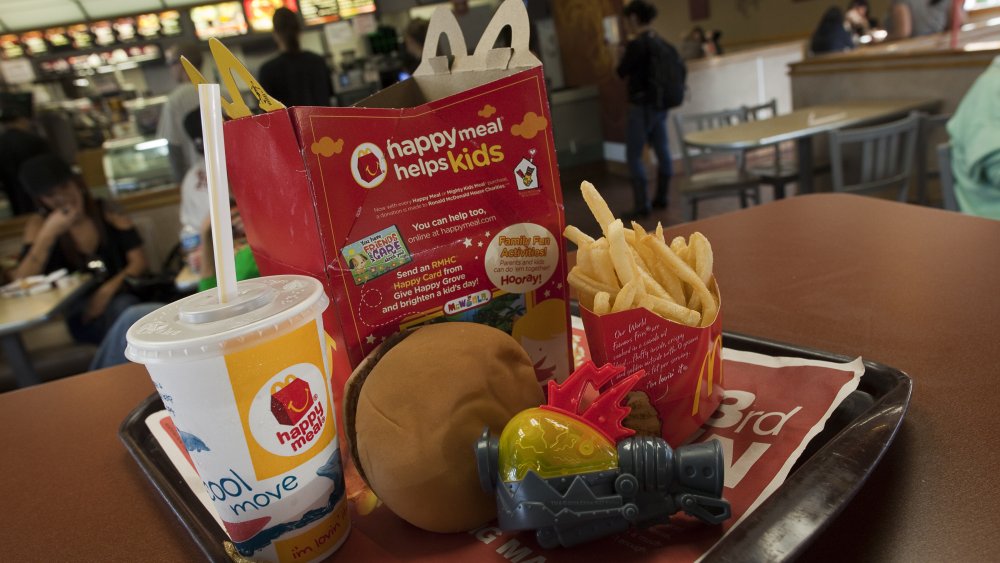 David Paul Morris/Getty Images
McDonald's Happy Meals are a childhood delight. Think about what they offer: toys, a soda, a hamburger or chicken nuggets, and fries. What kid can say no to that? However, McDonald's has been trying to evolve with the times and appeal to some of its more health-conscious customers for a while now. In 2013 the fast food giant began collaborating with the Alliance for a Healthier Generation to push its customers to eat more vegetables, fruit, and low-fat dairy, as well as up their water intake (via McDonald's).
This program was aimed to target 20 markets, and included options like healthier sides and beverages instead of the traditional choices for the Happy Meal. Customers could swap fries for a side salad, fruit, or vegetable in their own value meals as well, according to Forbes. The company announced last year that it had already had achieved its goals before their 2020 deadline and was meeting all of its targets, and McDonald's now has even more positive news for its customers.
McDonald's Happy Meals are getting healthier
McDonald's has revealed that its goals set in 2018 to make Happy Meals more wholesome and healthier than ever have been partly met, and the brand is continuing to innovate to offer customers more options. Per QSR Magazine, Julia Braun, McDonald's director of global nutrition, said, "We know how important it is to give parents menu choices they can feel good about feeding their children. We recognize there's always more work to do in this space, and we remain committed to using our size and scale to support children and families as we continue to evolve the Happy Meal."
What are some of the changes that parents can look forward to by 2022? For one, the meals will be free of artificial flavors and have lower quantities of artificial preservatives. The brand also aims to make its Happy Meals healthier by making sure they're more balanced nutritionally and contain no more than 600 calories each. Other changes include things like following a responsible marketing strategy and being more transparent with nutritional information. As of today, McDonald's has already made massive changes such as tweaking 93 percent of its Happy Meal options to eliminate artificial flavors. The brand has also managed to sell more Happy Meals with items featuring recommended food groups like fruits and grains and it announced that 50 percent of beverages sold as a part of Happy Meals last year contained either juice, milk, or water. More healthy changes are expected to follow.