This Hideous Cheetos Sweater Is Perfect For The Holidays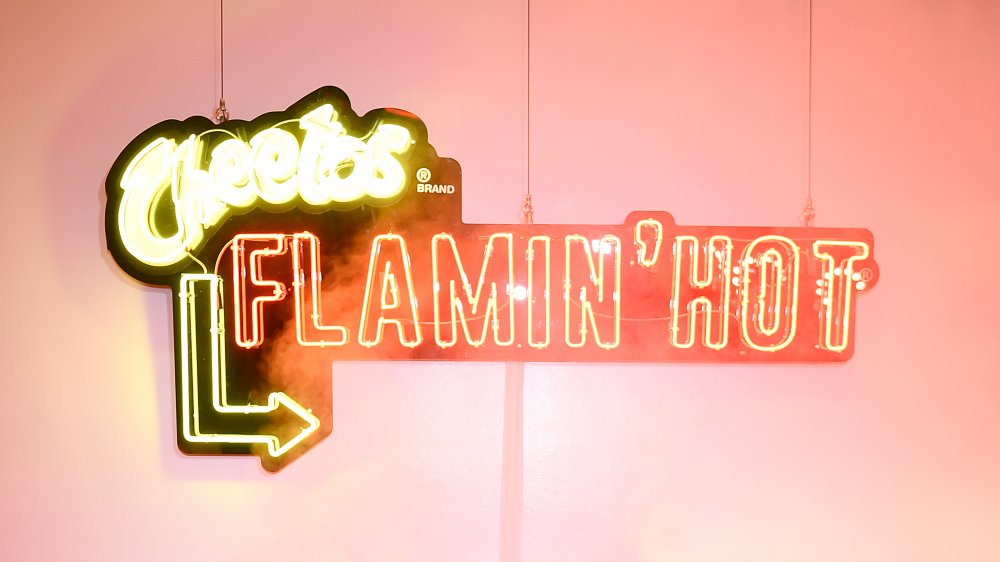 Ilya S. Savenok/Getty Images
The best part of the holidays, apart from watching Christmas Vacation, has to be the ugly holiday sweaters. Whether you love wearing them to cookie swaps or you rock 'em during your run to the grocery store, it's hard not to smile while you're wearing a tacky Christmas sweater. This year, there's a new one to try on, and it comes courtesy of Cheetos (via Delish). 
A foodie website called BoxLunch is selling all kinds of Flamin' Hot Cheetos holiday attire this year, and fans couldn't be more excited. The sweater itself doesn't have your favorite crunchy, cheesy snack actually on it, but it does have Chester Cheetah right in the center with a wreath around him. The sweater is a bright red and orange design and has plenty of flames flickering all across the center. There are also black and orange paw prints to trim the neck, hands, and bottom of the sweater. It's certainly an attention-grabbing piece to add to your wardrobe, and you'll definitely stand out in a sea of green and red. If you want to wear your favorite snack this holiday season, you'll have to pay $60 for the pull-over (via 1023 Jack).
Here's how you can get the Cheetos sweater
Should you decide orange isn't your color or you would rather sport your beloved Flamin' Hot Cheetos in a subtler way, then there are a couple of other products you can take a look at. BoxLunch is also selling Flamin' Hot Cheetos crew socks for $8. They're black with flames at the top of the socks with the snack logo printed over them too.
If socks aren't your thing either, there's also a Chester Cheetah Funko Pop! figurine with flames surrounding him for $15 from BoxLunch. Naturally, Chester looks cool in black sunglasses with his arms crossed in the ring of fire, and he'd probably look great on your shelf too. 
To go ahead and do your Flamin' Hot Cheetos holiday shopping, you'll have to head to BoxLunch's website where you can find these items. Of course, once you're there, you should probably shop around for merchandise of your other favorite snacks too. It never hurts to look.