What Is Makhani Sauce And What Is It Made Of?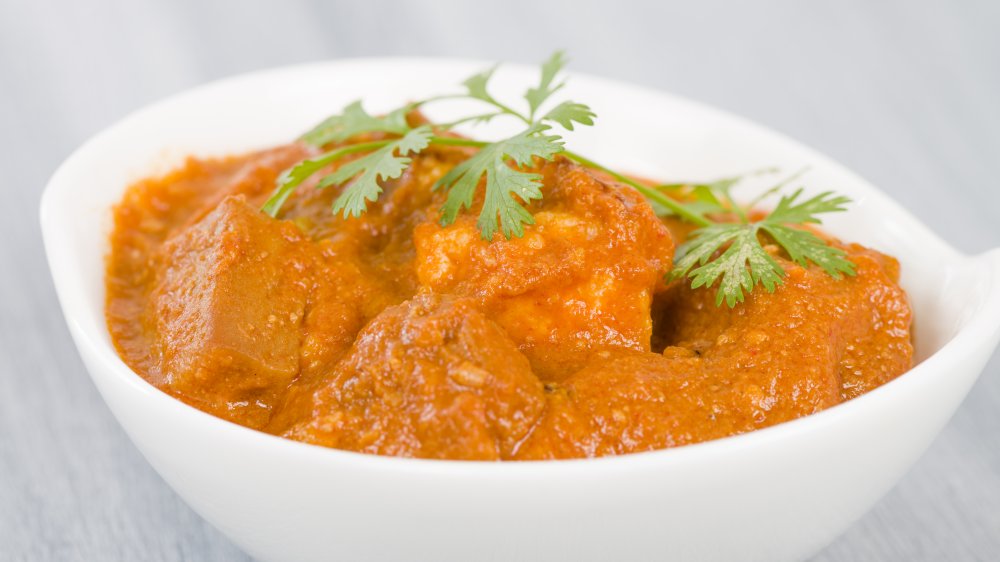 Shutterstock
Who doesn't like eating a rich gravy with buttery goodness? Makhani sauce is a delicious, creamy sauce that can be used to add incredible flavors to a curry and is wildly popular in Indian cuisine. A Reddit thread even dove into the difference between two popular Indian sauces and spices, makhani and tikka masala. The thread was posted by a curious Redditor who was looking for clarification and wanted some answers.
Commentators rose to the occasion and explained what makhani sauce really is. "Makhani's characteristic is that it incorporates a lot of butter and cream," a helpful commentator explained. That is the core of this flavorful, non-spicy sauce. The best part about makhani sauce is that it is highly versatile and can be used for different dishes (via My Food Story). Made correctly, this sauce can really spruce up chicken gravy or a gravy dish with cottage cheese and spices. You can enjoy it with a generous serving of rice or bread. 
It is a delicious, creamy sauce
Here's an interesting tidbit: A gem like makhani sauce can even be prepared for vegans. Here is how. Swap butter for coconut cream (via Cook With Manali). You need to prep by sautéing a mixture of onion, ginger, garlic, and tomatoes before preparing the base by blending cashews with the sautéed mixture. You can also add tomato paste if you're looking for more flavor and spruce up the sauce with a few spices like coriander and red chili powder. The coconut cream is the final step before adding a bit of cardamom powder. 
Because this version of makhani sauce eliminates butter and cream, it is definitely a healthier choice, especially if you're watching your food intake. Also, you can prepare a batch, take what you need, and store the rest of the sauce in the fridge for other dishes. Because this is such a versatile sauce, you can experiment and incorporate it into different dishes to see what you like the most. Chicken and Indian cottage cheese variants with makhani sauce are most delicious options, by the way!