The Halloween Coffee At Aldi People Are Raving About
If Halloween is one of your favorite holidays — and why wouldn't it be? — then you're going to want to celebrate the holiday from when you wake up on the 31st till when you go to sleep. Now, with Aldi's exciting Halloween-themed coffee, even your morning caffeine fix can be part of the celebration.
The two spooky blends — the Sleepy Hollow Blend featuring notes of orange citrus and apple and the Raven's Roast with notes of honey and fruit flavors — from Aldi's Barissimo coffee brand are popular among Aldi's coffee-drinking fans.
Instagram Aldi fan page Aldi Favorite Finds posted the blends, and the reviews came rolling in: "Love love love the sleepy hollow! Drinking a lot now 🎃😍🖤," said one commenter. "That sleepy hollow is perfect for black coffee drinkers! Smooth and strong," agreed another commenter. "These are delish!" added another. So far, we've seen no negative or even lukewarm reviews on the post. 
Popular across the board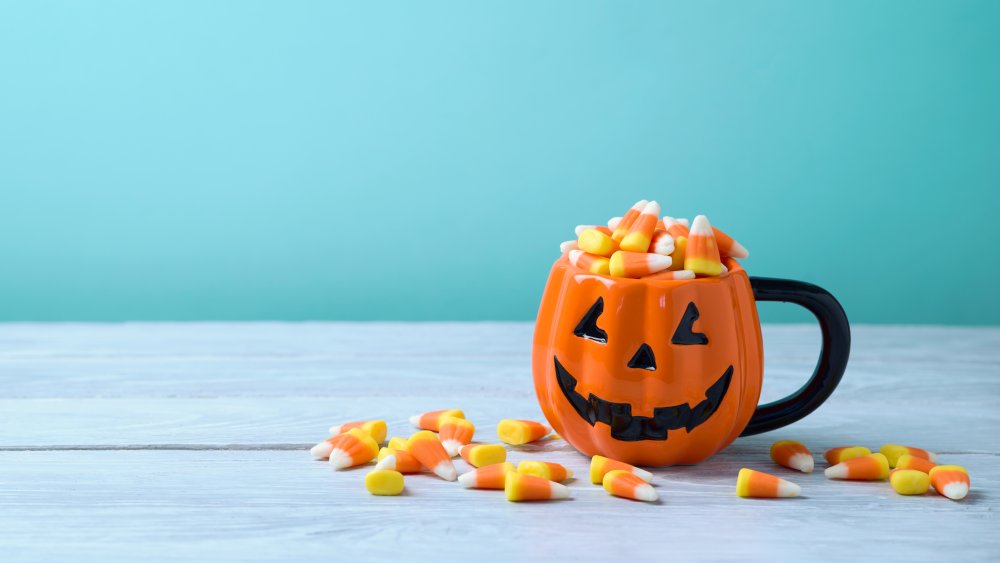 Shutterstock
Another Instagram Aldi fan page, The Amazing Aldi, which claims to be "the ORIGINAL Aldi IG fan page," also posted about Raven's Roast and the Spooky Hollow Blend, soliciting followers' reviews. "We grabbed both!" said one commenter. "Tried ravens first. Love it!!!" "Love Ravens Roast!!" added another, while another commenter wrote "Sleepy hollow is amazing! Soo good!" "My new favorite," agreed one Aldi coffee fan. "Enjoying some right now." 
So basically, both blends are pretty much universally loved. If you want to start your Halloween with a great cup of coffee and a bit of spooky celebration, you can't go wrong with either. They're available for $3.99 at Aldi. To really get into the spirit, serve the coffee in one of Aldi's Halloween mugs, which come in shapes like ghosts, pumpkins, and skulls. After all, what's a creepier way to kick off the haunted holiday than drinking some roast in a ghost?