The Domino's Pizza With The Lowest Calories Might Surprise You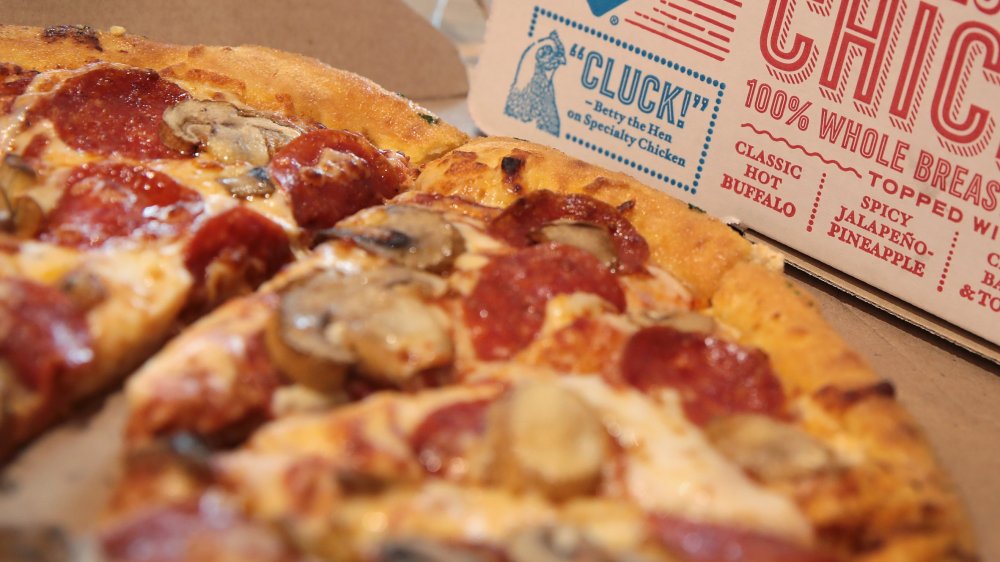 Scott Olson/Getty Images
Sometimes, eating healthy means satisfying your cravings so you can continue to stick to your diet plan without taking a major detour or depriving yourself of the things you enjoy. However, satisfying those cravings might look like choosing a healthier option of whatever it is you want. While there are certainly healthier alternatives out there like pizza made with cauliflower crust (via EatingWell), sometimes you just need the real thing. Fortunately, there are quite a few lighter options available at Domino's that will satisfy almost any pizza urge.
Though you might easily believe a salad is automatically the lightest option on any menu, some salads actually have roughly the same amount of calories that a slice of pizza does according to the Domino's Nutrition Guide; so when you really want something from your favorite pizza chain, you might want to instead turn to one of the lighter pizzas on their menu, which largely involve vegetable toppings. If you still want your classic toppings, consider ordering your pizza with less cheese on a thin crust, which will help shave calories off too (via Spoon University).
The lowest calorie Domino's pizza is the chain's Thin Crust Veggie Pizza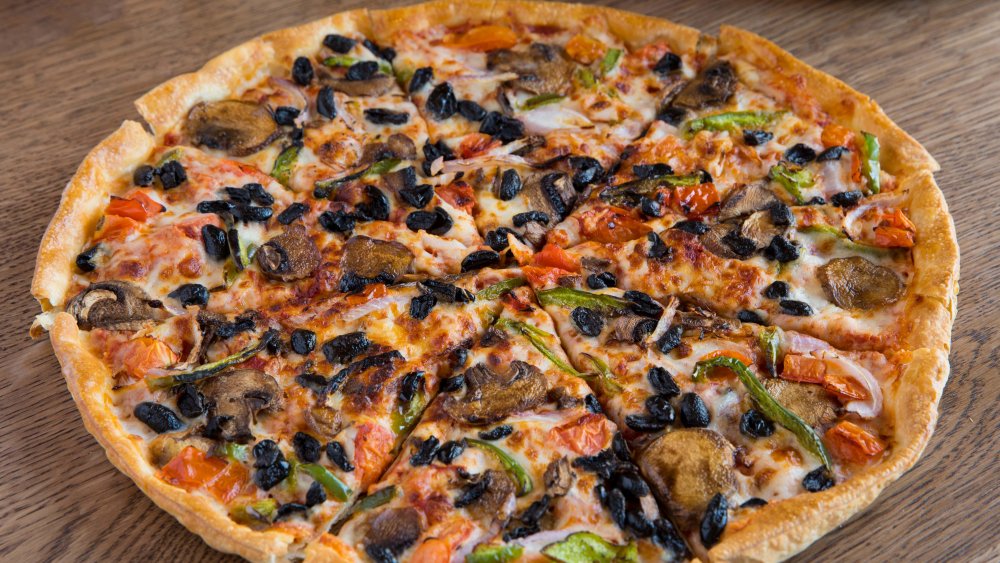 Shannon O'hara/Getty Images
The lowest calorie Domino's pizza option is their Thin Crust Veggie Pizza with light cheese. Each slice has 135 calories, 250 milligrams of sodium, two grams of sugar, and two grams of saturated fat. If you opt for less cheese on the hand-tossed crust, then the calories increase to 180 per slice and 380 milligrams of sodium.
Second place is roughly tied between the Veggie and Chicken Pizza and the Chicken, Green Pepper, and Onion Pizza — both with light cheese. The thin crust version of the first has 143 calories per slice and 290 milligrams of sodium, while the thin crust version of the latter has 145 calories and 270 milligrams of sodium per slice. Both pizzas have two grams of sugar and saturated fat per slice as well. The hand-tossed crust with less cheese option for each are fairly equal too, as both have 185 calories per slice. However, the Veggie and Chicken Pizza has 420 milligrams of sodium while the Chicken, Green Pepper, and Onion pizza contains slightly less at 405 (via Domino's). Whatever pizza option you choose to order next time a craving strikes, you're most likely better off with more veggies, less cheese, leaner meats, and a thinner crust.