Here's What's In The New Bud Light Pack Of 'Ugly Sweater' Seltzers
The global hard seltzer market is expected to reach $14.5 billion by 2027, with America leading the charge, according to Grand View Research (via a press release). Launched at the start of 2020, Bud Light Seltzer raced to the top of American seltzers, now ranking third in sales, with a nine percent market share, according to The Drinks Business.
Bud Light Seltzer classic flavors include Strawberry, Lemon Lime, Black Cherry, and Mango. Three new flavors – cranberry, grapefruit, and pineapple – were added at the end of August (via the company website). Now, in celebration of the holidays, the popular low-cal, low-ABV seltzer line from Anheuser-Busch InBev dons its "ugly sweater," and debuts three new seasonal flavors packaged alongside the always available cranberry seltzer (via Delish). The appropriately named Bud Light Seltzer Ugly Sweater Pack, features the new Peppermint Pattie, Ginger Snap, and Apple Crisp seltzers. But, what do they taste like?
What Bud Light Ugly Sweater seltzers taste like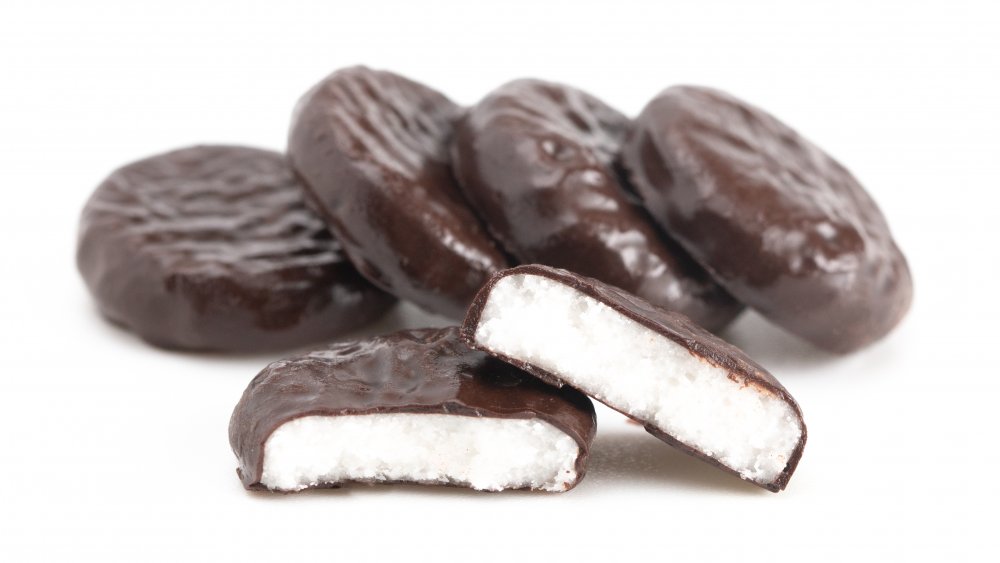 Shutterstock
According to Delish, the new Bud Light Seltzer Ugly Sweater Pack will be available for purchase starting November 2, for a limited time, and the flavors couldn't be more festive. The Apple Crisp seltzer features notes of cinnamon and nutmeg to drum up memories of apple pie. For peppermint candy lovers, the flavor of peppermint and dark chocolate won't disappoint in the Peppermint Pattie seltzer. And the Ginger Snap seltzer blends ginger, brown sugar, and vanilla, for a gentle, holiday warmth. As for the cranberry, if you haven't tried it yet, it offers a traditional cranberry tartness, balanced with a bit of sweet (via Thrillist).
Similar to the rest of the Bud Light seltzer offerings, the new Ugly Sweater seltzers are 100 calories each, 5 percent alcohol by volume, contain less than a gram of sugar, and are only two carbs per 12-ounce can (via the company website), helping everyone avoid empty calories and ring in the holidays responsibly!