Elon Musk's Pricey Tesla Tequila Sold Out In Less Than A Day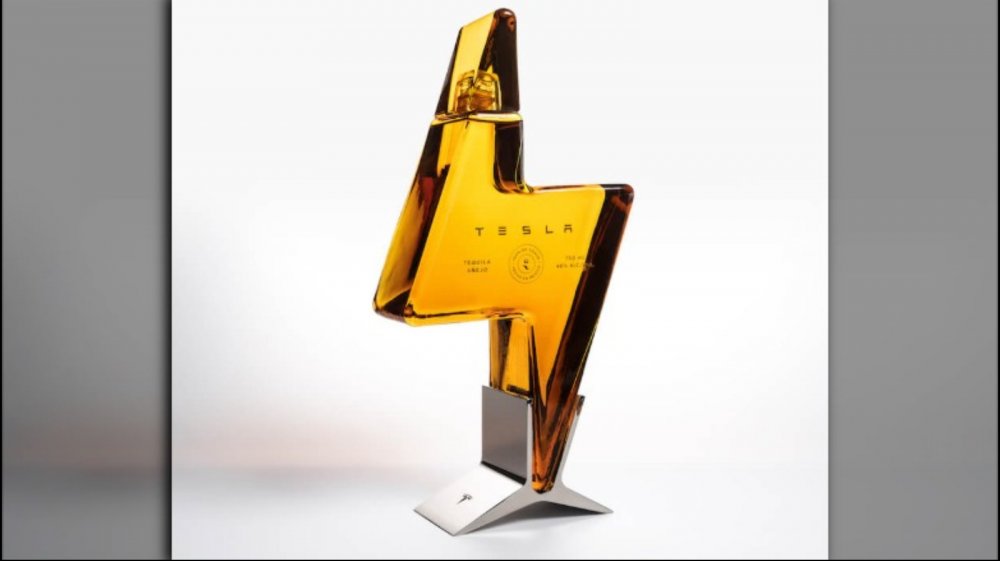 If you a. blinked or b. were too busy paying attention to things other than the latest items on Tesla's online store, you probably missed the chance to snap up Elon Musk's latest offer — Tesla Tequila, which is described as "an exclusive, premium 100 percent de agave tequila añejo aged in French oak barrels, featuring a dry fruit and light vanilla nose with a balanced cinnamon pepper finish." The beverage comes in a bottle shaped like a lightning bolt, held up by a stand bearing the Tesla logo, which allows it to be stored and displayed upright. Bragging rights are important here, because you'll want something to remember this particular tequila by after it's gone. Having this distinct item means you forked out $250 per bottle, and that's only if you were even been able to get your hands on one. Business Insider reported that the pricey liquor sold out hours after it went on sale last Thursday.
The idea for Tesla Tequila began as a practical joke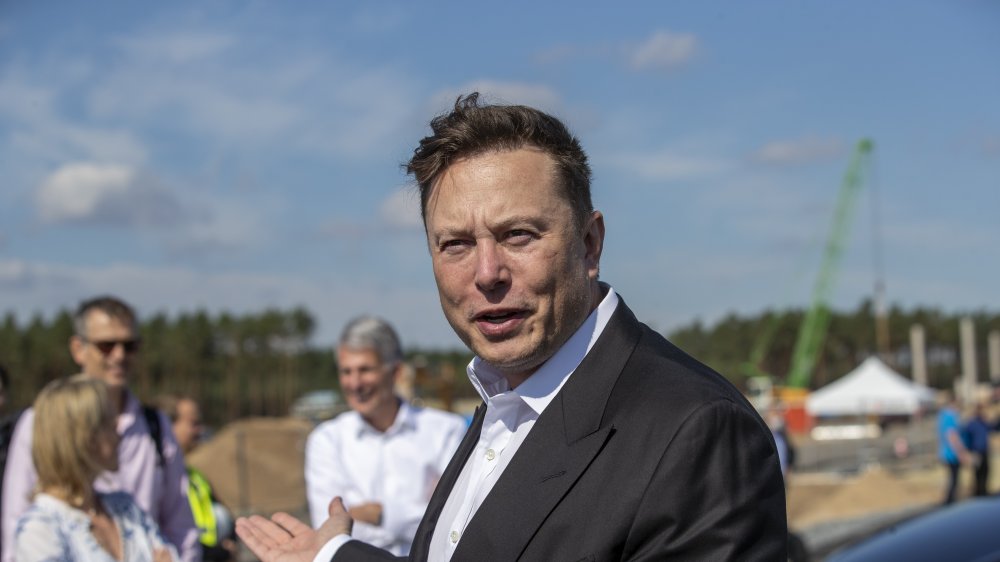 Maja Hitij/Getty Images
Tesla Tequila sold out fast, even after the company limited orders to two bottles per customer and only made it available in certain U.S. states (via CNN). Then again, Elon Musk and Tesla fans have been waiting a while for the specialty beverage to hit the market — since 2018 to be exact, when Musk tweeted that a Teslaquila was in the works. Musk even filed an application to trademark the name "Teslaquilla" that year, which would be attached to both distilled agave liquor and distilled blue agave liquor (via CNBC).
The name first appeared as part of an April Fool's gag, where Musk declared his company was going bankrupt in a tweet that read: "Tesla Goes Bankrupt Palo Alto, California, April 1, 2018 — Despite intense efforts to raise money, including a last-ditch mass sale of Easter Eggs, we are sad to report that Tesla has gone completely and totally bankrupt. So bankrupt, you can't believe it." Musk continued, "Elon was found passed out against a Tesla Model 3, surrounded by 'Teslaquilla' bottles, the tracks of dried tears still visible on his cheeks." 
Tesla Tequila was produced by the California-based Nosotros Tequl, who Business Insider says produces a similar tequila that costs just $45 — so if you're willing to give up the distinctive bottle (or pick up an empty one on e-Bay) you can almost pretend to be one of the lucky ones that had the cash to burn and time to spare to catch the specialty beverage just as it hit the market.