National Nacho Day 2020: Where To Get The Best Food Freebies And Deals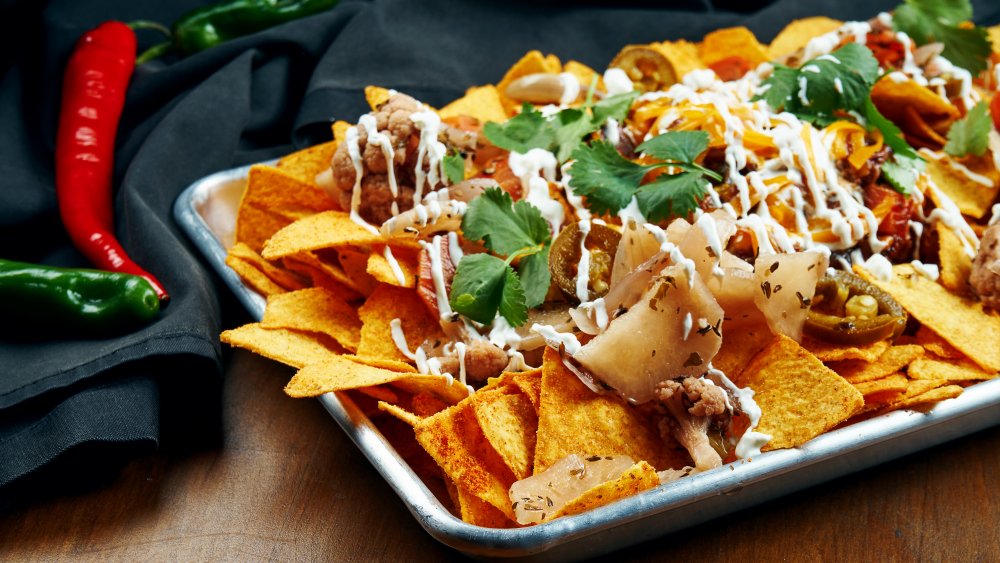 Shutterstock
Friday, November 6th happens to be National Nacho Day this year, and it couldn't have come at a better time. Though nachos might not be the most traditional of comfort foods, they are a comfort food, nonetheless. From the delicious toppings like jalapeños, sour cream, and diced tomatoes to the warm and filling protein like ground beef with taco seasoning and nacho cheese poured over crunchy tortilla chips, it is hard not to love nachos. Perhaps everyone loves them so much because they are so customizable. But however you love to eat them, today is the day to do it.
There are tons of deals you'll find available today, some of which have nothing to do with nachos at all. You can find deals on coffee at Tim Hortons and breakfast pastries at McDonald's, but that probably isn't what you're here for. There are free delivery deals from some of your favorite Mexican and Tex-Mex restaurants and chains, but the real nacho and queso deals come from a select few places today (via Thrillist).
Chains to order from for National Nacho Day
Moe's Southwest Grill really has your every nacho need covered for National Nacho Day. The chain has prepared Nacho Kits that serve four to six people and include your choice of two proteins, two bowls of queso, beans, pico de gallo, sour cream, jalapeños, and salsa. The whole kit is $24.99, but Moe's Rewards members get $5 off (via Delish).
Mission Taco Joint, a West Coast-style street food chain is also offering a pre-made to-go kit that people can order. The Sheet Pan Nacho Kit comes with house-made chips, cheddar cheese, taco meat, pico de gallo, pickled jalapeños, and cilantro crema for $22.
Other chains with special offers include On The Border Mexican Grill and Cantina and Del Taco. On The Border is selling $5 Happy Hour Nachos all day long to dine-in and takeout customers. Del Taco is giving away an order of free 3-layer queso nachos with any purchase on the day. You can also use the code "DELTACONOW" on Postmates to get free delivery with no minimum. Taco Bell is also offering free delivery on Grubhub order of $12 or more.
Get free queso at these locations for National Nacho Day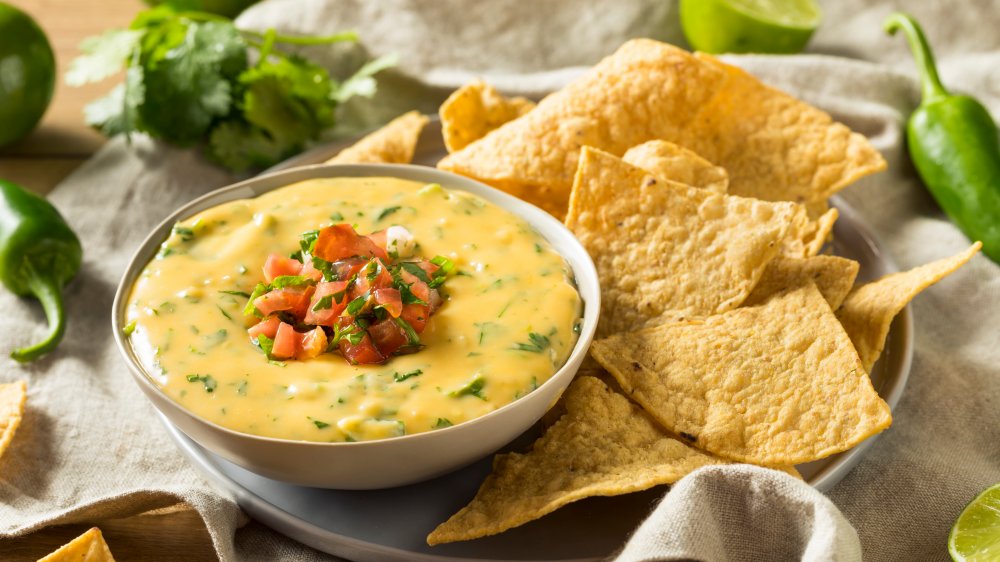 Shutterstock
If you have decided to make your own nachos at home and you're really just all about the best free queso you can get, then there are a few chains you can visit. While you'll need to buy queso from most places for National Nacho Day, you can get a free side of chips and nacho cheese with any in-app purchase on November 6th from participating Taco John's.
Bahama Breeze is giving away coupons for a free appetizer with a purchase of an entree to those who sign up for the restaurant's reward program. Cheddar's Scratch Kitchen is also giving away a free order of chips and queso when you sign up for their rewards program too.
Finally, Moe's Southwest Grill isn't only selling Nacho Kits for the celebratory day, they have an ongoing deal that allows you to get free queso. When you sign up for the Moe's rewards program, you can get a free cup of queso.
So, however you choose to celebrate National Nacho Day, plan on stopping by these locations to pick up a bite.