This TikToker Created A Fruit By The Foot As Long As A Football Field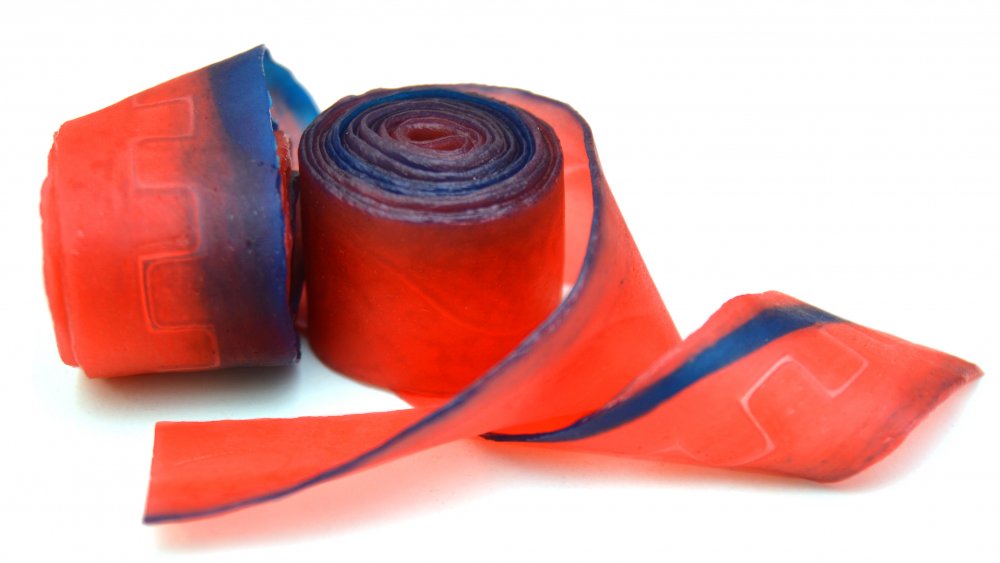 Shutterstock
If you're a kid who grew up eating fruit snacks from the 90s, chances are you loved fruit roll-ups. They're not only delicious, but are also really fun to eat. Fruit by the Foot comes in a wide variety of great flavors like strawberry, berry tie-dye, and sweet and fiery. The fruity snack is so popular in the U.S., Statista reports that 4.7 million Americans consume one to two packages on average every single month. However, it seems as though the size of a normal fruit roll-up wasn't large enough for one TikTok user. 
According to Delish, user @kylelevo pieced together 100 Fruit by the Foots to create a giant fruit roll-up the size of a football field. In the video, @kylelevo told followers that while peers are focusing on growing their families, he had other goals in mind. "Alright, so I'm 27 and a lot of people I went to school with are having kids now, starting a family, getting married, all that kind of stuff, but you know, I had bigger ambitions," said the social media star.
Fans thought he beat records, but others were skeptical of the length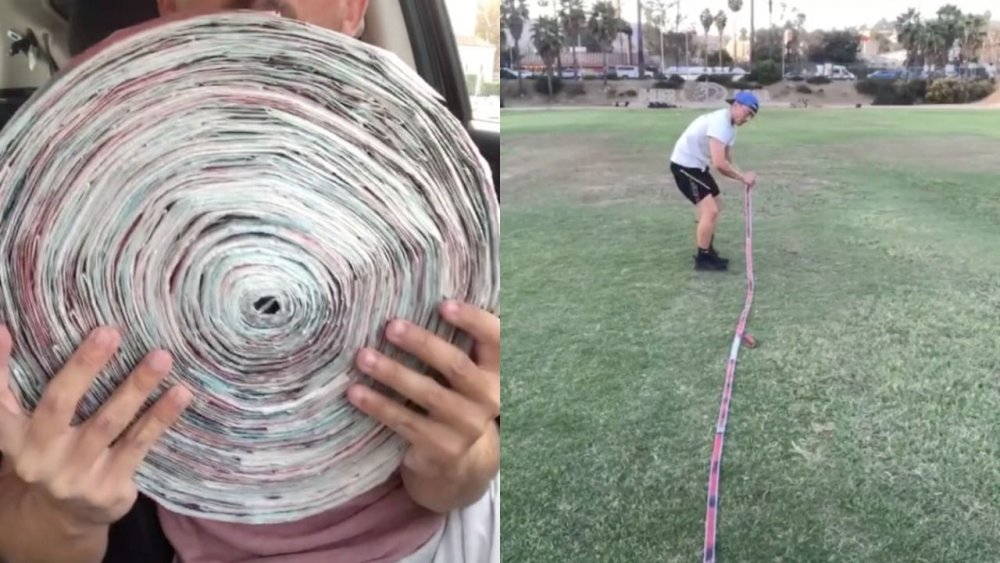 TikTok
In the clip @kylelevo shows off the massive creation, stating that it took 16 boxes of Fruit by the Foot to make, per Delish. The content creator explained that each roll-up is about three feet, making his sweet concoction around 100 yards in length. Followers seemed to be very impressed with the oversized candy, with user @2daysnapstreak writing, "I aspire to be you," and @kelseymergens affirming, "You sir, are living your best life."
Some TikTokers even believed he may have broken records with the snack's length, but that doesn't appear to be true. Band SunRype created a 300 foot fruit-roll up back in 2011 in Canada (via SunRype), so @kylelevo has quite a bit more work to do to beat that. Others were dubious of the actual length of the fruity treat, with TikToker @paulpeckham also pointing out that "There's 120 yards in a football field."
To prove how big this fruit roll-up was, @kylelevo created a second video and rolled it out on a football field, where it did come up a tad short. The video ends with the TikToker saying, "If this video gets a million likes, I'll eat the whole fruit roll-up!!" But don't worry, the social media star added that he was just kidding.