Subway Introduces A Surprising Christmas Menu, But There's A Catch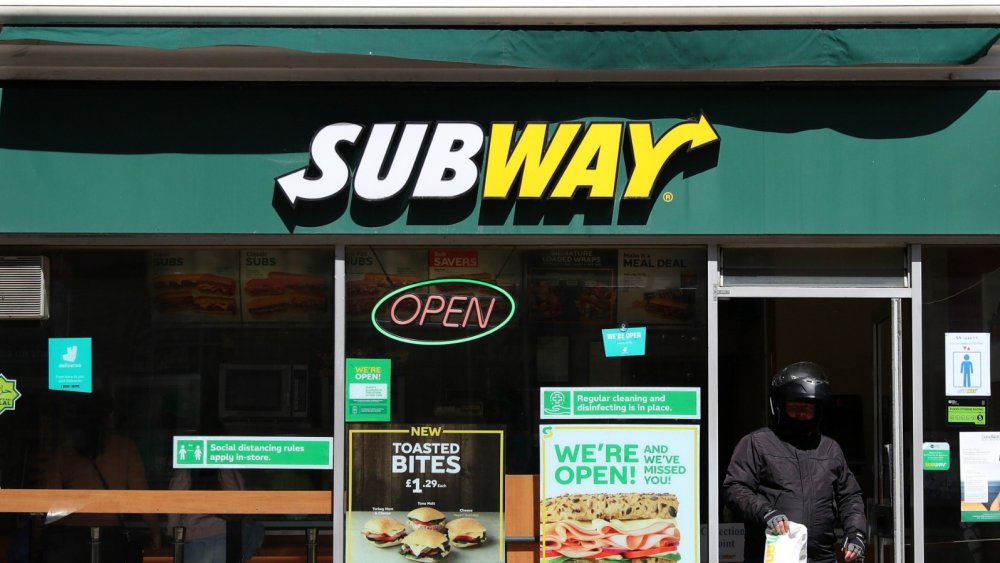 Catherine Ivill/Getty Images
If you ask Subway, nothing says Christmas like Tiger Pigs. That's the name of the sandwich chain's newest sub, which features a bacon-wrapped sausage, topped with a drizzle of Southwest sauce, served on tiger bread (per LancsLive). According to Delish, tiger bread is similar to Subway's traditional bread (which may not actually qualify as bread, depending on who you ask) except the loaves are brushed with a paste of rice flour, water, and sesame oil before baking. As the bread bakes, the paste creates a crackled crust on top, resembling tiger stripes. Stuffing tiger bread with pork wrapped in pork earns the sandwich its moniker of "Tiger Pig" and it's just one of the items gracing the sandwich chain's new Christmas menu.
Sadly, though, Tiger Pigs are not available to all. This specialty sandwich, and the rest of Subway's Christmas menu, are only available to residents of the UK. Maybe Subway thinks America is not yet ready for sandwiches of this magnitude, and maybe they're right. But, it never hurts to stay informed. Read on to find out what else you're missing.
Subway's UK Christmas menu goes beyond Tiger Pigs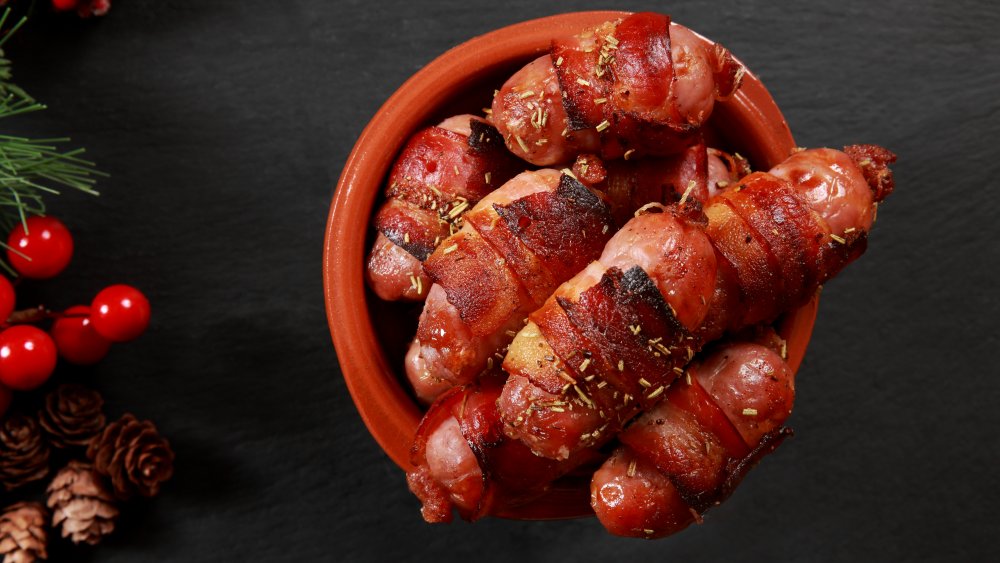 Shutterstock
Subway's UK Christmas menu premieres Nov. 11, and in case a footlong bacon-wrapped sausage on a bun is too much to handle, LancsLive reports there are plenty of other interesting options available. For those that want the experience of a Tiger Pig on a smaller scale, the sandwich chain will offer pots of bite-sized bacon-wrapped sausages.
According to The Spruce Eats, this version of pigs in a blanket (using bacon as the wrapper instead of pastry) is actually a traditional treat in the UK on Christmas and on Boxing Day. Also in the party-friendly, bite-sized realm, there's a Turkey Breast Toasted Bite which comes with turkey and melted cheese on a tiny ciabatta roll. Then, in what The Sun describes as a taste of "traditional Christmas flavors," Subway will offer a standard-sized turkey breast sandwich layered with crispy hash browns. We're guessing that's a play on roast turkey and mashed potatoes and it sounds super festive.
No Christmas menu would be complete without tasty beverages and Subway is answering that call with honeycomb coffee and hot chocolate. Finally, they round out the special menu with Chocolate Orange Cookies and Mince Pie Cookies that are reportedly fan favorites, back by popular demand (according to LancsLive). There may be signs that Subway might not be around much longer but we have to say, bringing some of this creativity stateside could do the trick. Until then, we'll just stick to stalking #tigerpig on social media.