Red Lobster Fans Won't Want To Miss This Holiday Surprise
Whether you are on board for the Brownie Overboard, go wild for the Wild-Caught Snow Crab Legs, or come to dive into the Ultimate Feast, chances are you're not leaving Red Lobster without devouring at least one Cheddar Bay Biscuit. These beauties are so popular that Thrillist reported the chain serves over one million of them every day. This year, Cheddar Bay Biscuit fans are in for an extra holiday treat.
According to Red Tricycle, Red Lobster will be releasing limited-edition gift boxes filled with Cheddar Bay Biscuits in time for the holiday season. While the addictive biscuits can already be ordered by the half- and full-dozen to go, beginning November 16, biscuit lovers can pay $1 extra to get a half-dozen biscuits in the gift-friendly holiday packaging, at least until they run out. The chain is also offering some new holiday platters, and orderers can choose between picking up their holiday meals or having them brought straight to their homes with touchless delivery.
Festive Gift Boxes aren't the first Cheddar Bay Biscuit holder Red Lobster has created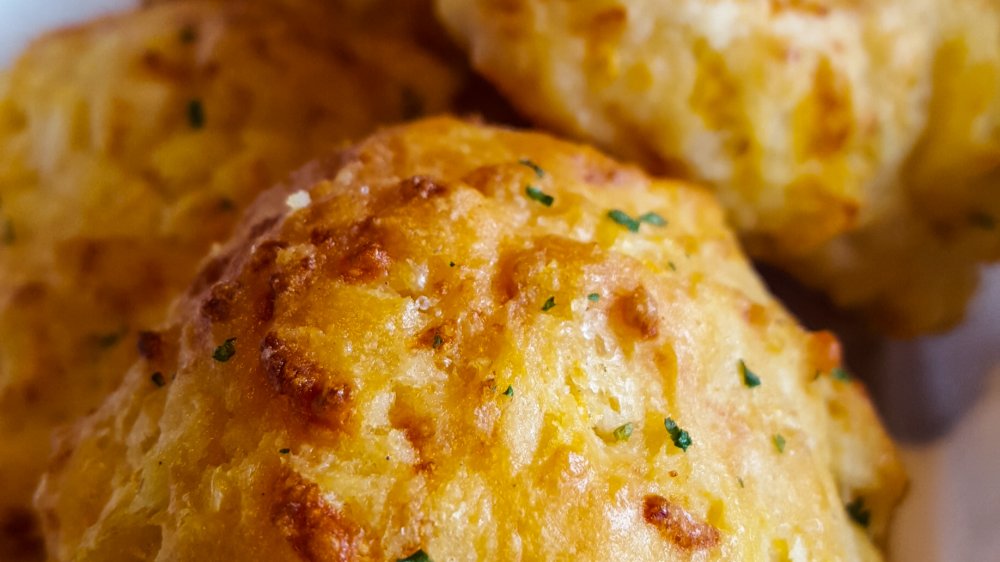 Shutterstock
After bidding adieu to a few leftover, lonely Cheddar Bay Biscuits at the restaurant, the desire has probably crossed your mind to take the delicious snacks with you. Sure, you could ask for a to-go box just for the biscuits, but would that be silly? A more sensible solution might be arriving wearing a Cheddar Bay Biscuit Fanny Pack, then you could carry out your snacks smile-laden, and hands-free. In 2019, Red Lobster introduced the limited-edition, insulated accessory as part of a promotion for National Biscuit Day.
But, the fun didn't stop there. Later that year, the chain launched their ugly holiday sweaters complete with insulated Cheddar Bay Biscuit pouches. The sweater, playfully decorated with snowflakes, lobsters, shrimp, and, yes, Cheddar Bay Biscuits, was part of Red Lobster's first-ever pop-up shop and sold along with other Red Lobster "collectibles."
If you bought one of your loved ones the incredible limited-edition Cheddar Bay Biscuit "Ugly" Holiday Sweaters from Red Lobster last year, now is your chance to help fill it. "Whether you're searching for a unique gift to give a loved one you can't physically be with, or looking to reward yourself for finishing a tough year strong, our Cheddar Bay Biscuit gift boxes are guaranteed to serve up some much-needed warmth and comfort this holiday season," said Deanna Kotch, Vice President of Marketing, Red Lobster (via Red Tricycle).