All-Clad's Factory Sale Will Help You Get Your Kitchen Holiday Ready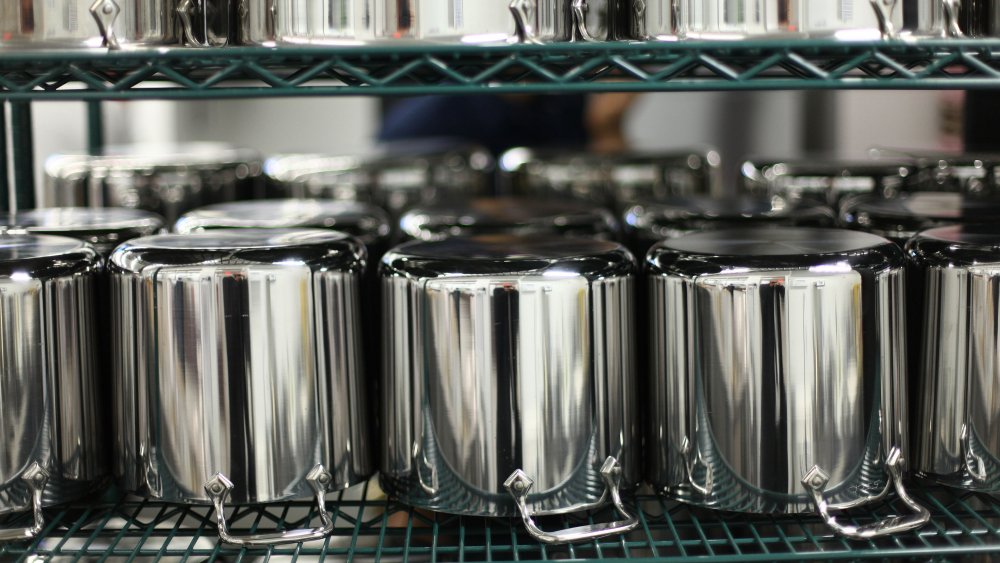 Neilson Barnard/Getty Images
Until the end of the business day on Wednesday, November 11 this year, you can stock your kitchen with every possible piece of equipment you may need for the barrage of holidays approaching our way. All-Clad Metalcrafters has launched their VIP Factory Seconds Sale event, during which they sell any items with cosmetic scratches and dents at incredible price reductions that reach 70 percent off. They will only accept one order per shipping address, however, so you have to snap up everything you're after in the first attempt. All sales are final.
All-Clad Metalcrafters has been promoting this sale regularly for decades, as shown by a June 2009 piece in the Pittsburgh Post-Gazette, which pointed out that the tradition had already been established for over 15 years. At that time, chefs and other home cooks looking for a good deal dragged themselves from bed to select locations to pour over the offerings. Since then, the sale has moved online, yet the sense of exclusivity remains, with its secret launch date and the fact that you have to opt into their mailing list to even see the sales.
For a very limited time
Enough history, however. What you, dearest reader, are probably interested in are the remarkable sales on offer. Before you look at the reduced prices, you should be aware that some pieces will still cost a fair bit. While the 7.5 inch French skillet has been knocked down from $105 to $39.95, other items boast such a high initial price tag that reducing their cost still means a good deal of money, like the on-sale four-quart saute pan priced at $139.95, which is after a 48 percent discount from $270. Still, the price, as Prudent Reviews explains, is worth it. The quality and durability of All-Clad's products results in phenomenal cooking performances from equipment that should last a lifetime. If you buy that saute pan, you have bought all the saute pans you need.
If, however, you are looking for a further deal, All-Clad will waive its flat shipping fee of $7.95 if you buy either their discounted 16x11-inch steel lagostina or their 14x11-inch copper lagostina for $39.95 or $65.95 respectively.
The insanity of savings will end November 11, however (the company offers a handy countdown clock on the sale website). If you are reading this after the sale has ended but before December 22, you can find comparable sales at Macy's, such as the same skillet mentioned above for $50. But if the All-Clad VIP Factory Seconds Sale even is still running and you need new kitchen equipment, you really should hurry.