Pizza Hut Is Now Offering Plant-Based Meat Toppings Nationwide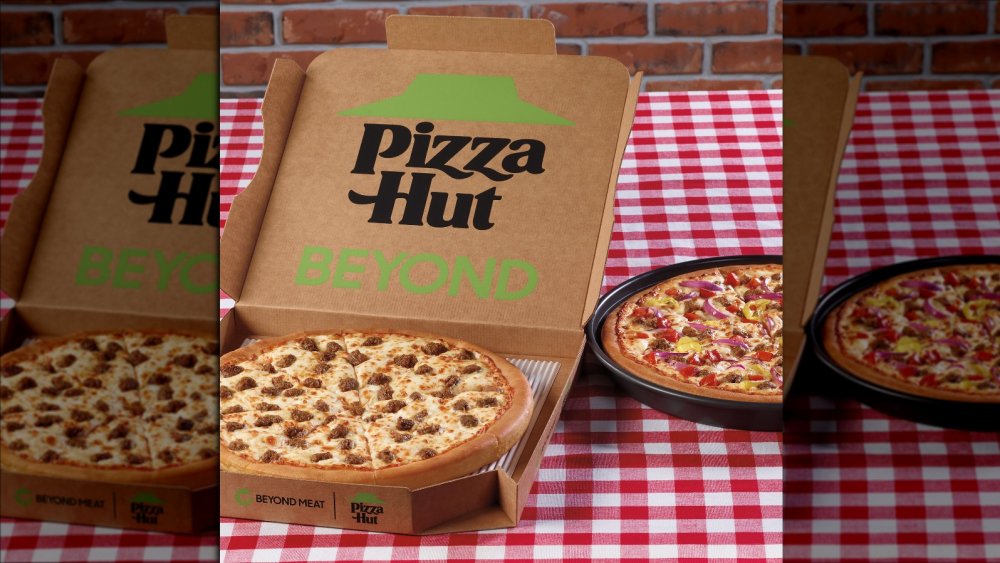 Pizza Hut
Pizza-loving vegetarians rejoice. There are two new pizzas in town thanks to Pizza Hut, and both include plant-based meat toppings from Beyond Meat. As of Tuesday, November 10th, Pizza Hut launched their partnership with Beyond Meat to bring two new vegetarian-friendly pizzas to the menu, according to a press release received by Mashed. This is a kind of big deal, as apparently it is the first time a pizza chain has offered plant-based meat pizza toppings on its menu nationwide. "Our partnership with Pizza Hut is a category first and together we will continue to raise the bar on game changing product innovations as we introduce the delicious taste of Beyond Meat products to pizza fans nationwide," said Ethan Brown, CEO and founder of Beyond Meat.
Now Pizza Hut customers everywhere can try the new pizzas and enjoy a guilt-free meat dish. "We're thrilled to be on this journey with Pizza Hut that enables us to further increase access to better-for-you plant-based meat as we continue to expand our partnership with Yum! Brands," said Brown. It certainly has broadened the options and choices customers have when selecting their toppings.
Here's what Pizza Hut's vegetarian-friendly options will include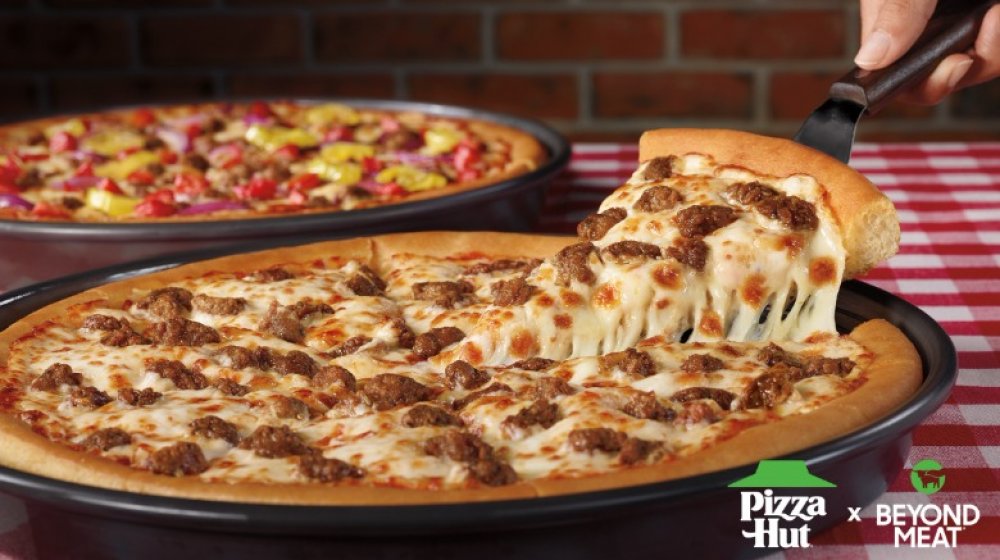 Pizza Hut
Culinary teams from both Pizza Hut and Beyond Meat worked together to create the Beyond Italian Sausage Pizza and a pizza (possibly tipping its hat to R.E.M.) called The Great Beyond Pizza. "I'd challenge anyone to go try the new Beyond Pan Pizza and tell the difference. I shared it with friends and family, and they couldn't," said David Graves, Pizza Hut's chief brand officer. Both pizzas feature a plant-based take on Pizza Hut's signature Italian pork sausage.
The first pizza, the Beyond Italian Sausage Pizza, features Pizza Hut's classic cheese pizza topped with the plant-based Beyond Italian Sausage crumbles. Graves describes it as "rich" and "juicy," saying it "has the signature Pizza Hut flavors — pizza lovers everywhere are going to love it." The second pizza, The Great Beyond Pizza, is made of Pizza Hut's Original Pan crust with tomato sauce and mozzarella cheese, and comes topped with the Beyond Italian Sausage crumbles, chopped tomatoes, sliced red onion, and banana peppers for a tangy kick. Both pizzas sound absolutely delicious to us, but you're going to have to try them for yourself to see what you think. Luckily for vegetarians and omnivores alike, you can go ahead and order them today.