One-Pot Ground Beef Stroganoff Recipe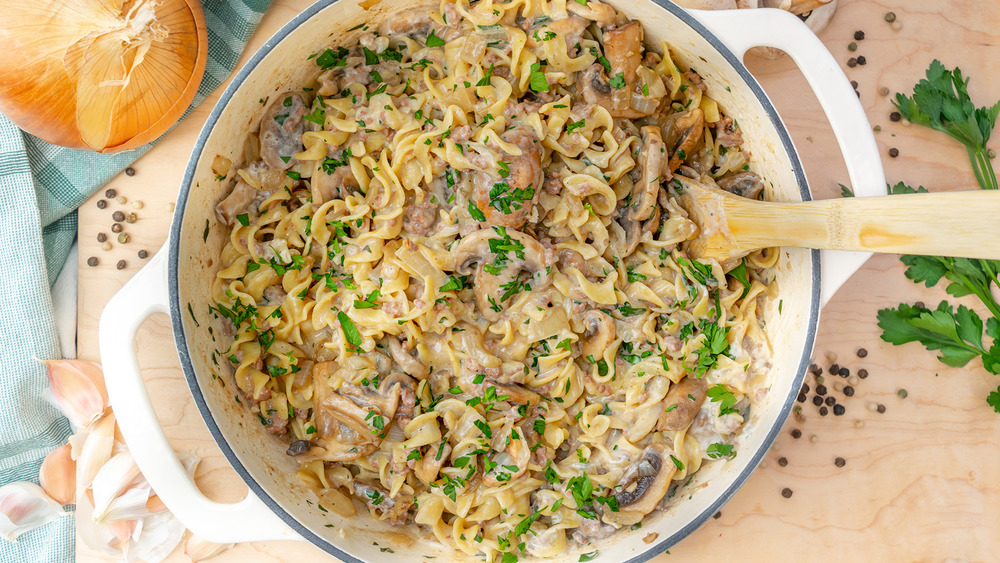 Molly Allen/Mashed
When it's approaching 6 p.m. on a weeknight, and there's no way you want to put together an elaborate dish, easy recipes can be a saving grace. But what if you took it one step further to make dinner using only one pot? One-pot ground beef stroganoff is definitely the comfort food recipe you've been searching for. 
Beef stroganoff has been a comfort food staple in households for decades. Named after Count Pavel Aleksandrovich Stroganoff, the dish made its first noted appearance in the early 1800s. Americans caught on in the 1950s, and it's been served on countless dinner tables ever since. 
With a mixture of egg noodles, mushrooms, and beef, all in a creamy sauce, this classic dish can be made plenty of ways. But since we're all about achieving that quick and easy dinner for a weeknight, this one-pot version might just be our favorite. There's no need to boil those egg noodles separately here. With just one pot and nine ingredients, you can have a flavorful dinner on the table in less than 45 minutes.
Gather the ingredients for this easy one-pot ground beef stroganoff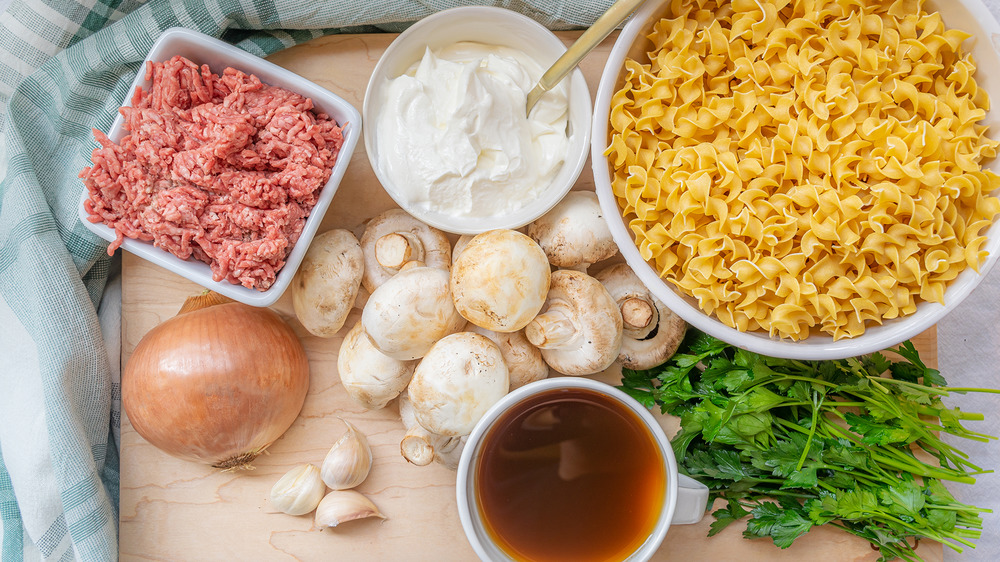 Molly Allen/Mashed
Putting together this one-pot ground beef stroganoff is as easy as can be. To pull it off, you'll want to make sure you have all of your ingredients on hand. Grab one 16-ounce package of ground beef, one 16-ounce bag of egg noodles, 16 ounces of mushrooms, beef broth, one small yellow onion, two cloves of garlic, olive oil, sour cream, and Italian parsley.
For this recipe, we utilized ground beef with an 85/15 fat ratio, but really any ground beef you choose will do. We opted for cremini mushrooms, as those are pretty easy to find in any grocery store.
Egg noodles are the perfect choice for noodles for this recipe, with their flat, thick shape. Plus, this rich noodle made with a higher ratio of eggs to flour tends to soak up sauces quite well. Certainly, other types of noodles can work in a pinch if you don't have egg noodles on hand.
Start by prepping the vegetables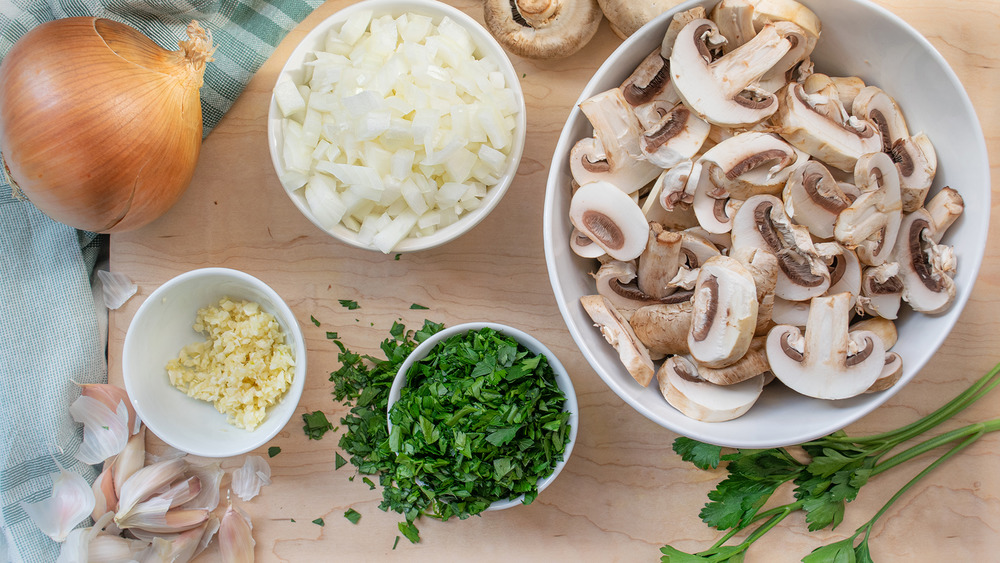 Molly Allen/Mashed
The beauty of this one-pot ground beef stroganoff recipe is that it won't create a lot of dishes. So, putting together a nice meal on a weeknight doesn't mean spending hours cleaning up afterwards. Grab an incredibly high-walled saucepan or Dutch oven as you prepare to cook.
To prep the vegetables for this recipe, you'll want to dice up one yellow onion. Start by cutting your onion in half, and remove the skin entirely. Then, use a sharp knife to make thin slices down the onion vertically. Turn your onion 90 degrees and cut down the onion to create crosswise slices.
To prep your garlic, peel the skin off of each clove. Place the clove on a cutting board, and use the side of a large knife to gently crush it. Run the knife over the clove to finely mince your garlic.
Prepare your mushrooms for this easy one-pot ground beef stroganoff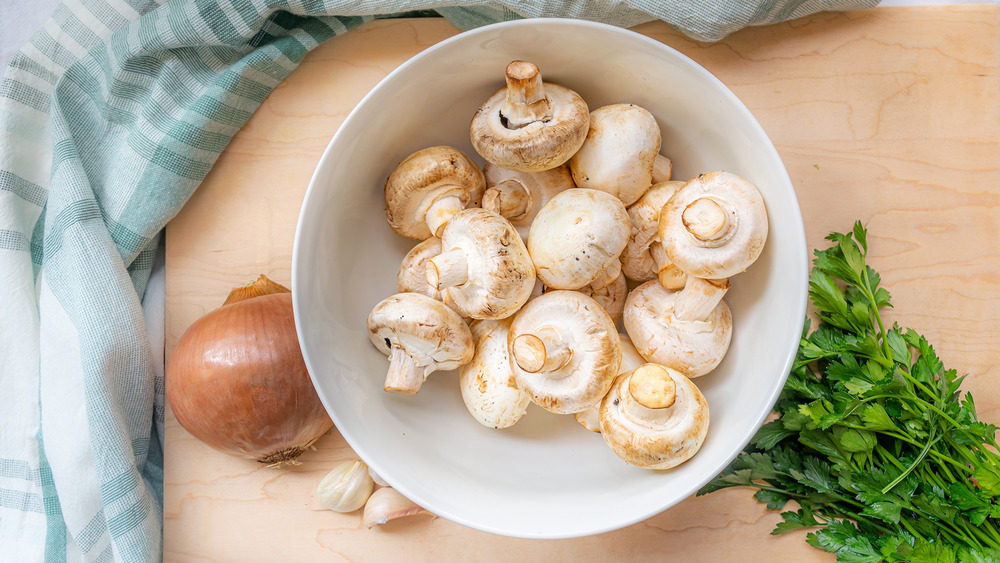 Molly Allen/Mashed
As you're prepping your vegetables for your stroganoff, be sure to save your mushrooms for last. We opted to buy our whole mushrooms in bulk in the grocery store, but you can certainly purchase a package that's already sliced for you.
If you purchase your mushrooms whole, be sure you don't wash them until right before you're ready to start slicing, and ultimately ready to start cooking. Once a mushroom is washed, it tends to soak up the water it was washed in, adding an unappealing slimy texture to the exterior. Holding off on washing your mushrooms will keep them from becoming too soft, soggy, or slimy.
Once you rinse your mushrooms, cut off or snap off all of the stems. Then, slice your mushrooms with a sharp knife to prepare them for cooking. If you prefer small chunks of mushrooms or small slices, feel free to make additional cuts. 
Cook the garlic, onions, and mushrooms first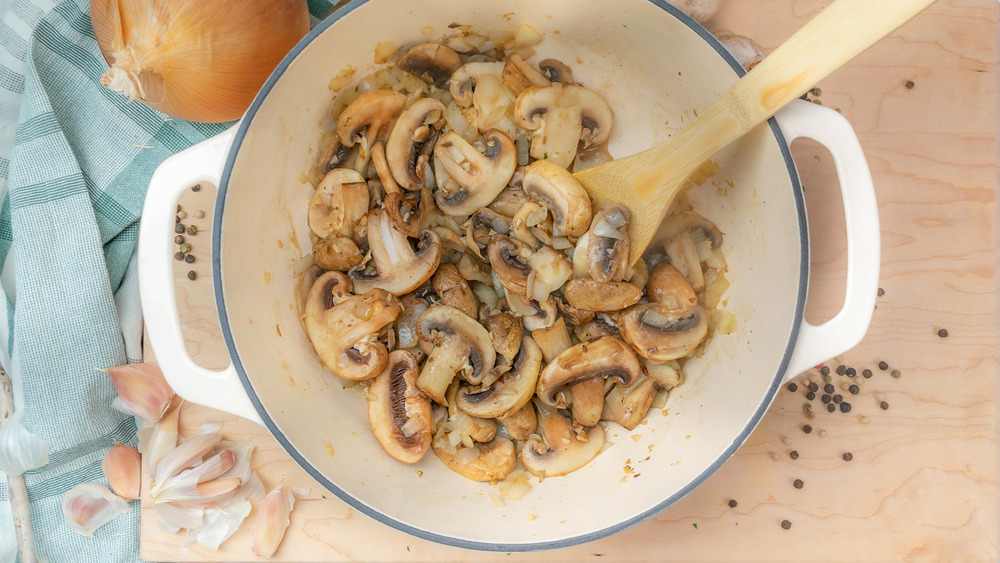 Molly Allen/Mashed
To get the cooking started, place your pan on the stovetop on medium heat. Add one tablespoon olive oil, and allow it to heat up. Add in your minced garlic, and allow it to cook until slightly golden brown. This will bring out the flavor of the garlic, later adding great depth to your ground beef stroganoff.
Once the garlic is golden, add in your onions and sauté them in the pan with the garlic. The onions will start to become more translucent, with a nice golden brown color to them as they cook. Once the garlic and onions are cooked, add in your sliced mushrooms. Sauté your vegetables together for about five minutes until the mushrooms are browned and tender. Once cooked, scoop your garlic, onions, and mushroom mixture into a separate bowl and set it aside to add it back into the pan later.
Brown the ground beef for this easy one-pot ground beef stroganoff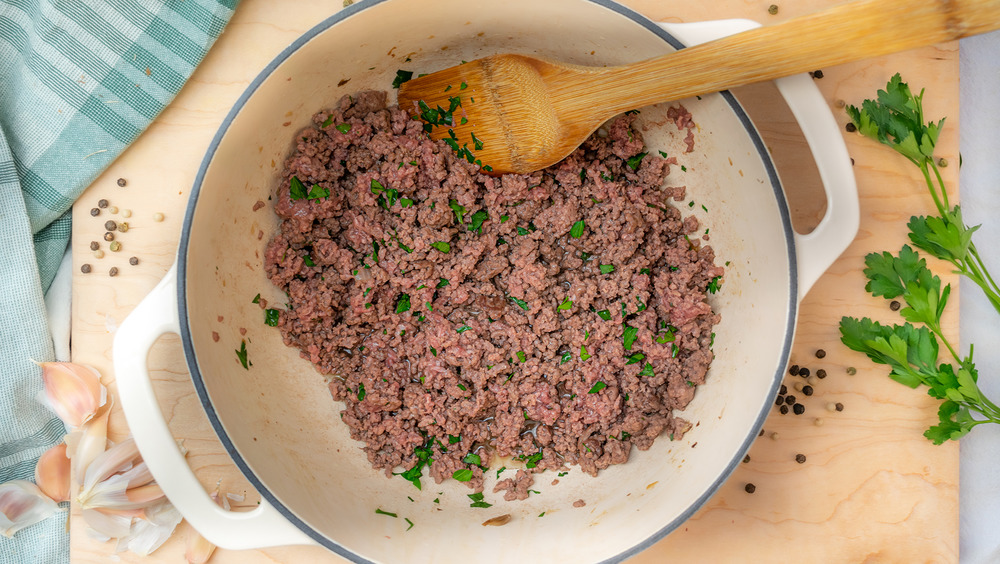 Molly Allen/Mashed
Of course, you can't have a ground beef stroganoff without the beef. Once your garlic, onions, and mushrooms have been cooked in your pot, it will leave a nice flavor for your ground beef to cook in.
With your stove on medium heat, add your ground beef to the hot pan. Use a wooden spoon to break up the ground beef as it begins to cook. Breaking the beef up into smaller pieces is the best way to make sure it cooks evenly. Allow the beef to cook, stirring it occasionally to make sure the ground beef doesn't stick to the bottom of the pan. Add in two tablespoons of chopped parsley to cook with the beef. Cook the beef for five minutes, or until you can't see any more pink. Once there's no pink in the ground beef whatsoever, you're ready to move on to the next step.
Add the noodles and beef broth for this easy one-pot ground beef stroganoff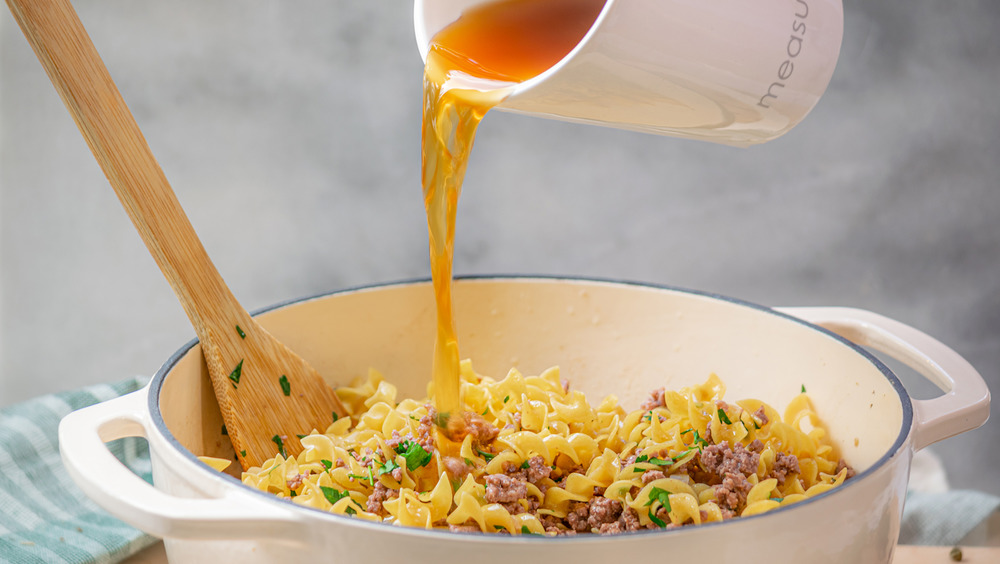 Molly Allen/Mashed
Once your ground beef is cooked, it's time to add the egg noodles for your beef stroganoff. The beauty of this recipe is that literally everything is cooked in one pot—even the noodles! There's no need to boil them separately in another pot to pull this off. 
Add the eight cups of egg noodles to your pot on top of the ground beef. Then, pour your four cups of beef broth over top. Give the mixture a stir, and then bring it to a boil. Once boiling, put the lid on and reduce to medium heat to allow your stroganoff to cook. Allow your noodles to cook for about ten minutes in the pot. The beef broth acts as the boiled water for the pasta, and the noodles will soften as it soaks up the beef broth. Plus, using beef broth adds a really delicious depth to the flavor of your dish. 
Stir in the sour cream for this easy one-pot ground beef stroganoff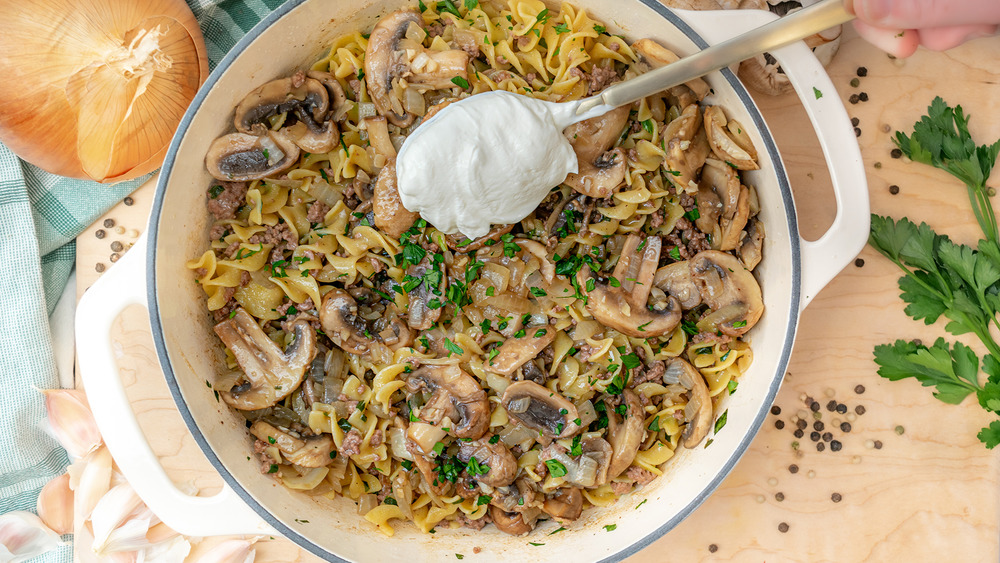 Molly Allen/Mashed
Once your noodles are tender and soft, your stroganoff is all done cooking. Now, it's time to add the mushroom mixture back into the pot and stir. 
Finally, you'll want to add in your sour cream. This is what will give your beef stroganoff that classic, creamy consistency. But it's important not to just dump all of the sour cream in at once for this step. 
Sour cream has a tendency to curdle easy when it meets citrus or hot liquids. The drastic change in temperature can cause the curdling, creating some not-so-appealing chunks in your dish. To avoid this, be sure your beef stroganoff isn't piping hot when you add your sour cream. Another great way to prevent curdling is to allow your sour cream to sit out at room temperature while you're prepping your beef stroganoff, and then add it in. 
Serve your one-pot ground beef stroganoff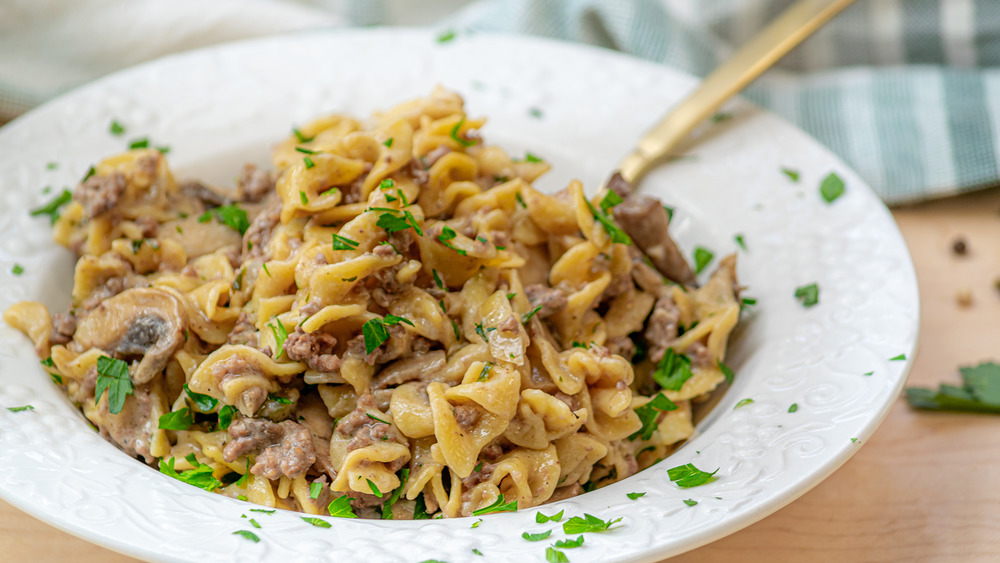 Molly Allen/Mashed
Once your sour cream is mixed in, and now that you've put together a delicious dinner, it's time to dish it up! Ground beef stroganoff is certainly perfect on its own, but it can also be served with plenty of complementary side dishes to make a great meal. Pairing a side of green beans or a salad of mixed greens is the perfect complement to this comforting dish. Or, simply enjoy a big bowl of it on its own with a toasted roll or garlic bread.
Serve your beef stroganoff, and scoop an additional spoonful of sour cream on top if you'd like. Add a few sprinkles of Italian parsley over top of the dish as a garnish, if desired.
Store any leftovers of your ground beef stroganoff in plastic storage containers in the fridge for three to four days. Although, with how delicious this dish is, chances are, there won't be any leftovers to save. 
One-Pot Ground Beef Stroganoff Recipe
With a mixture of egg noodles, mushrooms, and beef, all in a creamy sauce, beef stroganoff can be made plenty of ways. But a one-pot dish makes things easy.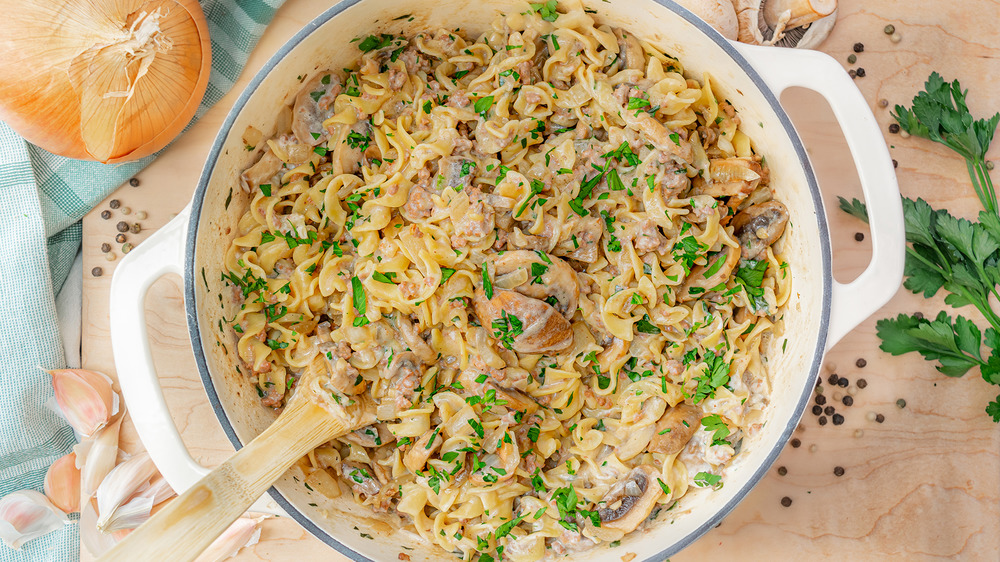 Ingredients
1 small yellow onion, chopped
2 cloves garlic, minced
16 ounces mushrooms (cleaned and sliced)
1 tablespoon olive oil
16 ounces ground beef
8 cups (or 1 16-ounce bag) egg noodles
4 cups beef broth
1 cup sour cream
Salt and pepper, to taste.
2 tablespoons chopped Italian parsley, plus more for garnish if desired.
Directions
Mince the two cloves of garlic and dice the onion. Slice your mushrooms, if needed.
In a deep pan or a dutch oven, heat up the olive oil on medium heat.
Sauté the garlic and onions until lightly browned. Cook the mushrooms with the garlic and onions until tender. Remove mixture from pan and set aside in a small bowl.
Brown the ground beef on medium heat. Add parsley while the beef is cooking.
Once the ground beef is cooked, add the egg noodles, and pour the beef broth over top. Bring the mixture to a boil, stir, and then turn down the heat to medium. Allow to cook with the lid on for 10 minutes until noodles are tender.
Once noodles are cooked, add the mushroom mixture back in and stir. Add salt and pepper to taste. Let the mixture cool slightly, and then stir in sour cream.
Serve with additional topping of sour cream and garnish with chopped parsley, if desired.
Nutrition
| | |
| --- | --- |
| Calories per Serving | 528 |
| Total Fat | 27.7 g |
| Saturated Fat | 11.2 g |
| Trans Fat | 0.9 g |
| Cholesterol | 116.2 mg |
| | |
| --- | --- |
| Total Carbohydrates | 43.9 g |
| Dietary Fiber | 3.0 g |
| Total Sugars | 4.9 g |
| Sodium | 971.2 mg |
| Protein | 26.8 g |