The Reason Chick-Fil-A Once Had To Use A Copycat Recipe For Its Own Sauce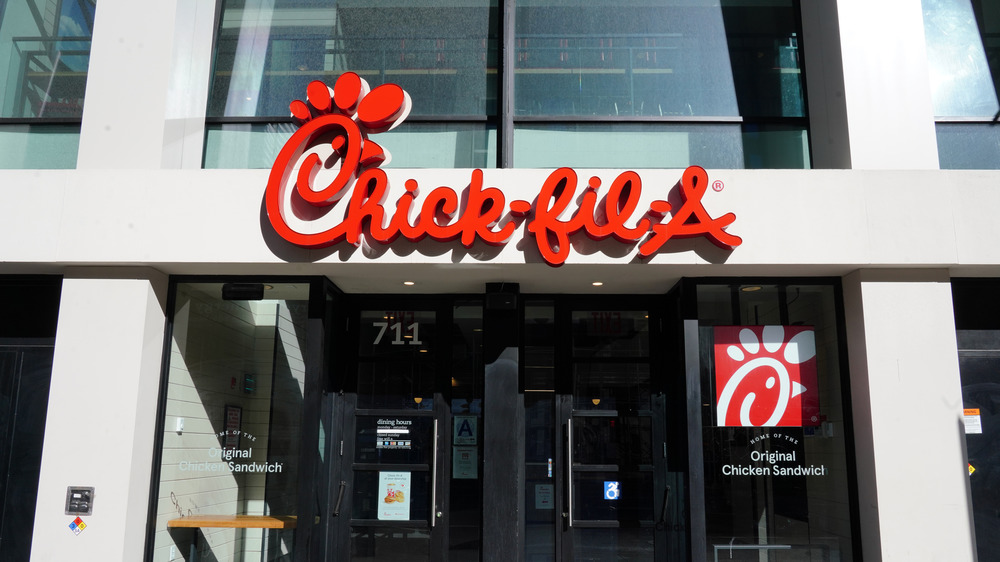 Cindy Ord/Getty Images
In 2008, the Atlanta Business Chronicle detailed Chick-fil-A's debuted menu items. Offerings listed included new salads and wraps and at the end of the sixth paragraph a throw away mention to a compliment to the new Chick-n-Strips: "Chick-fil-A has developed a new smoky mustard dipping sauce." This casually dropped sauce was the Chick-fil-A Sauce that was already a cult classic by the time of its release and has retained its popularity ever since. See: its second place on Thrillist's ranked list of best major food chain dipping sauces from February of this year. Or see Chick-fil-A's own admission in its article about the sauce's history that the Chick-fil-A sauce fills approximately one third of all sauces distributed across America.
However, as stated, the sauce had already been popular since 1983, specifically in the area of Fredericksburg, Virginia, where owner-operator Hugh Fleming invented the now ubiquitous condiment. To appease customers who wanted a dipping sauce for its nuggets, Fleming whipped together a honey-mustard recipe that brought in droves of new customers. According to Fleming, the sauce was so popular that people would bring empty cups just so they could take the sauce away with them and Fleming himself began to bottle the sauce to sell alone, as seen in a picture shown in the Culpeper Stat-Exponent.
Chick-fil-A ends its retrospective on its sauce by explaining how Fleming gave them the recipe for the sauce before retiring. His legacy is the iconic condiment of the franchise that sustained his career.
The unmentioned part of the sauce's history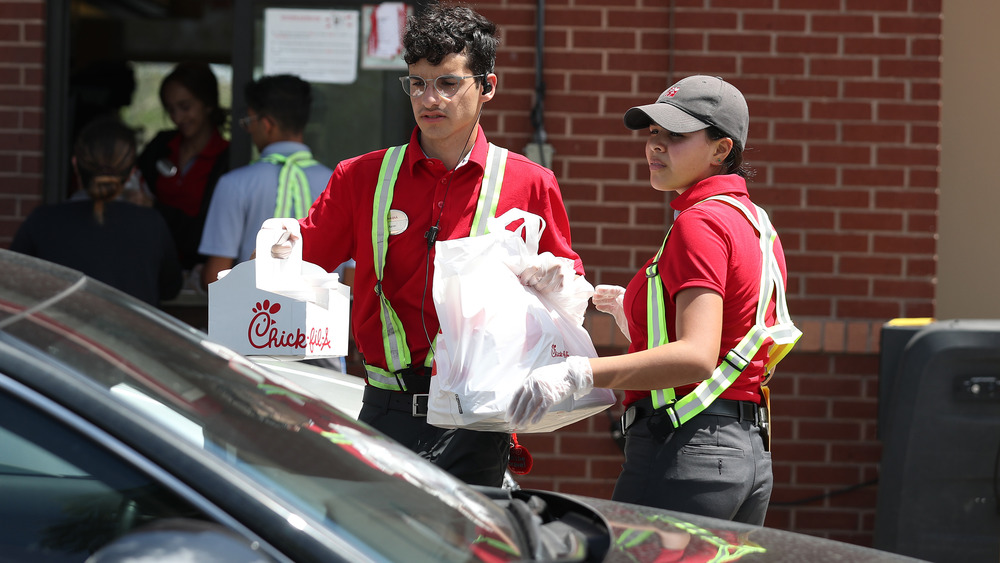 Joe Raedle/Getty Images
That's all really cozy. However, for some reason, the article does not mention its attempt to independently replicate the sauce. In another chronicle of this sauce, Our Community Now writes about how Chick-fil-A corporate heard about the raging popularity of Fleming's sauce. Customers would arrive at other franchised restaurants only to be disappointed when they asked for the sauce. So, the company attempted to copy it. Every account of this copycat incident fails to say whether Chick-fil-A asked Fleming for the recipe, and if not, why. 
Regardless, Chick-fil-A failed at its replication. However, it failed in the best possible way, by creating the Honey Roasted BBQ Sauce, another pretty popular condiment that Chick-fil-A still offers. The difference, as described by The Free Lance-Star, is that the Honey Roasted BBQ Sauce is thicker, which allows it to stay on sandwiches.
Still, as stated, Fleming eventually gave the recipe to Chick-fil-A for free, without licensing, royalties, or anything. He explained his choice to The Free Lance-Star, saying, "I could never have developed it without being under the Chick-fil-A roof. It was, as far as I was concerned, a shared credit as far as making it successful. It was my way of paying the company back." To understand this, it's worth remembering that in 1983, the US was in mid-recession, so Chik-fil-A's support for his franchise was crucial for his livelihood. Still, considering what Fleming felt he owed Chick-fil-A, its attempt to recreate his sauce remains a head-scratcher.