How The Pandemic Is Changing Cholula's Hot Sauce Bottles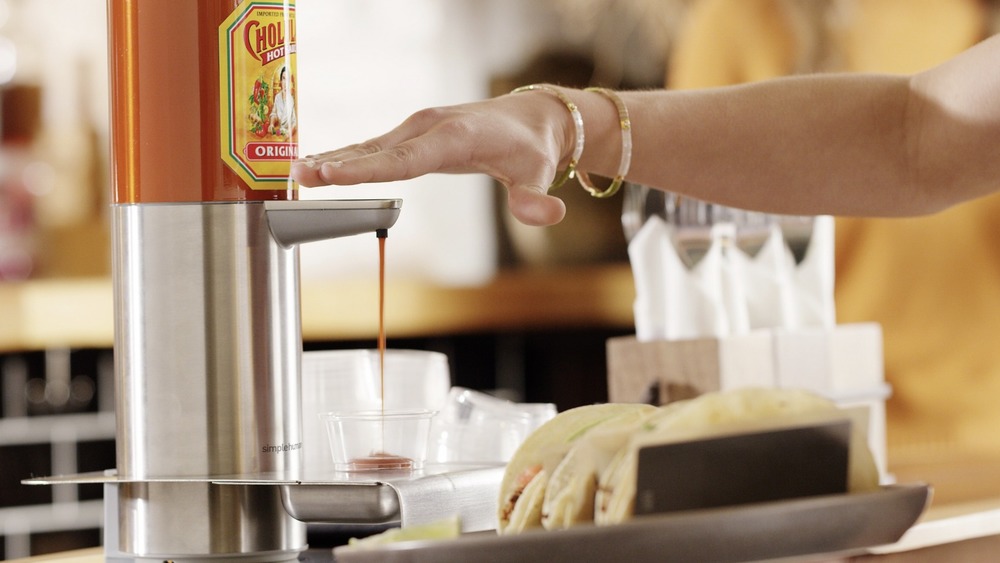 Cholula hot sauce is here to salvage your holiday-during-a-pandemic hot sauce needs. Chrissy Teigen, we're looking at you, and your Cholula hot sauce obsession (via Travel and Leisure) and Jessica Alba, you stock Cholula in your fridge, don't you (via People)? Then, listen up. And, Lin Manuel Miranda, seeing as Cholula once sent you a love letter, you're probably on top of this one, already. In case you're not, here's the deal. 
Maura Mottolese, CEO of the Cholula Food Company began worrying when restaurant operators started taking away Cholula bottles from their tables due to hygiene concerns. "We needed to develop a solution that could adapt to their new environment," Mottolese said via a press release. So Cholula Food Company bravely went where no hot sauce manufacturer has ever gone before. Cholula and simplehuman got together to make "the world's first hands-free hot sauce dispenser." This is everything we know about the marvel of modern technology. To start with, you can get it at home.
Cholula has a new hot sauce dispenser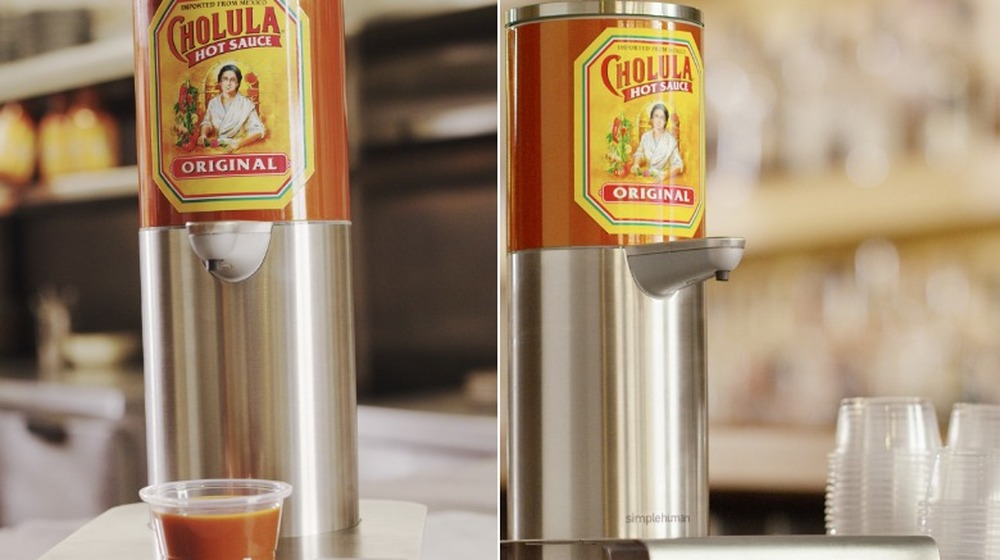 Designed so that your "friends and family can keep Cho' hands to themselves," Cholula and simplehuman's new touch-free dispenser will give you the hot sauce you crave with a wave of your hand. Worried about the flow of your hot sauce onto the plate? Don't be. Cholula wants you to know that the touch-free hot sauce dispenser's "precision pumping technology transfers the perfectly consistent drip every time, making it the sauce bot of your dreams!" Case in point? "We developed a valve to reduce hot sauce splatter and a completely new upward facing sensor interface to make it more intuitive for users in the restaurant environment," says Frank Yang, the CEO of simplehuman.
Like we said already, you can get one of these hot sauce dispensing machines for yourself. Starting Dec. 1, Cholula will sell you the dispenser via a Flash Sale for a modicum price of $130.00 a pop (half a gallon jug of Cholula Original and free shipping, included). One hundred percent of profits will go to the Independent Restaurant Coalition, an organization dedicated to helping independent restaurants survive COVID-19.