You'll Notice This Next Time You Go To Walmart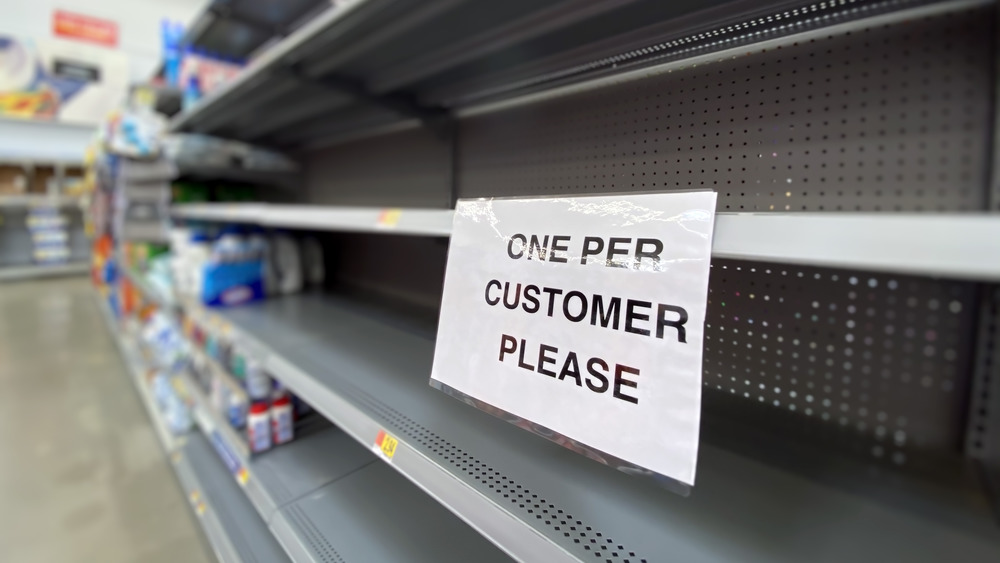 Shutterstock
When COVID-19 hit, nothing in our lives felt normal. Everything from the ways we relaxed to how we handled small, habitual chores got turned on their head, and we had to rethink every aspect of our daily lives in order to stay safe. One of the biggest lifestyle changes came in the form of shopping — wearing mandatory masks, constantly spritzing sanitizer on our hands, and standing in queues for limited-capacity stores had become our new normal.
While these changes swept America by storm, it took some time for many of us to accept them. According to CNN, many states had eased their lockdown restrictions by the middle of May 2020, and our errands began to at least feel a little bit more like how they did before the pandemic. While times have felt slightly easier over the past few months, this normalcy couldn't last. As flu season rolls in, coronavirus cases have begun to spike to record highs, and states have started to institute new lockdown procedures (via The New York Times). With new restrictions coming into place, anyone who loves shopping at Walmart should brace for a return to the days of long queues and limited-capacity shopping experiences.
Get ready for new restrictions
Shutterstock
According to CNN, Walmart plans to begin restricting the amount of patrons who can physically shop inside the store to 20 percent of store capacity. While the change makes sense from a health perspective, it makes the logistics of Black Friday shopping that much more challenging. In order to respond to savvy shoppers, Walmart plans to extend holiday sales deals for three weekends as part of a "Black Friday Deals For Days" promotion to keep everyone happy at a minimum level of risk (via CNN). The brand also has begun encouraging patrons to use their online service to purchase goods and avoid the hassle of shopping in-person, or at least use the curbside pickup service to reduce the transmission of germs (via CNN).
While Walmart rolls out new restrictions, other supermarkets have taken note and plan to scale back in order to accommodate new coronavirus restrictions. According to CNN, Kroger and Giant have begun enforcing sale limits on items like paper towels and toilet paper in order to avoid the massive shortages faced during the panic buying earlier in the pandemic. Hopefully, these precautions help make our lives safer, and with our previous experience of navigating COVID lockdowns, we can face the new wave of restrictions with ease.