Where To Order An Inexpensive Meal On Thanksgiving Day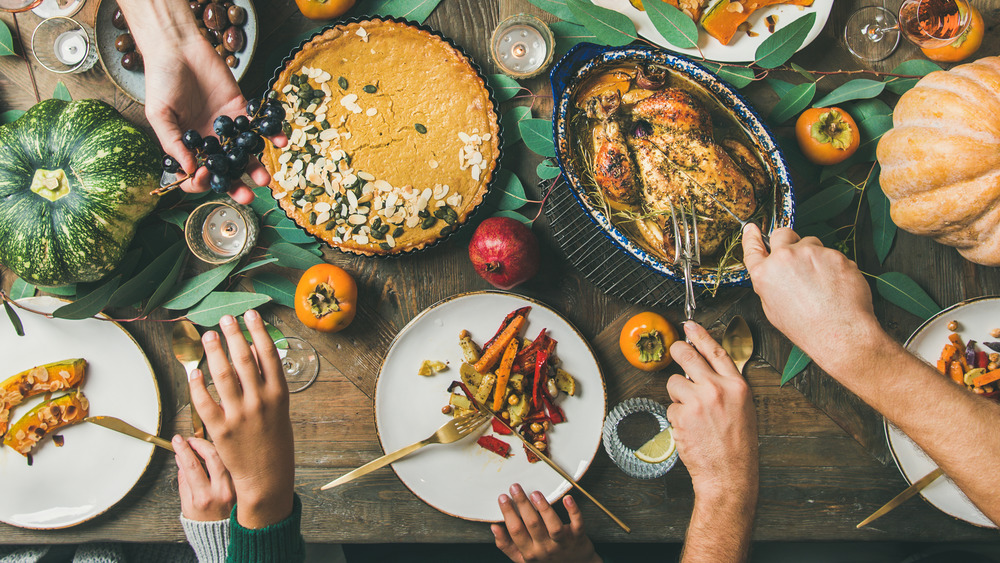 Shutterstock
With Thanksgiving just around the corner, you're probably starting to prepare for the festivities. Maybe you're still planning on cooking up a storm this year. Maybe you want to cut yourself some slack and instead order food from a well-known eatery. Or perhaps you're hoping to spruce up the meal by including a couple of restaurant dishes along with your signature home-cooked sides. Whatever you're planning, it is always nice to be able to enjoy delicious, wholesome food without fretting over how expensive everything is, right? Don't worry, we've got your back!
Whether you're looking for impeccably cooked turkey or searching for some of the most popular side dishes this Thanksgiving, you'll be chuffed to learn there are several options available from some of the biggest names in the business this year that aren't too heavy on the pocket and are perfect for your festive family meal. Without further ado, here are some of the best deals on offer this Thanksgiving season.
You have several budget-friendly options for Thanksgiving this year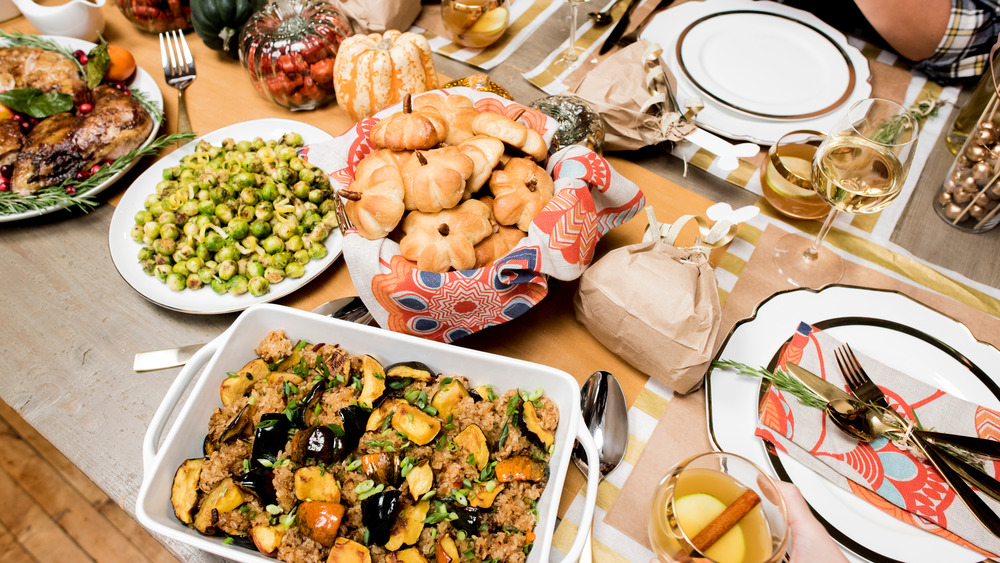 Shutterstock
As per Delish, there's a really good offer available at Trader Joe's this year. A very special Thanksgiving turkey product is up for grabs at just $13, which comes wrapped in puff pastry and filled with cornbread stuffing. Trader Joe's Turkey and Stuffing En Croute also comes with yummy gravy and cranberry sauce on the side. If that feels like too little for your family, you can opt for a full meal prepared by BRIO Italian Grille for $29 per person. You get to feast on turkey, stuffing, mashed potatoes, broccolini, orange cranberry sauce, and pumpkin spice bread pudding. 
Another great option is Bob Evans' Thanksgiving Farmhouse Feast. Good for four people, the meal costs around $59.99. All you need to do is heat up the food, which includes several traditional Thanksgiving dishes: slow-cooked turkey breast, mashed potatoes with gravy, green beans and ham, cranberry relish, dinner rolls, bread and celery dressing, sweet corn, and a cherry pie. Sounds incredible!
You could even go out for an affordable Thanksgiving meal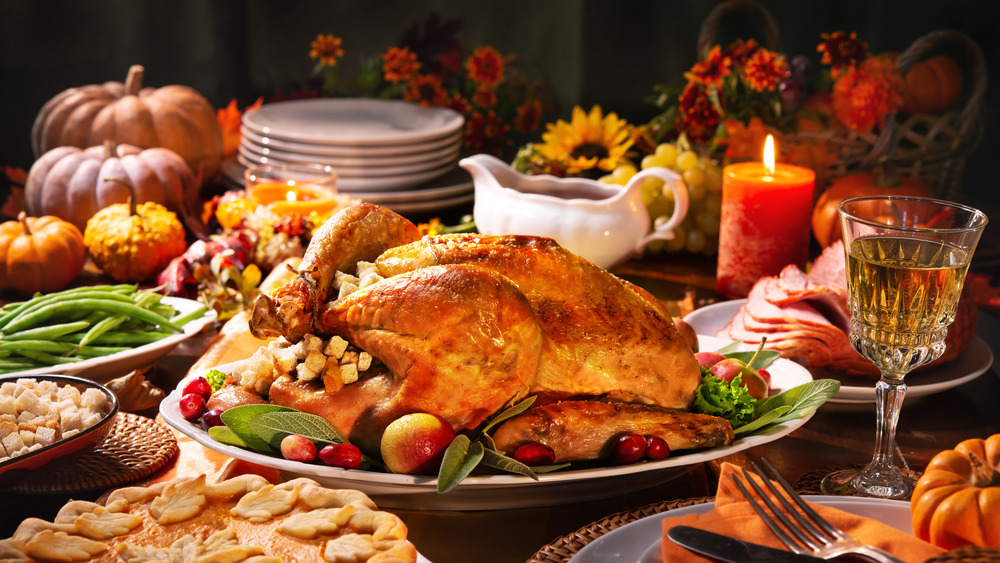 Shutterstock
Hold on, we're not quite done yet! You still have more options to choose from. If you feel like dining out with your loved ones, you could check out the Thanksgiving festivities at Cracker Barrel, which is serving up a pretty good holiday deal (via Mile High On The Cheap). Pay just $12.99 for the Homestyle Turkey n' Dressing Meal that includes turkey breast, sugar-cured ham, sweet potato casserole, a beverage of your choice, cranberry relish, buttermilk biscuits or corn muffins, and pumpkin pie. 
Other great options to consider are Denny's, iHOP, Boston Market, Buca di Beppo, Romano's Macaroni Grill, and Whole Foods Market. Buca di Beppo's family-style meals are priced at $22.99 for each person, and the Thanksgiving dinner is hard to pass up: turkey with gravy, garlic mashed potatoes, cranberry sauce, green beans, Italian sausage stuffing, and pumpkin pie. Or head to Romano's Macaroni Grill for a hearty three-course meal at $24.99 and relish roasted turkey breast, garlic mashed potatoes, apple and sausage stuffing, and brussels sprouts or broccolini. Choose between Caesar salad, soup, or green salad and finish off your meal with pumpkin tiramisu. 
Meanwhile, Boston Market's Thanksgiving Day Meal is a steal at $13.99 and has a good mix of dishes: a roasted turkey breast or half-rotisserie chicken with a couple of side dishes and dinner rolls coupled with dessert. Choose between apple or pumpkin pie to finish your meal with a bang. Happy festive season!