Chick-Fil-A Copycat Coleslaw Recipe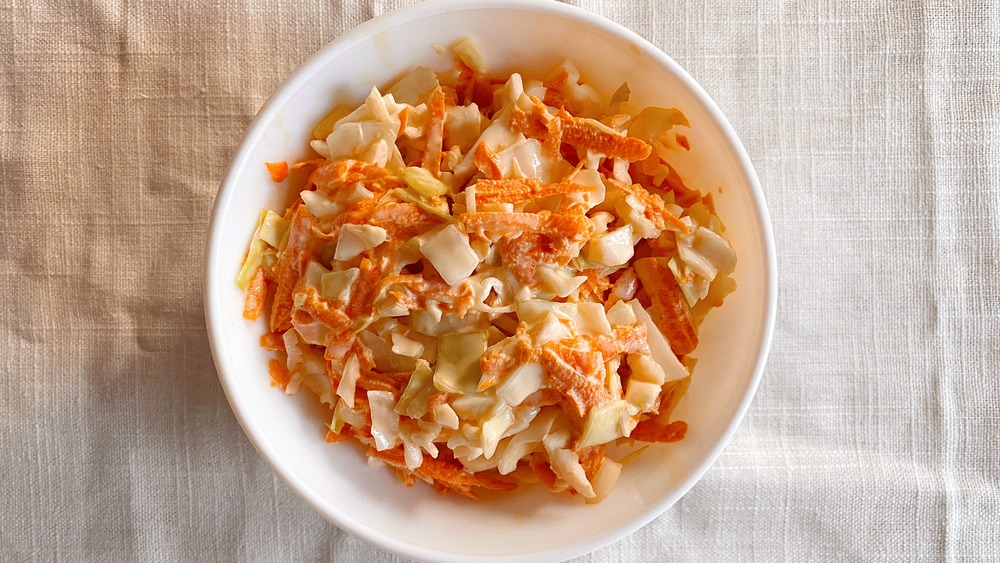 Carina Finn/Mashed
In 2015, controversial fried chicken chain Chick-fil-A made yet another contentious move: They removed coleslaw from their menu. The unusually sweet side dish had gained a cult following, and when they removed it from the menus of almost all of their restaurants, fans were saddened. Sure, you could (and still can) get the classic coleslaw at the Dwarf House restaurants in the Atlanta area, but not everyone can get to Georgia for their sweet and salty shredded cabbage fix. 
In an effort to honor the classic dish and satiate their fans' desire for classic Chick-fil-A coleslaw, the company decided to release their original recipe on their blog, The Chicken Wire. Now, anyone can make coleslaw just the way they do at Chick-fil-A. We've tried it, and we have to say, it really is just like the original. There are, however, a few tips and tricks, including one ingenious ingredient upgrade, that can make a big difference in how well your Chick-fil-A copycat coleslaw turns out. Read on to learn everything you need to know about making this side dish at home.  
Gather the ingredients to make Chick-fil-A copycat coleslaw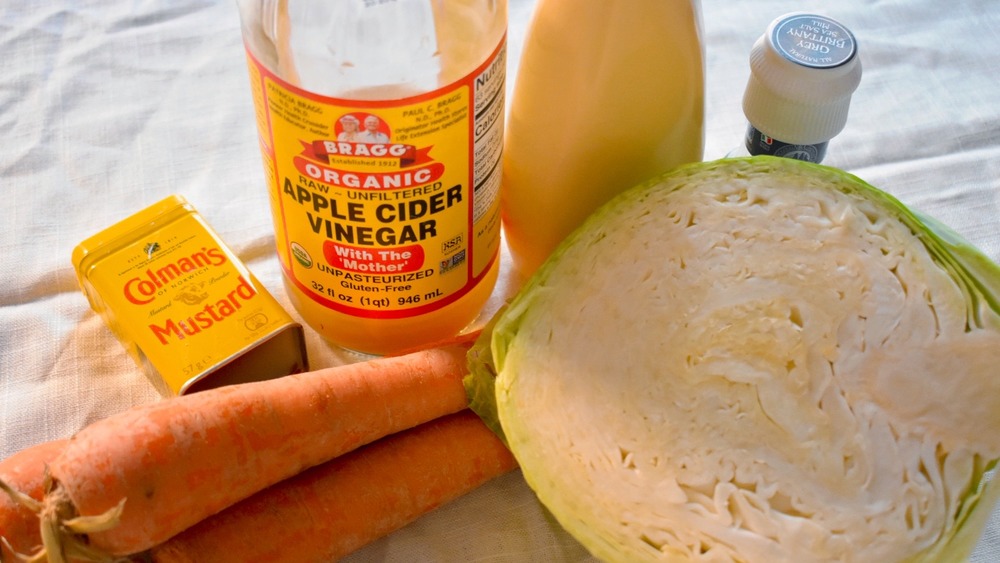 Carina Finn/Mashed
The list of ingredients for this Chick-fil-A copycat coleslaw is short and simple. In fact, there's a pretty good chance you already have everything you need to make it in your house right now! The base of this coleslaw is cabbage and carrots — just plain green cabbage is the way to go for this recipe if you want to get it just right. The simple dressing that pulls it all together is made from mayo, apple cider vinegar, salt, sugar, and dry mustard powder.
If you start with vegetables that are already shredded, the whole thing comes together in less than five minutes. Want to get fancy and shred your own carrots and cabbage? You're looking at ten minutes, tops. That's probably less time than it would take for you to drive to the nearest Chick-fil-A. Another plus to making it at home? You can have it on Sundays. 
What kind of cabbage should you use to make Chick-fil-A copycat coleslaw?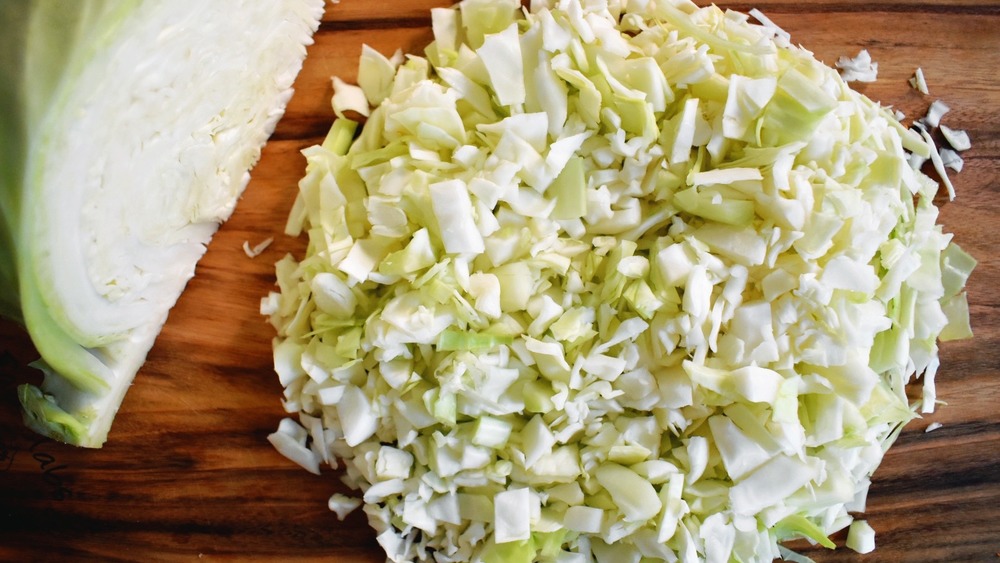 Carina Finn/Mashed
We think that the best cabbage to use for this Chick-fil-A copycat coleslaw recipe is a standard head of green cabbage. It's nothing fancy, but it has the exact right texture that makes this coleslaw different from many others. You can buy pre-shredded coleslaw — in fact, that's what the official recipe released by Chick-fil-A calls for — but we think the results are better if you handle the vegetables yourself. Even if you do buy bagged, shredded cabbage, you'll still need to give it a rough chop yourself before mixing it with the other ingredients. Bagged cabbage tends to be less crunchy, however, and the crunch is one of the best parts of this recipe. A whole head of cabbage will make a lot of coleslaw, so our recipe calls for just half of a medium-sized head of cabbage. 
If you do want to experiment with different cabbage varieties, that's not a bad idea — it just won't be the same as the stuff you used to get at Chick-fil-A. We recommend a blend of regular green and Napa or Savoy cabbage if you want to mix things up just a little bit. Red cabbage will add a nice pop of color, but it will also change both the texture and the flavor profile quite a bit.
What is the best mayo to use for Chick-fil-A copycat coleslaw?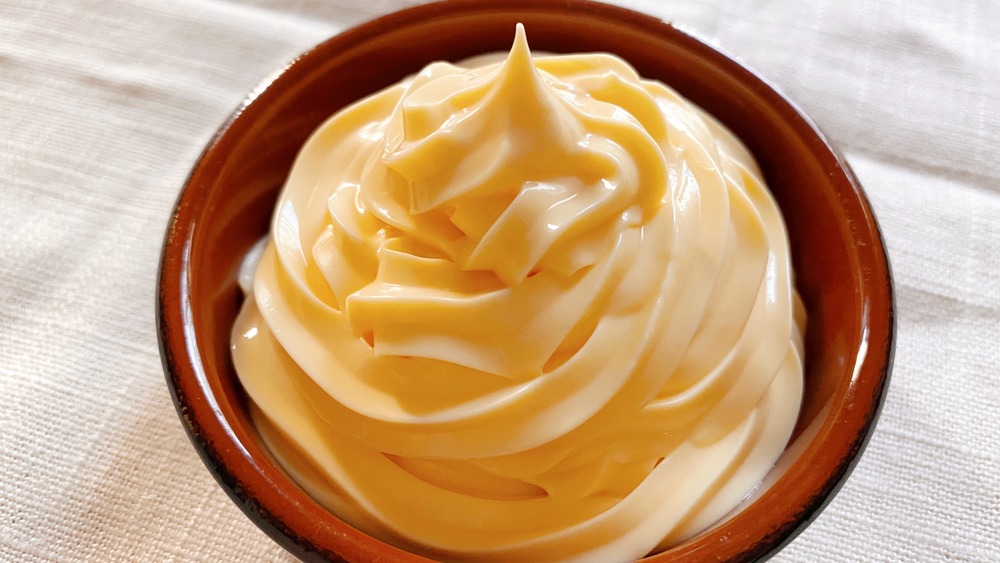 Carina Finn/Mashed
To make Chick-fil-A copycat coleslaw, you can use pretty much any brand of mayonnaise that you like. However, we do think that there's one kind of mayo that's a little bit better than others when it comes to this recipe, and if you haven't tried it before, this is a great opportunity. Kewpie mayo is a Japanese style of mayonnaise that has a few key things that set it apart from American mayo. For starters, it's made with only egg yolks, whereas most commercial American mayo is made with whole eggs. It has a slightly sweet flavor in spite of the fact that it contains no added sugar, and it's creamier and has more of an umami flavor than your typical jar of Hellman's mayo.
Look for a tall, slender squeeze bottle with a red cap and a star-shaped nozzle at your local Asian grocery store if you're seeking out kewpie mayo. Otherwise, use whatever brand you like best, or better yet, make your own mayonnaise to make this recipe really special. 
Dry mustard and prepared mustard are not the same thing in this Chick-fil-A copycat coleslaw recipe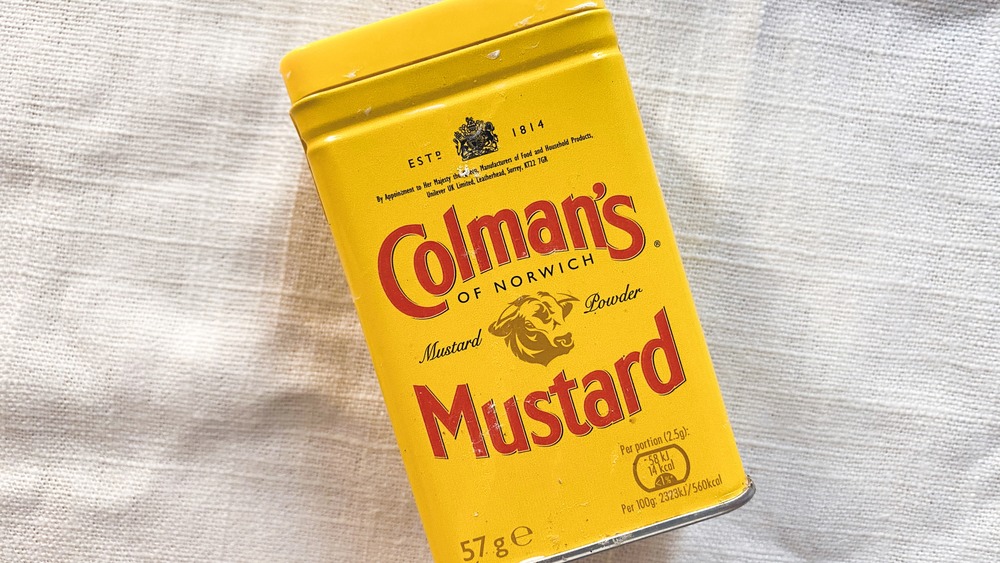 Carina Finn/Mashed
The recipe for Chick-fil-A copycat coleslaw calls for dry mustard powder, which is not the same as the prepared mustard you find in jars and squeeze bottles. Don't try to substitute the French's mustard that's sitting in your refrigerator door for this recipe: You really do need dry mustard to make it. Dry mustard powder contains only finely-ground mustard seeds. It has a sharp, pungent flavor, and it dissolves easily. 
On the other hand, prepared mustard is made from mustard powder and often contains not only vinegars but other spices and sometimes stabilizing ingredients. All of those additions will radically change the flavor of your coleslaw if you try to swap the dry mustard powder for whatever prepared mustard you have on hand. You can find dry mustard powder in the spice aisle at most grocery stores. We love Colman's, a British brand that's been in production since the 1800s. 
For perfect carrots in your Chick-fil-A copycat coleslaw, use a box grater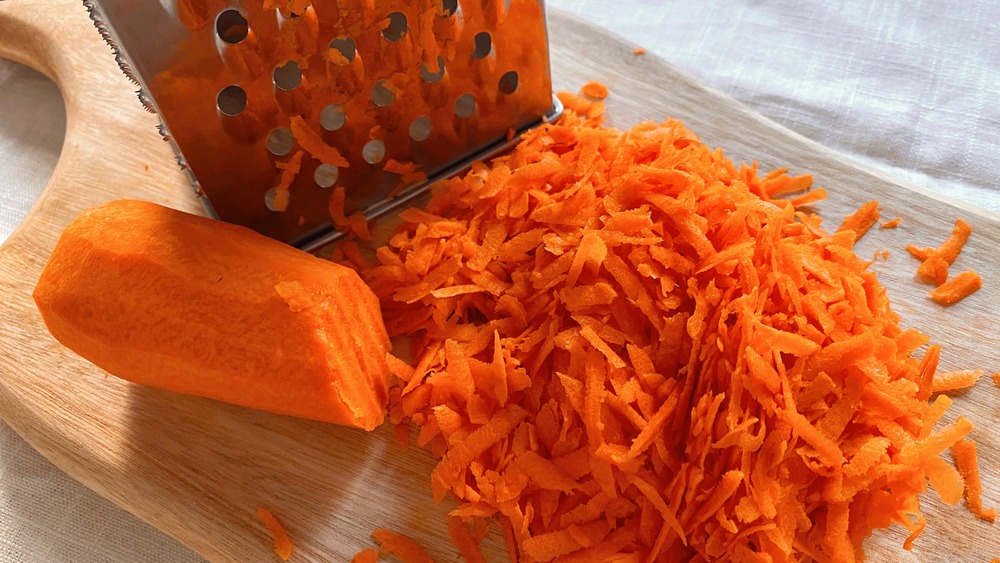 Carina Finn/Mashed
Sure, you could buy a bag of shredded carrots to make things super easy on yourself — if you're trying to make Chick-fil-A copycat coleslaw to feed a big crowd or as a last-minute addition to a meal, that's totally fine. The texture, however, will be better if you use a box grater. That's because the carrots in Chick-fil-A's coleslaw are somewhere in between grated and shredded, and the pre-shredded carrots sold in bags at the grocery store tend to be limp and stringy.
You want hearty, crisp carrots for this coleslaw recipe, especially since the vegetables are going to sit in their dressing for a while before serving. Using a box grater or even a food processor to shred your carrots is the best way to get a texture that can stand up to soaking while still retaining a satisfying crunch. Trust us on this one. 
Whisk together the dressing for your Chick-fil-A copycat coleslaw before adding it to the vegetables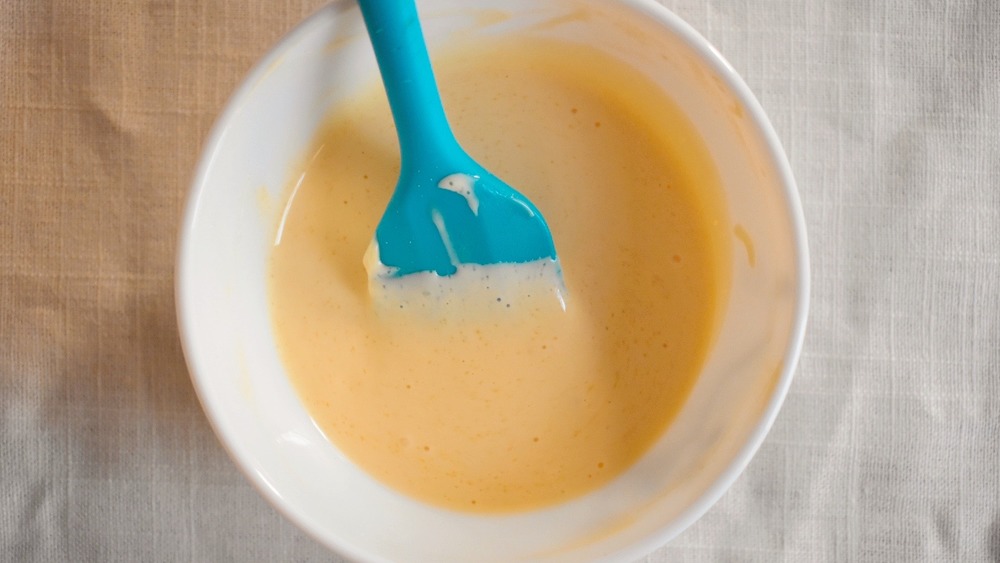 Carina Finn/Mashed
Once you have your carrots shredded and your cabbage finely chopped, add both of those ingredients to a large mixing bowl. You will want to be sure to choose one that is a little bit bigger than you think you will need so you have plenty of space to actually mix your ingredients. In a smaller bowl, whisk together the dressing. This part really could not be simpler. All that goes into the dressing for Chick-fil-A copycat coleslaw is mayonnaise, vinegar, sugar, salt, and dry mustard powder.
Once the ingredients for your dressing are fully combined, add them to the bowl of carrots and cabbage and mix thoroughly. This next step is especially important: Be sure to let it sit before you serve! Two or three hours covered in the refrigerator is ideal, but even ten or fifteen minutes is better than nothing. This will give the dressing time to really soak into the vegetables.
How close is this Chick-fil-A copycat coleslaw to the original?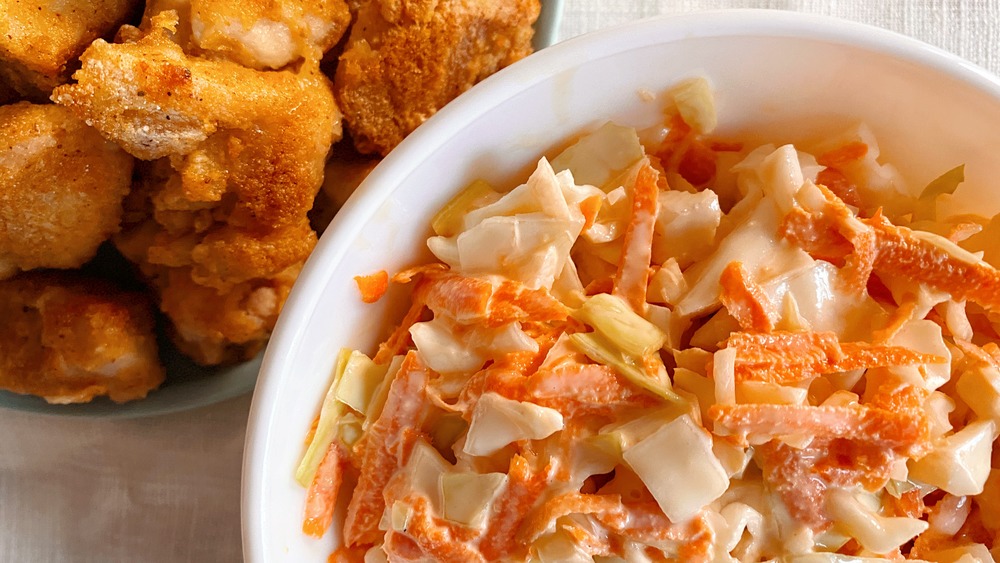 Carina Finn/Mashed
Given the fact that we're pretty much using the exact recipe released by Chick-fil-A, we'd say that this Chick-fil-a copycat coleslaw recipe gets pretty close to the original! When you see the ratios for the dressing, you might be tempted to adjust them a little bit. That's fine because the whole point of cooking at home is to make your food taste the way you want it to, but know that you really do need a whole cup of mayonnaise if you want that ultra-creamy, rich, authentic Chick-fil-A coleslaw.
The other thing you might want to adjust? Sugar. A quarter cup of sugar is a lot of sugar for a coleslaw recipe, but then again, that's what so many people love about it. We've listed two options in the recipe below. Use the low-sugar option if you want a coleslaw that is more savory than it is sweet.
What should I serve with Chick-fil-A copycat coleslaw?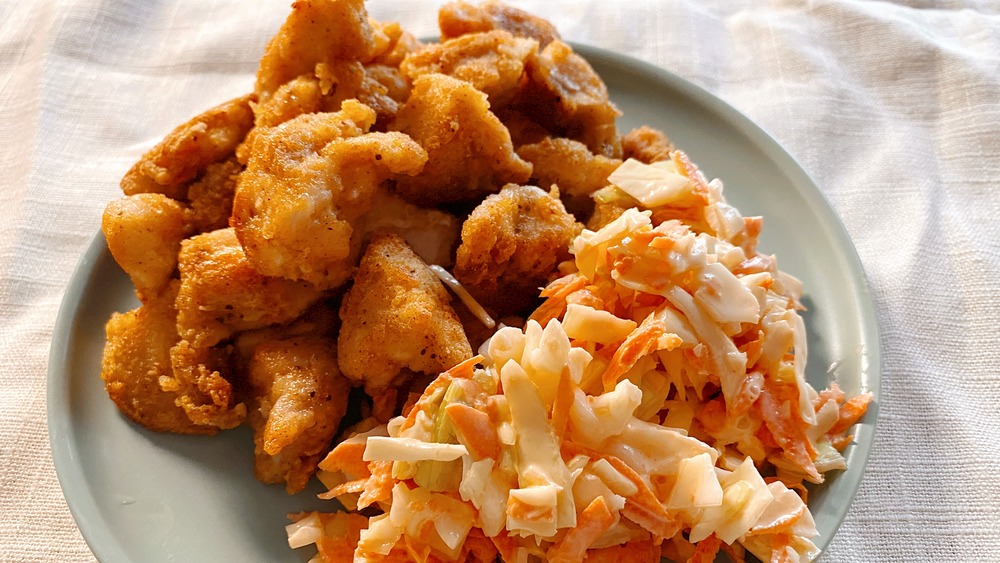 Carina Finn/Mashed
Honestly, this coleslaw is so good that you can absolutely justify eating it by itself, straight out of the fridge. However, we do love using it as an accompaniment to other dishes too. One of our favorite ways to serve Chick-fil-A copycat coleslaw at home is with a pile of homemade chicken nuggets. If you prefer not to eat at Chick-fil-A's restaurants, this combination is a great way to get your fix.
The other really good way to eat this coleslaw? Put it on a sandwich! Fried chicken and pulled pork sandwiches are our personal favorites, but don't overlook other options like adding some coleslaw to a burger or dressing up a plain old turkey sandwich with this sweet, creamy add-on. One of the best things about coleslaw is the fact that it kind of goes with everything, so embrace it and experiment.
Chick-Fil-A Copycat Coleslaw Recipe
Anyone can make coleslaw just the way that do at Chick-fil-A. We've tried it, and it really is just like the original. Give it a try for yourself!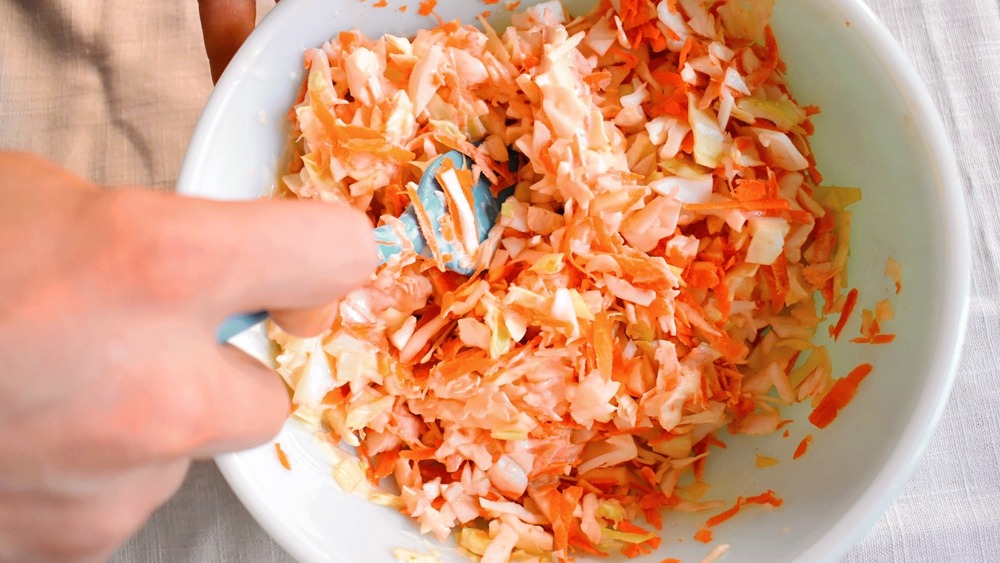 Ingredients
½ medium head of green cabbage, finely chopped, or two 10-ounce bags of shredded cabbage 
2 large carrots, peeled and grated 
1 cup mayonnaise (use ½ cup for a less creamy version) 
¼ cup white sugar (use 3 tablespoons for a less-sweet version) 
4 tablespoons apple cider vinegar 
¼ teaspoon salt 
¼ teaspoon dry mustard powder 
Directions
Finely chop ½ medium head of green cabbage. If you're using pre-shredded cabbage, remove it from the bag and roughly chop it. Add cabbage to a large mixing bowl.
Peel two large carrots. Then grate them using the largest holes on a box grater and add to the mixing bowl with the cabbage.
In a small bowl, whisk together the mayonnaise, vinegar, dry mustard powder, sugar, and salt, ensuring that the ingredients are fully combined.
Pour the dressing over the carrots and cabbage and mix thoroughly until the vegetables are evenly coated with dressing.
Cover the bowl and let sit in the refrigerator for at least 10 minutes, but ideally 2 to 3 hours, before serving.
Nutrition
| | |
| --- | --- |
| Calories per Serving | 330 |
| Total Fat | 29.8 g |
| Saturated Fat | 4.5 g |
| Trans Fat | 0.0 g |
| Cholesterol | 15.0 mg |
| | |
| --- | --- |
| Total Carbohydrates | 15.1 g |
| Dietary Fiber | 2.6 g |
| Total Sugars | 11.9 g |
| Sodium | 349.8 mg |
| Protein | 1.2 g |