Zesty Instant Pot Pozole Recipe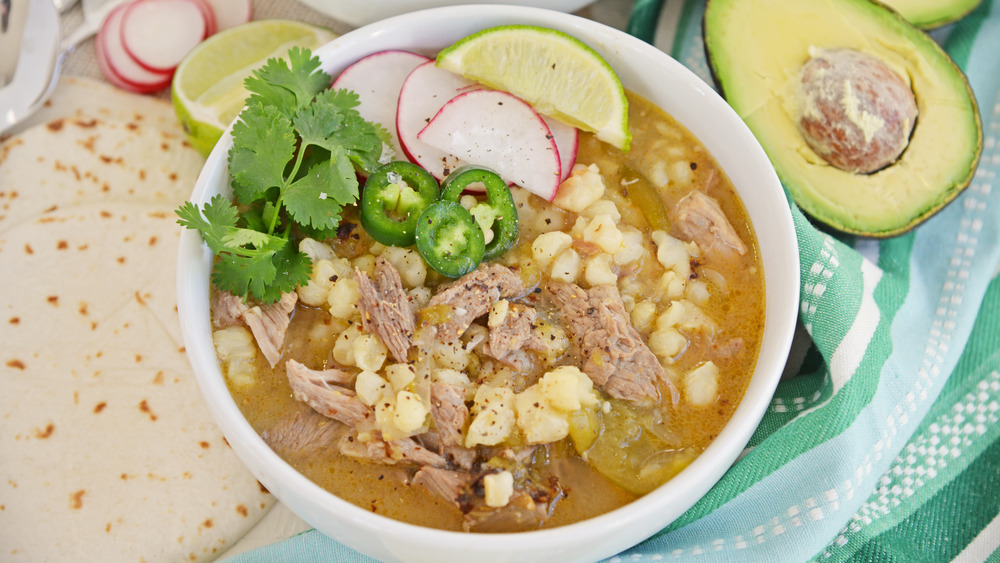 Jessica Formicola/Mashed
If you've never eaten Mexican pozole, this easy recipe by Jessica Formicola of Savory Experiments is the one to try. Pozole (pronounced "poh-ZO-lay") is one of the most popular and beloved dishes in Mexican cuisine, and there are three versions  — blanco (white), rojo (red), and verde (green) — of this zesty, hearty soup. Each is prepared almost the same, except that the blanco has no addition of a red or green chili sauce. Formicola's version is a verde with tomatillos, green chilis, and shredded pork shoulder, which she cooks in the Instant Pot for only 30 minutes. 
A licensed psychotherapist, Formicola is a mother of two, a contributor to various magazines, and her blog has grown in such popularity that she also manages seven employees. To accommodate her busy life, she creates recipes that can be cooked and ready to serve in under an hour. You'll find a vast array of cuisines on her Savory Experiments blog, and if you're looking for a fast and delish dinner, Formicola has many ideas for you. For this zesty Instant Pot pozole, you'll probably have the spices you need in your pantry, but there are a couple of ingredients you may need to ask for at your grocery — don't get scared off by them. Formicola specifically designed this recipe for those who don't have access to a specialty market.
Gather together the ingredients for zesty Instant Pot pozole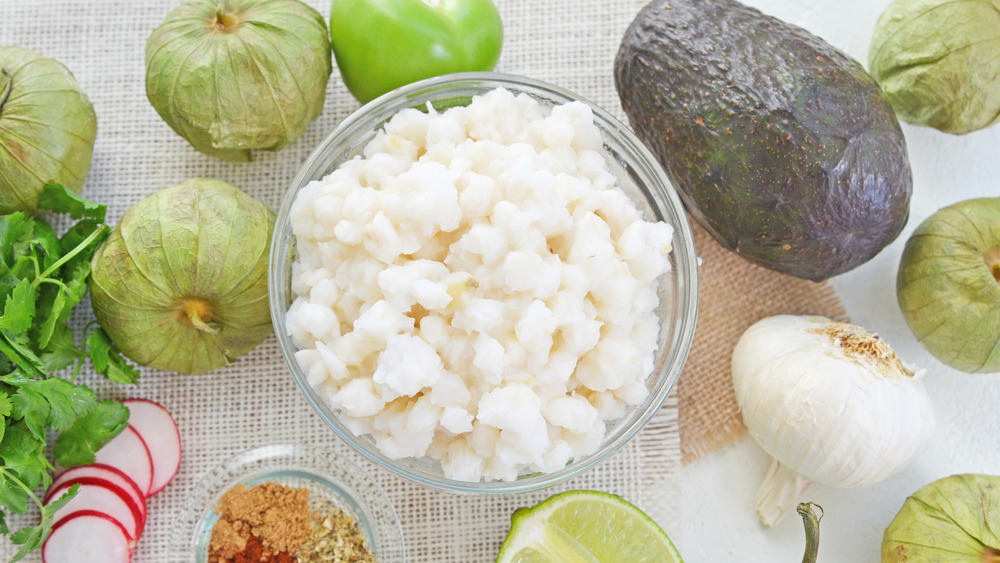 Jessica Formicola/Mashed
Pork shoulder (or butt) is the star in Formicola's Instant Pot pozolerecipe, and it's readily available pretty much everywhere. This particular cut of pork is especially good for pozole. As it cooks, the pork's fat and gelatin melt and add richness and body to the sauce. Many grocery stores stock tomatillos (pronounced "toe-mah-TEE-yo), which at first glance are a little intimidating with their papery shrouds and slightly sticky skin. Tomatillos are the base for the authentic chili verde sauce you find throughout Mexico. Yet, Formicola is reluctant to call this an "authentic" recipe, even though the recipe did come from Mexico. 
Once the soup is cooked, you can garnish it with avocado, sliced radish, jalapeno, and cilantro, or any other typical Mexican vegetable garnish.
Hominy is an essential ingredient in this zesty Instant Pot pozole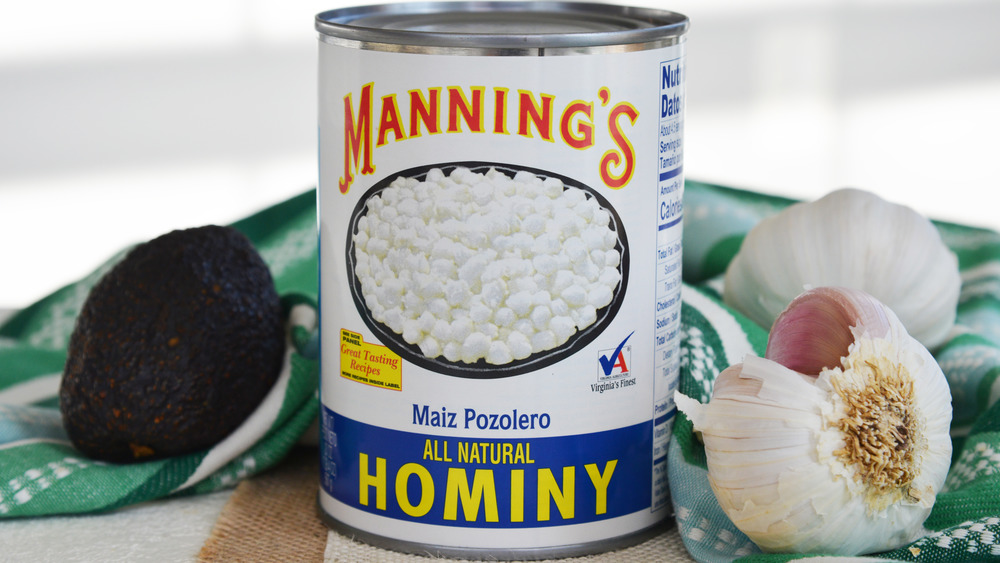 Jessica Formicola/Mashed
Hominy is a product that you probably don't have in your kitchen cabinet, but it's an essential ingredient for any pozole. Formicola and her family live outside of Baltimore, and it was a little challenging for her to find canned hominy, but she persevered in her search because it wouldn't really be pozole without it. (Amazon stocks many different brands of hominy.) But what is that odd white stuff? Hominy is made from whole corn kernels that have been soaked in an alkali solution, which softens the outer hull and gives the corn a unique taste and texture. 
"When people hear it's corn, they expect corn," Formicola told us. "But when they open the can, it basically looks like Crisco, and they ask "is it bad?" or "what am I supposed to do with this stuff?" 
Different brands have different tastes and textures. Hominy has a mild corn flavor, and it's firm but pliable, so it holds up well in stews and soups. Formicola uses a local brand — Manning's — and its texture is like potato. But if you prefer to not add hominy, there is a pozole recipe, called pozolillo, in which hominy is replaced with fresh corn. "There are a lot of food deserts out there," Formicola said. "I offer a lot of substitutions because I don't know what people are going to have available. If I couldn't find hominy, I'd probably use fresh corn."
Tomatillos add zip and zing to Instant Pot pozole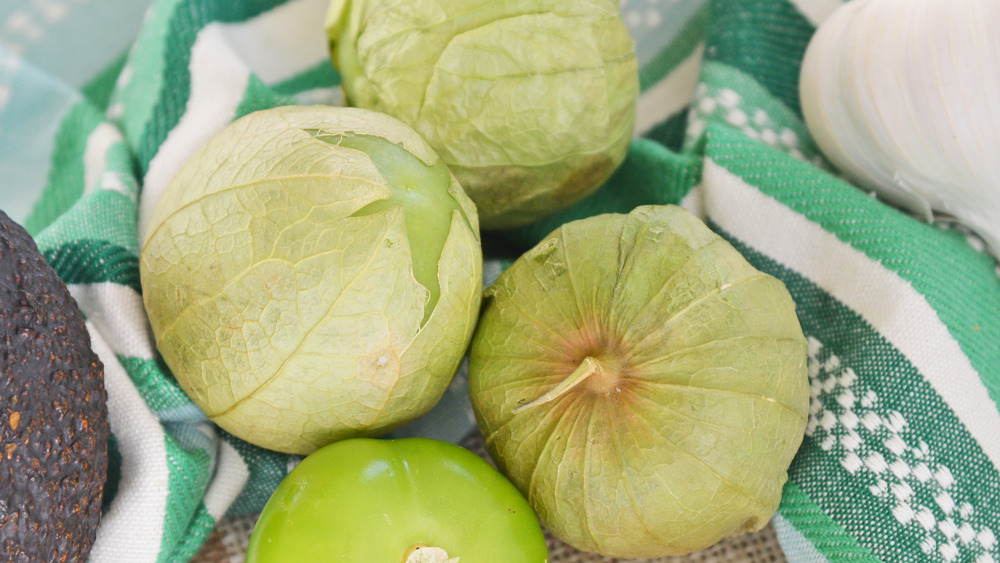 Jessica Formicola/Mashed
Although the Spanish name translates to "little tomato," tomatillos aren't tomatoes at all. They are a fruit, like tomatoes, that bare native to Mexico, but American farmers cultivate them now as well. When you peel away the papery husk, you'll notice that the bright green fruit feels sticky, but a quick rinse under warm water washes this residue away. 
Tomatillos can be used fresh or cooked, and they have a tart taste and firm texture with very low water content. For Formicola's recipe, all you need to do is a quick, rough chop and toss them in the Instant Pot. "Most of my readers are Midwest housewives," she told us. "I don't buy fancy-schmancy ingredients at Whole Foods." In recent years, tomatillos are popping up in regular grocery stores, so you shouldn't have a problem finding these tart and tangy fruits, which add zest to Formicola's pozole.
You can change up the meats in this zesty Instant Pot pozole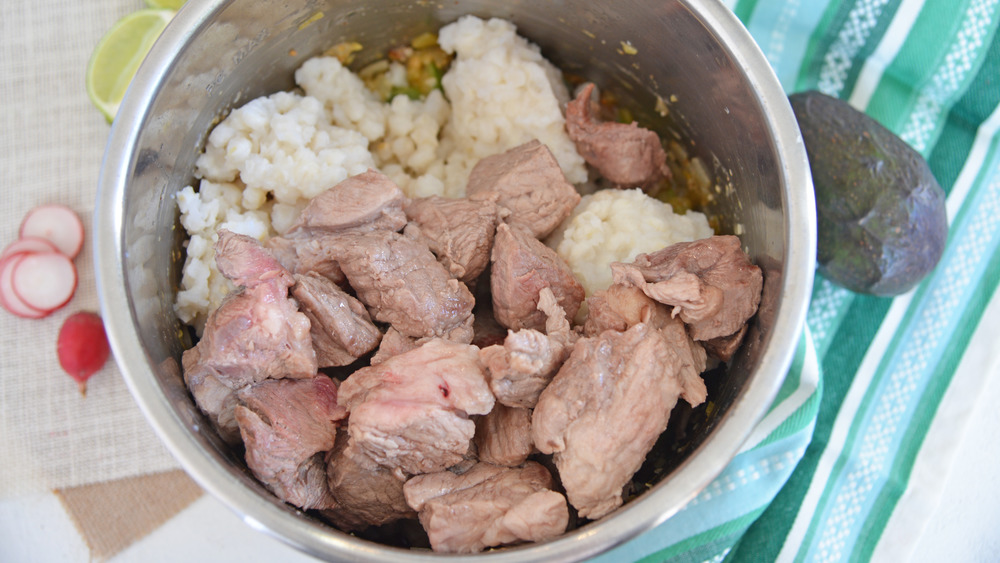 Jessica Formicola/Mashed
Traditionally pork is the meat of choice in pozole rojo (red), and either chicken or pork finds its way into posole verde (green). Formicola prefers pork for her recipe. "People are still on the Instant Pot craze," she said. "And working with pork in a pressure cooker is amazing." Pork shoulder, in particular, turns meltingly tender in the Instant Pot and shreds easily. Formicola trims and cuts 1-1/2 pounds of pork shoulder and cuts them into chunks, which she then browns in the Instant Pot with its sauté function. "But if you don't want to shred your pork after it's cooked, you could totally give it more of a chop." 
We asked her if other meats could be substituted for the pork. She does not recommend lean pork loin because it will dry out. Her husband helps out as sous chef and prep chef. "He's great in the kitchen, but he's much better on the grill." He thought about tossing a couple of pork chops into the Instant Pot, but Formicola told him it wouldn't work. "Chicken could be substituted," she told us. "I would use chicken thighs. For the texture and meatiness." Another alternative meat is turkey, but again "it would have to be a turkey thigh, or it would be too dry."
You can substitute fresh green chilis for the canned chilis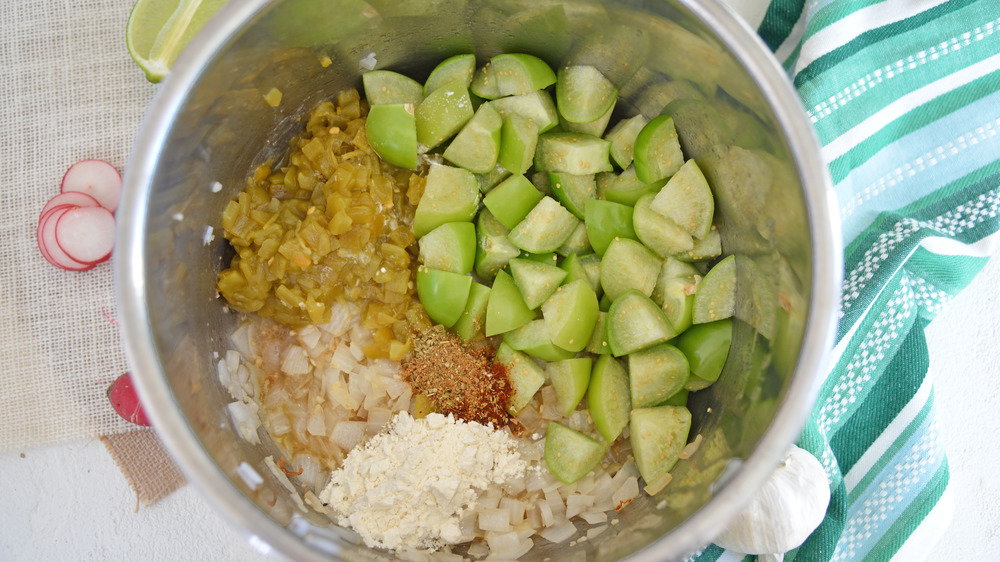 Jessica Formicola/Mashed
After you've browned the pork shoulder chunks, the next step is to saute the onions and garlic, and then add the remaining ingredients, including canned green chilis and chili powder. Formicola writes for a specific kind of cook who wants to have everything at hand. "She's looking for the thing she already has in her pantry as well as canned goods." But if someone wants to use fresh green chilis instead of canned, that would be great. "Poblano chili," she recommends. Poblanos are a firm green chili that need to be roasted, peeled and chopped before adding them to the Instant Pot.
Shred the pork and correct the seasonings in the zesty Instant Pot pozole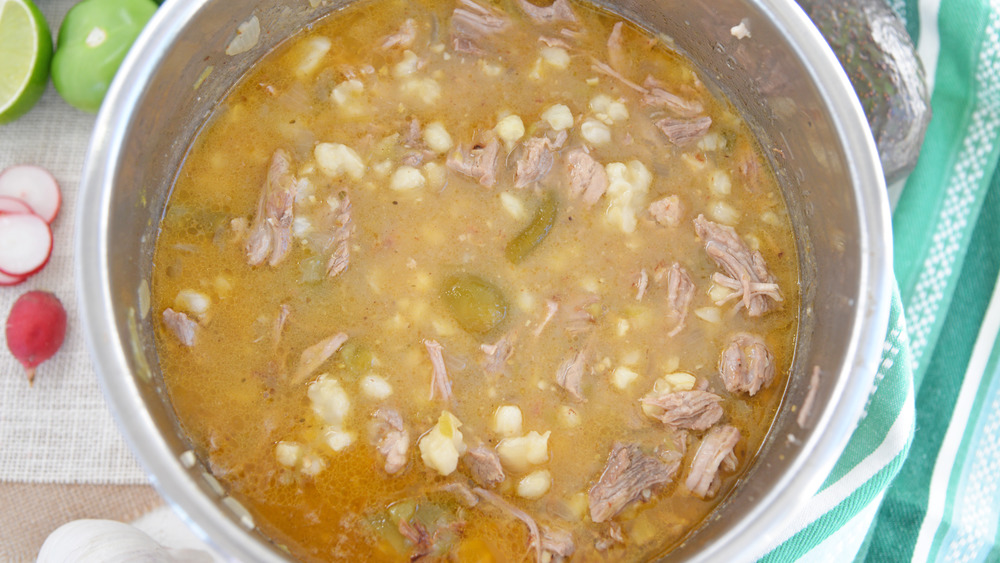 Jessica Formicola/Mashed
After 30 minutes of cook time, the pork will be ready to shred. The Instant Pot has two methods for releasing steam: manual (or quick) release and natural release. Natural release is for meats that need to continue cooking, like beef, as the steam gradually releases. Manual release is usually for less firm meats, like chicken and pork, that don't need to continue to cook. Formicola's recipe calls for a manual release — though you should do so slowly, as manually releasing dishes with a lot of liquid can sometimes get messy. Once you've released the steam, and the Instant Pot is safe to open, use a slotted spoon to remove the pork. 
Surprisingly, the melted fat doesn't rise to the top. "Usually, if it was beef, I would skim the top of the Instant Pot before I shredded it," Formicola told us. "I didn't need to do that with this recipe. The fat all became incorporated into the sauce." Once you've shredded the pork, return it to the pot, and squeeze some fresh lime juice into the soup. The lime juice will brighten the flavors and cut the richness of the broth. Finally, taste the pozole, and correct the seasoning by adding salt and pepper, if needed, to taste.
Garnish this zesty Instant Pot pozole and serve with tortillas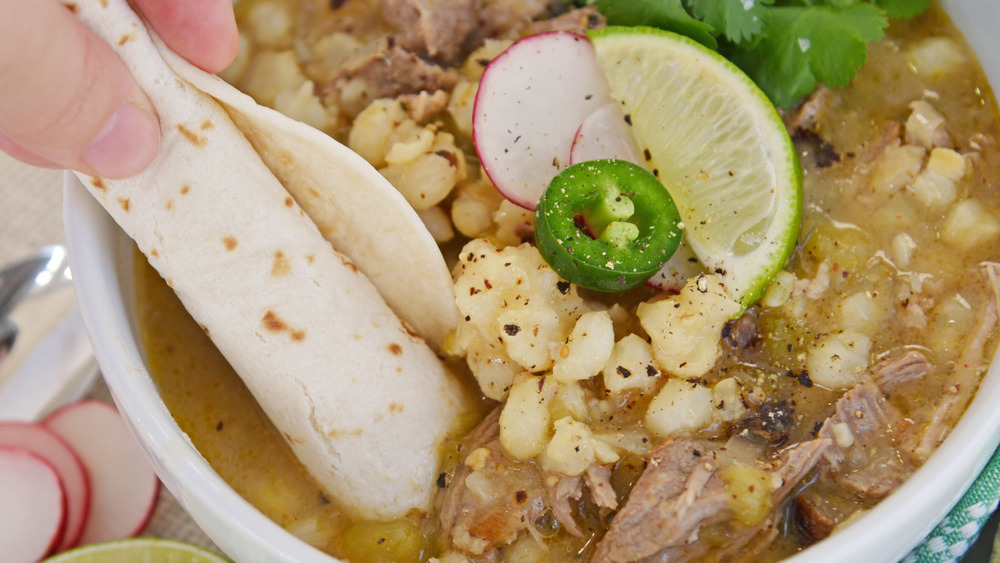 Jessica Formicola/Mashed
To serve the pozole, ladle the soup into large bowls and serve with warm tortillas on the side for mopping up the delicious broth. Also, Formicola recommends serving her zesty Instant Pot pozole with the traditional garnishes, like shredded cabbage, cilantro, radish slices, avocadoes, and lime wedges in separate bowls for people to dress up their pozole themselves.
But if you don't plan on eating the pozole right away, rest assured that it freezes very well. (Let it cool completely first!) "My audience loves make-ahead and freezing instructions," Formicola said. "This is definitely freezer-friendly. I froze it in a Ziplock bag, and my husband ate it later, and he didn't notice any difference in the taste or texture."
Zesty Instant Pot Pozole Recipe
If you've never eaten Mexican pozole, this easy recipe is the one to try. Pozole is one of the most popular and beloved dishes in Mexican cuisine.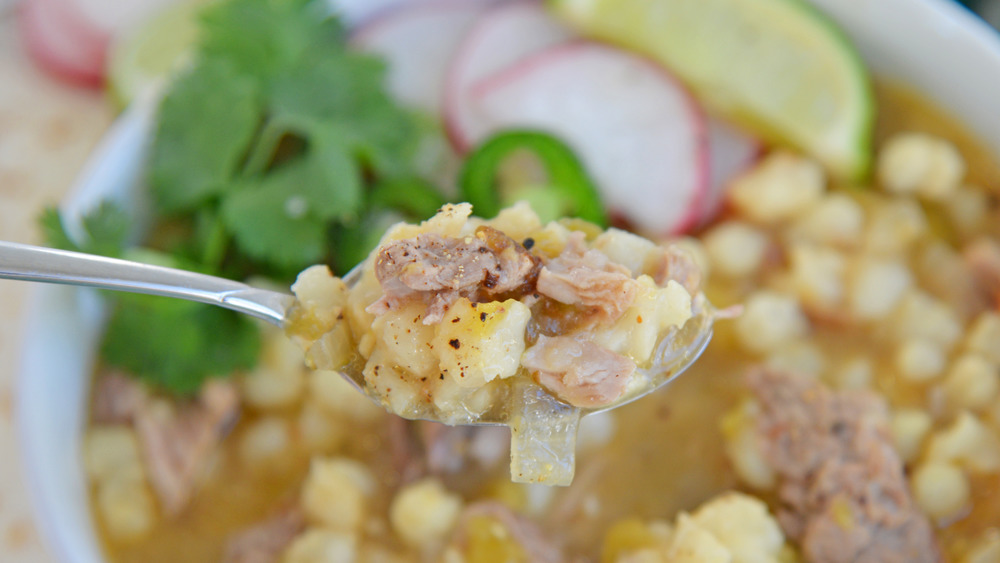 Ingredients
1.5 pounds pork shoulder, trimmed and cut into 2 to 3-inch pieces
2 tablespoons vegetable oil
1 medium white onion, chopped
4 garlic cloves, minced
6 tomatillos, husks removed, rinsed, and coarsely chopped
7 ounces canned chopped green chiles
2 tablespoons flour
1 teaspoon dried oregano
1 teaspoon ground cumin
1 teaspoon chile powder
30-ounce can white hominy (about 4 cups)
4 cups low sodium chicken broth
2 tablespoons fresh lime juice
Kosher salt and freshly ground pepper to taste
Optional Ingredients
Cilantro (for garnish)
Shredded cabbage (for garnish)
Lime wedges (for garnish)
Radish slices (for garnish)
Avocado, sliced (for garnish)
Tortillas (for garnish)
Jalapeno, sliced (for garnish)
Directions
Heat vegetable oil using the sauté function of your Instant Pot.
Add pork chunks, working in batches to prevent crowding. Brown well, remove with a slotted spoon. Set aside.
If the pot is dry, add 1 teaspoon more oil. Otherwise, proceed with adding onions, stirring to coat with rendered pork fat and vegetable oil. Sauté until soft and opaque, approximately 3-4 minutes. Add garlic, continue to sauté for 1 minute.
Add cooked pork, tomatillos, canned green chiles, flour, dried oregano, ground cumin, chile powder, hominy, and chicken broth. Stir to combine.
Set to manual pressure for 30 minutes. When done, release pressure vent manually.
Using a slotted spoon, remove pork chunks, and shred using two spoons. Discard any large pieces of fat that may have separated. Return shredded pork back to soup.
Add lime juice, and correct salt and pepper, if needed.
Serve and garnish with your favorite toppings.
Nutrition
| | |
| --- | --- |
| Calories per Serving | 459 |
| Total Fat | 27.7 g |
| Saturated Fat | 7.9 g |
| Trans Fat | 0.0 g |
| Cholesterol | 80.5 mg |
| | |
| --- | --- |
| Total Carbohydrates | 27.3 g |
| Dietary Fiber | 5.0 g |
| Total Sugars | 4.5 g |
| Sodium | 1,129.3 mg |
| Protein | 25.8 g |