The Reason Outdoor Dining In LA Just Closed Again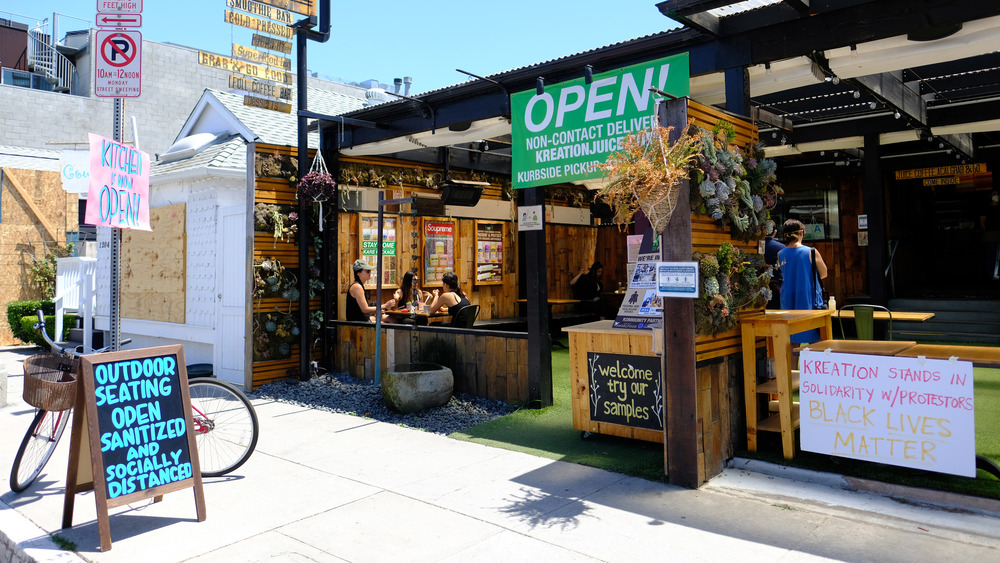 Amanda Edwards/Getty Images
As experts say coronavirus is mostly transmitted by respiratory droplets (via CDC), it's little wonder that restaurants and bars are nearly always the first to get hit when an area's numbers begin to spike. We're unfortunately seeing this happen again in Los Angeles County, California, where the five-day average of new cases is 4,097, prompting public health authorities to "restrict dining at restaurants, breweries, wineries, and bars" (via Twitter). Under these updated COVID-19 guidelines, outdoor dining at restaurants will officially be shut down from Wednesday, November 25th at 10 p.m. After this time, restaurants will be closed completely to dining, although they will still be allowed to offer take-out and delivery. The new order comes just a week after restaurants were asked to cut their outdoor dining capacity in half, and will remain in place for three weeks, according to Eater. 
There is plenty of concern over how this latest order will affect LA's once-vibrant restaurant scene, which has been hit badly by the coronavirus pandemic; indoor dining was shutdown in LA during the summer. Several restaurants have already closed permanently because of COVID-19, including Dominique Ansel Bakery/189, the Michelin-starred Dialogue, and many other beloved institutions like 15-year-old Taste on Melrose and Moore's Deli (via Eater).
LA County is under a limited stay at home order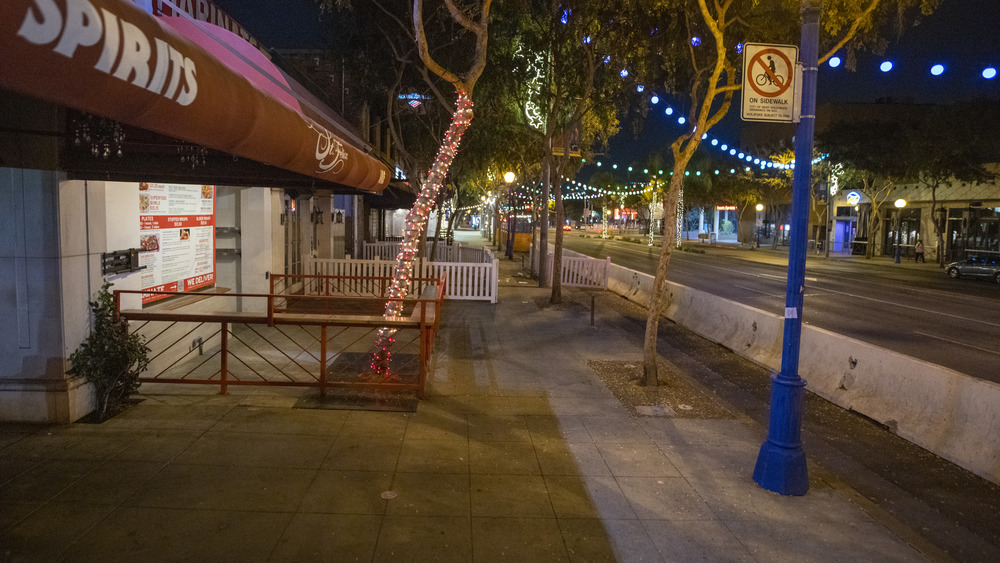 David Mcnew/Getty Images
Diners took to Twitter to vent their frustration over the closures, with user @Patchemup1 saying: "That's really the thing isn't it? We could have worn masks everywhere, opened businesses at reduced capacity, installed HEPA filters where practical, kept 6+ feet, and we could have at least reduced the load while still keeping places open. This is worst of both worlds." @ClancyNeil more explicitly put the blame for the shutdowns on the federal government, saying: "I've got several establishments around town I've tried to support w takeaway orders throughout #covid19. They're calling me regularly to see if I want order anything. It's hard to see. What a failure by Congress (Sen) failing to get relief plan for businesses..."
County officials had already warned that they would need to enact stricter measures if coronavirus case numbers continued to go up. In a statement, the county's Health Director Barbara Ferrer said: "The persistent high number of cases requires additional safety measures that limit mixing in settings where people are not wearing masks. We hope individuals continue to support restaurants, breweries and wineries by ordering for take-out or delivery." (via KTLA).
LA County is seeing a record number of coronavirus cases; as a result, all non-essential work, movements, and gatherings are banned between 10 p.m. to 5 a.m. every day, until at least December 21st.